Trail Camera Reviews
What started off as a fad in the hunting community has become one of the must-have pieces of equipment for many serious hunters: trail cameras. Trail cameras, also known as game cameras, can be set up and used prior to or during hunting season to collect important data about your intended prey's habits. Technological advancements have given way to infrared and incandescent flash cameras that offer high-resolution, color pictures, even when filming at night. Considerations to factor in when looking at a trail camera and the results they will yield are: LED flash, megapixel level, video mode, burst mode, trigger time, and time lapse. While game cameras are not essential to pulling off a successful hunt, they do give serious hunters the chance to learn about their prey's habits, which may increase their odds over time.
Most Popular Trail Camera
Moultrie M-50 Game Cameras
The M-880 by Moultrie is 8-mexapixle, low glow, infrared mini game camera with a quick trigger and HD video mode. With an Illumi-Night sensor, the M-8880 provides bright, high-quality nighttime images with reduced blur from Moultrie's Motion Freeze technology. Four operational modes include infrared-triggered game camera, time-lapse plot camera, HD night/day video, and daytime plot camera/nighttime infrared camera. An SD slot can store 32 GB of images and video and up to 9,500 images can be captured on the devices 8 AA batteries. The camera has a nighttime range of 100-feet and a trigger response of less than a second. Each image is stamped with moon phase, temperature, time, date, and camera ID for reference and the device is password protected to deter thieves.
36 LED flash with 100-foot nighttime range
8-mexapixel, low glow camera with less than 1-second trigger time
Four operational modes including HD video
– Anthony Dawson
Best Overall Trail Camera
Bushnell
The Bushnell Trophy Cam HD is one of the most rugged and all-inclusive trail cameras on the market, and with a name like Bushnell, you know you're paying for quality. This daytime/nighttime 16-mexapixle digital scouting camera has long-lasting battery life and lightening-fast trigger speed, set off by any wildlife movement in the flash zone. In addition to high-resolution 8MP images, the Trophy Cam HD can record 720p HD video and audio to give you the most detail possible. Movement is detected from the Passive Infrared (PIR) motion sensor that has a range of 60-feet and response time of 0.6 seconds. The camera has a 32 LED flash that captures crystal clear images in total darkness. It can be set to operate 24 hours/day or during the day or night only, while the Field-Scan time lapse can capture images at preset times.
Wind, water, snow, and heat proof (-5 to 140-degrees F)
Records up to 60-seconds of 720p HD video with audio
32 LED flash captures images in total darkness
PIR motion sensor captures day/night images up to 60-feet away
Programmable trigger interval – 1-second to 60-minutes
– Anthony Dawson
Best Budget Trail Camera
Moultrie A-Series Game Cameras
The A5 Low Glow Game Camera by Moultrie is compact, affordable, and easy to use for beginner and experienced hunters alike. At 5-mexapixles, the A5 captures day and nighttime images and video with a nighttime range up to 50-feet. A picture delay can be set to 1, 5, 10, and 30 minutes as to only start recording after you have safely left the area you intend to film. Every photo captured is marked with a moon phase, time, date, and camera ID stamp. An SD memory card slot is capable of holding 32GB of data, while over 8,000 images can be captured on 4 C-cell batteries.
5-megapixle, low glow camera captures day/night images/video
1, 5, 10, 30 minute delay recording time options
50-foot nighttime motion sensor/image capture range
– Anthony Dawson
Trail Camera Buying Guide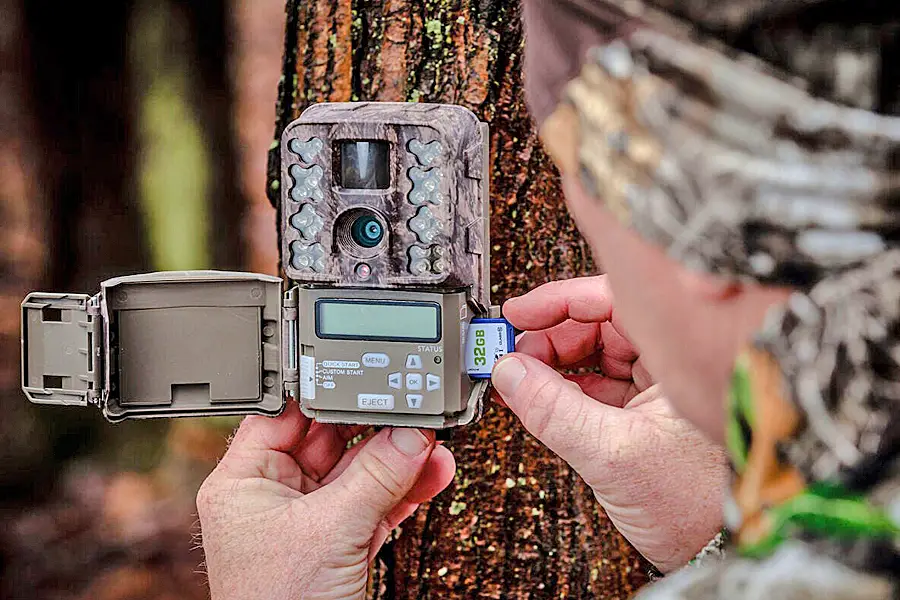 Trail cameras have been used for a long time to trace and capture the images of animals in the wild. When it comes to the best trail camera, there is no "one size fits all" because different users have different requirements. However, there are some essential features you should look out for if you want to get quality results.
A trail camera is a rugged camera mainly used by hunters to track animal movement. However, it is also used by photographers to capture photos of animals moving around at night, and they can also be used for security purposes. A trail camera can be put anywhere because they are built to be weatherproof.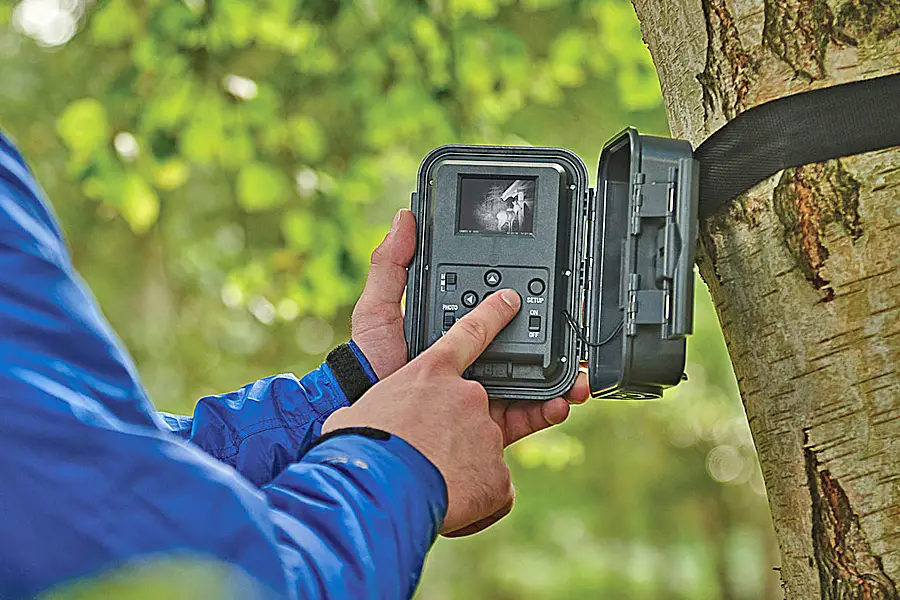 3 Types of Trail Cameras
There are different types of cameras in the market. Before you buy a camera, you should identify the type that will fit your requirements.
1. Flash Trail Cameras
These trail cameras emit a sudden bright light to capture the photo. While it produces quality photos, it tends to scare away animals. However, these types of cameras that contain visible lights are uncommon as modern styles come with infrared lights.
2. Infrared Trail Cameras
Infrared trail cameras pick up the temperature of the surrounding area and are set off when they detect warmth. They are mostly used in dark places. The advantage of this style is that they do not scare off animals, unlike flash cameras.
These cameras come with sensors that trigger the infrared mode on and off. The infrared camera has high resolution and sensitivity. The images are clear even in the dark although they may have some traces of white, green, and red color. However, they are pricey compared to other types. They are easy to install and mostly used for research.
3. Cellular Trail Cameras
These cameras allow you to connect to your cell phone or any other cellular device. This means the camera can send images to your cellular device and send alert messages when it senses animal activities -even if you are far away. However, the camera will need to be connected to a cellular signal and have a data plan to function.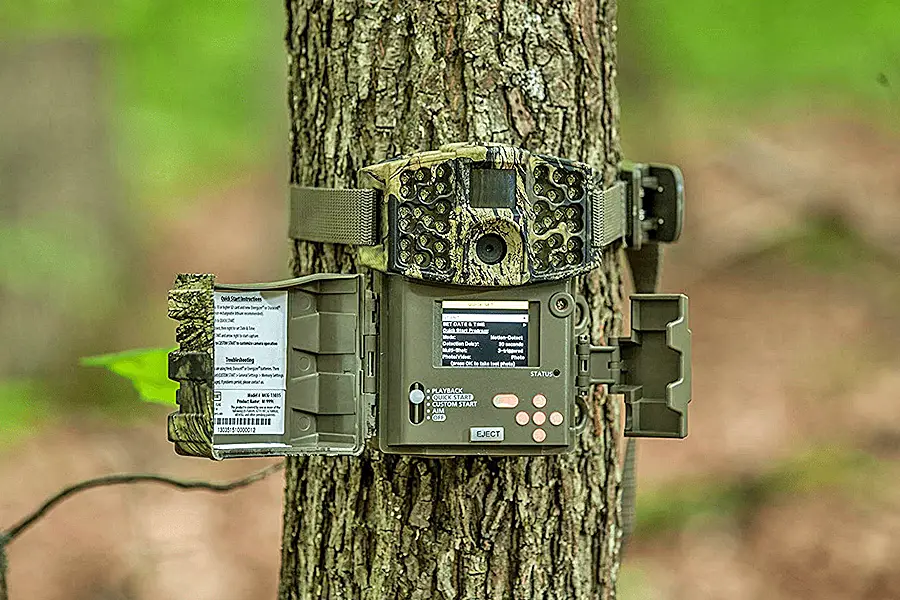 5 Things to Consider When Buying A Trail Camera
1. Battery Life
Trail cameras require energy to function and take pictures. Most trail cameras derive their power from batteries. You should pay attention to the lifespan of the batteries as they determine the duration you can leave your camera outdoor.
The type of battery you use will depend on your budget and how long you want them to last. You can either use rechargeable batteries, alkaline batteries, or lithium batteries. Rechargeable batteries are economical but have a short lifespan while lithium batteries are expensive but have a long lifespan.
2. Quality
The quality of the camera is predominantly determined by the megapixel. The higher the megapixel, the better the quality of the image it contains. Most trail cameras come with 8, 12, 14, or even higher megapixels.
The quality of the image will largely depend on your needs. For instance, a photographer will require more quality compared to a hunter. Therefore, establish the purpose of the camera before you purchase it.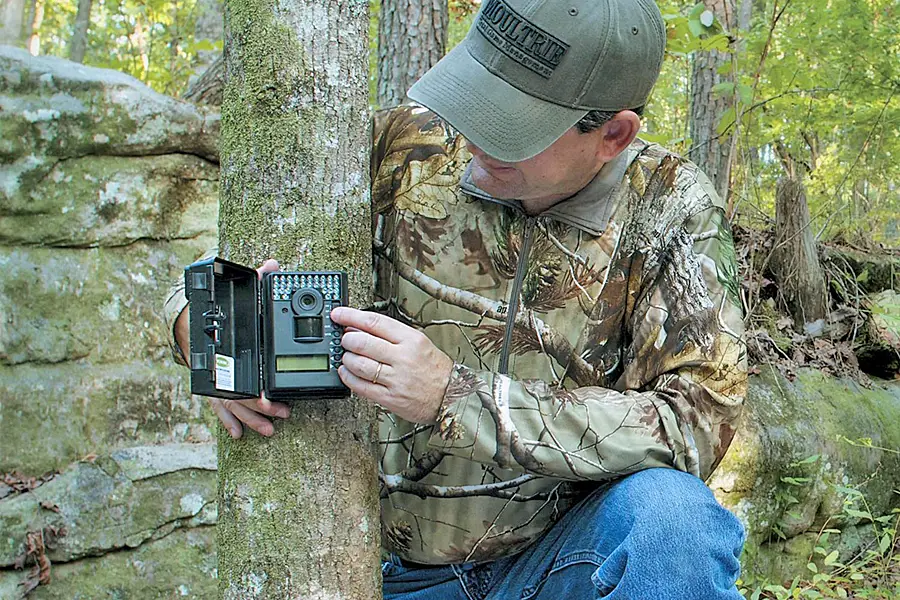 3. Trigger Time
Trigger time refers to the time it takes for a camera to take the photo upon noticing an animal. You need a camera with a fast trigger time to be able to capture a clear shot of the animal. We recommend going for a camera with a trigger speed of less than a second. This allows you to take the shot as soon as the animal is detected.
4. Flash Technology
Another crucial factor one has to consider is the type of flashlight the camera emits. If you want to track animals without scaring them, then you should consider infrared flashes. Infrared flash is invisible and doesn't upset most animals. On the other side, if you are working on a low budget, a camera with a white flash tends to be cheap but scare away the animals.
5. Storage Capacity
The higher the storage capacity, the better the camera will be. As a rule of thumb, you should always go for a camera with a fast and large SD or microSD memory. If you intend to take video, you should go for a larger memory card because video takes more storage space than pictures.
Conclusion
Whether you are looking for a camera for hunting, research, or security on your farm, you need a quality trail camera that will capture a clear image and accurately detect the animals. In this guide, we have provided you with the best trail camera we feel confident will serve your outdoor needs.