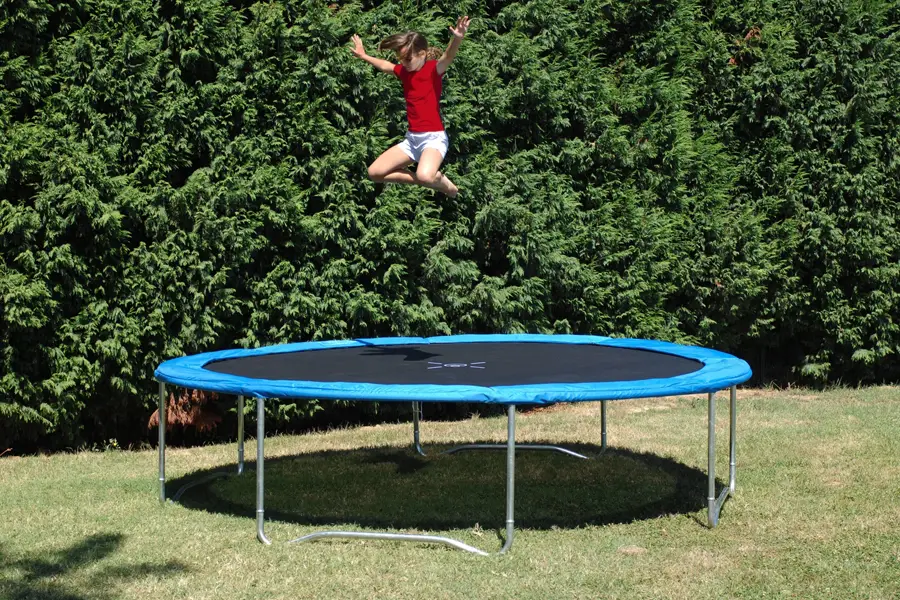 Trampoline Reviews
The health and happiness of your children are at the very top of your priority list as a parent. Helping your children eat a healthy diet and exercise to form the foundation for a healthy lifestyle is essential. Technology like video game systems and electronic devices are great to stay connected with friends and keep up on the news, but not so good at getting you exercise. Children and adults around the world love trampolines for their great exercise and fun. They offer a fantastic form of exercise and entertainment for children and young adults. Operation of a trampoline is very simple in comparison to most gym equipment or activity centers for children. The idea derived from early fire fighter nets and circus nets designed for safety. A sturdy piece of material is outstretched and connected to springs and a frame, which is the basic description of a modern trampoline. Simple, yet hundreds of hours of fun exercise are provided by a trampoline.
Most Popular Trampoline
Skywalker
Skywalker is a leading trampoline manufacturer who produces various trampoline sizes to accommodate everyone. This 12 ft. x 12 ft. trampoline is fully enclosed with nylon net walls to prevent falls. The UV protected material is high-grade to withstand the rigors of heat, elements, and continual stress from jumping. The tubular frame uses strong galvanized steel for environmental protection against rust. Steel T sockets connect the main structure to the enclosure frame to assure strength. A 1 inch coated mat covers the trampoline springs for jumper safety.
Skywalker trampolines have a 200 pound weight limit suggested for this model. Safety focused with protective mat and enclosed top make this trampoline perfect for younger children.
Strong frame resists bending or flexing
Durable jump area resists tears and holes
Safety focused with protective net enclosure and spring mat
Large 200 pound weight capacity is as high as bigger models
Easy to follow assembly manual
– Anthony Dawson
Best Overall Trampoline
Skywalker
This durable 15 ft. x 15 ft. Skywalker trampoline is great for children over the age of 6. The skeleton of this trampoline is heavy-gauge galvanized steel with six legs for maximum stability. The galvanized steel is perfect for resisting rust and harsh elements for a long-term structure you can count on. Reinforced sockets offer support for the enclosed upper frame and the trampoline frame helping to stabilize the entire outside structure. A durable nylon net encloses the entire top of the trampoline for safety and to prevent falls. A soft mat covers the springs to prevent injury or pinching.
This Skywalker trampoline is designed for children 6 and older with a 200 lb. weight limit. The button-hole design secures a gap free design around the entire enclosure. Jumping surface material and netting are UV protected to withstand sun damage and extend the life of the trampoline.
Galvanized steel structure offers maximum strength
Enclosed top for jumper safety
200 pound weight limit holds adults
Safe durable spring mat material
Excellent spring action for high jumping
– Anthony Dawson
Best Budget Trampoline
Ultega
Ultegra produces some of the highest quality trampolines on the market, with some rave reviews. This 12 ft. Ultegra trampoline features a UV protected safety mat and 69 inches high safety net to enclose jumpers. Tubular steel construction offers a galvanized coating to resist rust, and a massive 440 pound weight limit.
Eight padded poles make up the frame for the extra high safety net. 72 extra-strong springs are covered by a protective mat for safety, while allowing maximum height while jumping. Safety and performance are the goals Ultegra had in mind while creating this trampoline and it meets TUV safety directives. Quality of this trampoline is backed by an industry leading 2 year warranty against product defect or malfunction.
Extra strong steel frame withstands the rigors of heavy jumping without twisting or bending
Safety first design puts safety features in place to comply with TUV
Enclosed with strong netting to avoid falls
Coated surfaces protect the materials from dry rot and weather damage
Fantastic 440 pound weight limit easily handles several children
– Anthony Dawson
Trampoline Buying Guide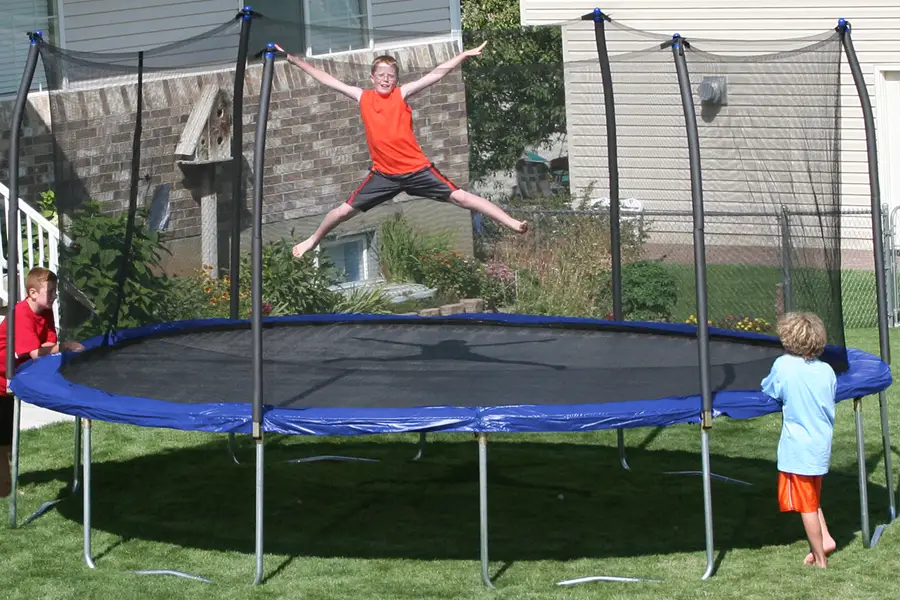 Trampolines are a fun way to bring the family together for good times and healthy exercise. There are several different types available including a variety of brands, sizes and models. This can make selecting the best one a difficult proposition unless you know what it is that you're looking for. This guide is designed to help you out by giving you relevant information about what to look for in a trampoline, and how to choose the best one that will bring your family years of healthy fun.
Determine The Amount of Space You Have for The Trampoline
One of the most important aspects involved with choosing a trampoline is the size of the area that you have available to set it up. In order for proper setup and adequate safety, there must be ample room for assembly and use. The typical location for a trampoline is in the back yard and in some cases the front, whichever will best accommodate the size.
Different Types of Trampolines
Trampolines come in different brands, shapes and sizes. These include round and rectangular shapes. The best shape is a matter of the combination of personal preference and the size and shape of the area in which you will be setting it up.
The size of the trampoline is also determined by the amount of space that you have available. On a side note, many consumers who have purchased trampolines and shared their opinions state that they wish they had purchased a larger one. With this in mind, perhaps the largest that will fit in the space you have will save future feelings of regret. The round trampolines come in sizes that range from 8 to 14 feet in diameter models.
What to Look for in a Trampoline
It is highly recommended that you do not skimp on quality to save a few dollars when choosing the best trampoline to purchase. This doesn't mean that you need to go with the most expensive option, but it does mean that quality counts. In a marketing atmosphere where competition is stiff, there is a push with some companies to produce higher volumes and increase the bottom line numbers by cutting corners when it comes to quality. Trampolines can present a danger to the health and safety of the users if they are not constructed of high quality materials with the same in workmanship.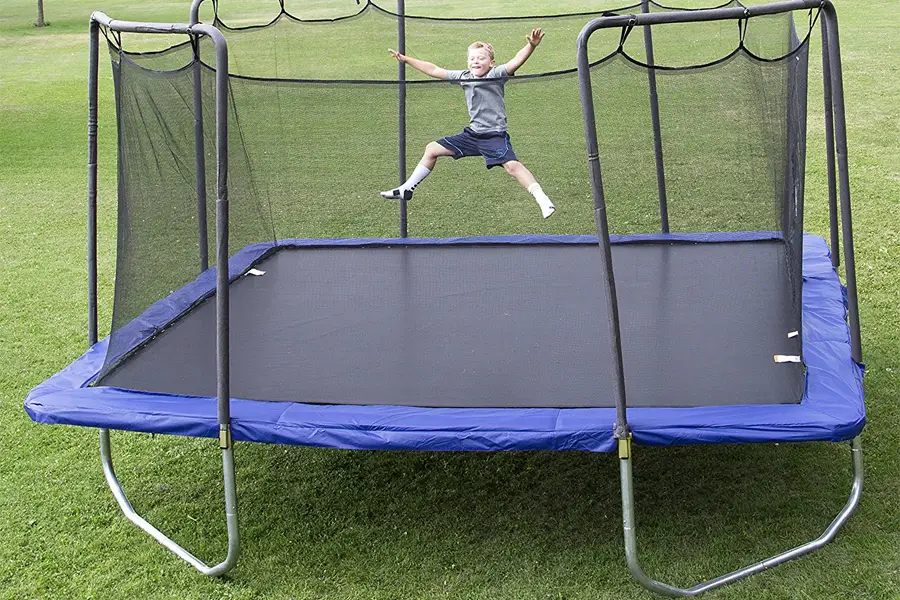 Purchasing A Standard Sized Trampoline
is the best choice as off sizes may be difficult to find replacement parts for in the event of a failure. Before you make your purchase, it's a good idea to go online and check the availability of replacement parts. If you are having a hard time finding them, you may want to move on to another trampoline that does have easy access to replacement parts.
Look for A Trampoline That Comes with A Reasonable Warranty Policy
Trampolines are a financial investment and if a company has confidence that the product they are selling is of high quality, there should be no reason to not offer an excellent warranty plan to go with it. Those with skimpy warranties should be viewed with suspicion as they may fail shortly after the expiration of the warranty.
Read Some of the Online Customer Reviews of Trampolines
Reviews discuss and give user feedback on the particular brands and models of trampolines you are considering for purchase. This is one way of discovering what kinds of experiences other users have had with the product. It can help to give you an idea of how good the performance, durability, safety and quality of the product actually is. If the majority of reviewers recommend the product, then it's probably a safe bet. If most are complaining about the quality and do not give their recommendations for purchase, it is most likely a brand that you will want to steer clear of.
Check the Safety Features of the Trampoline Before Purchasing
Make doubly certain that the springs are in good working order and that the construction is sturdy. The fabric should be of high quality without flaws which could degenerate over time.
With regards to safety, the construction should be not only sturdy, but it should have very few gaps in which smaller jumpers could fall through and sustain injuries by hitting the frames below. There should be bumper pads installed on all exposed metal areas of the trampoline and a safety net also called a safety enclosure should be set up on the exterior perimeter and an under net in case the jumper falls through. Although not all of these items are included with trampoline kits, some are and it pays to choose the tramp that offers the most safety features.
Conclusion
When you set out to purchase a trampoline, take a few moments to consider the type that you are going to purchase. Keep in mind any space restrictions and find a size that will allow for the proper setup of not only the trampoline, but also of the safety enclosure and an under nets that you choose to install.
Although the most expensive trampoline may not necessarily be the best choice or the safest, it is wise to not sacrifice quality in materials, design and construction to save money. There are several middle priced brands and models that will provide as good of performance and safety as some of the pricier versions of virtually the same thing. Avoid cut rate budget trampolines that may be constructed of inferior materials or shoddy workmanship.
With the information that we've provided in mind, you are now ready to begin your search for the best trampoline that will meet the needs of you and your family. By using the tips and recommendations found in this guide, you will know precisely what you are looking for, and what to avoid which can be just as important. You can purchase your new trampoline with the confidence of knowing that your research has given you the best information about the particular tramp that you decide upon.