Treadmill Reviews
People are taking exercise more seriously today than it was decades ago. Nowadays people are realizing that in order to live a long healthy life does not only rely on eating right but also exercising. However, with all the daily responsibilities, such as work, school, and house chores many people do not have the time to go to a gym. Purchasing a treadmill is the answer to your time and workout problems. A treadmill allows you to bring the outside workout indoors. You can now go for a long walk, a jog, or a run from the comfort of your house.
Most Popular Treadmill
NordicTrack
This incredible high tech treadmill will meet all of your working out needs and more. You can setup your personalized profile with just plugging in the USB stick. It will record your weight, height, age, the workout program, and even the date. The information is recorded and you can easily store it in your computer so you can review your workout read out and easily manage the progress of your workout. This treadmill is so fantastic that it even offers you programs to promote weight loss and healthy living. If you are serious about taking control of your life and making the necessary changes to a better you, then order now and be ready for a new you.
A large 20 x 56 inch running surface that supports up to 300 lbs
17 preset workout programs
Easy to fold for storage
Dimensions: 33 x 54 x 70 inches
Large buttons so you can easily change
– Anthony Dawson
Best Overall Treadmill
ProForm 705
This treadmill is designed for speed and endurance. The workout programs were carefully designed by certified personal trainers, who knows the body composition and the type of workout needed to obtain maximal results. The manufacturers of this treadmill took it even a step further. They made it with an iPod port, and it is iFit® compatible to allow you to daily update it with new, and personalized workout regimen. This treadmill has been carefully designed to be easily folded with one easy lift motion. This state of the art treadmill is durable and equipped with all new technology to meet your needs.
QuickSpeed™ control that goes up to 12 mph
20 x 60 inch tread belt with a ProShox Elite to cushion and reduce shock on joints
Quick Incline™ controls that goes up to 15% incline
20 Built-in workout programs
– Anthony Dawson
Best Budget Treadmill
ProForm 520
This great treadmill has unbelievable features to help you reach your goal faster and safely. It has wireless technology, and it comes with an iPod port, and it is iFit® compatible. It offers 15 workout programs that will give you the variety and challenge you need to keep you motivated and challenged. The Dual-grip EKG™ heart rate monitor will help you ensure that you are working out within a safe heart rate. It has a spacious running space that can be inclined up to 10%, as well as allowing you to increase the speed as fast as 10 mph. The ProShox Cushioning is built to reduce the impact on your joints, allowing you to push yourself to your limits without fearing of being injured.
15 Built-in workout programs
Maximum weight capacity: 300 lbs
QuickSpeed™ control that goes up to 10 mph
Quick Incline™ controls that goes up to 10% incline
Dimensions: 70 x 34 x 59.5 inches.
– Anthony Dawson
Treadmill Buying Guide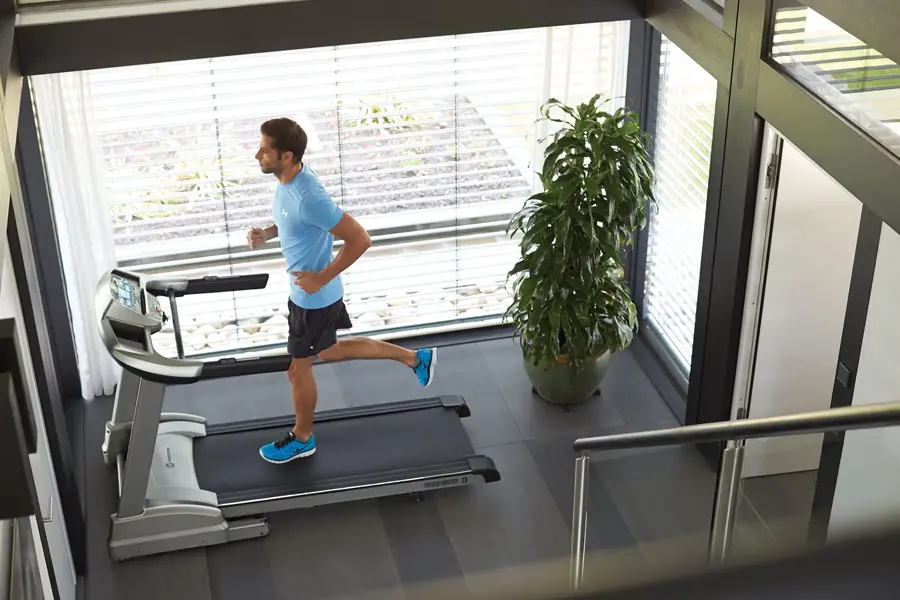 The treadmill is perhaps the most popular form of exercise machine available. This is because of two very simple reasons. For one, running, jogging, or even walking on a treadmill is very effective as a form of exercise and for losing weight. Secondly, the motion that one would do on a treadmill comes very natural to a person. This makes exercising on a treadmill easy to do and easy to maintain. The exercise machine is so popular that sports shops will attest to the fact that at least one gets sold every thirty days. Whether you are out to buy your first treadmill or if you want to get a new one, there are some important tips and things to consider when buying a treadmill.
Who, Why, Where, and How Much
Before buying a treadmill, the first question you should ask is why you are buying it. Any purchase you make should have a reason behind it. Whether there is an actual need or you simply feel the urge to try it out, there has to be a reason why you should be buying a treadmill. If this is not the case, you will just be wasting your time, effort, and money as you will have no purpose for your treadmill. To help you get to your answer, ask yourself these questions:
Who – Who will be using the treadmill? You may think that this is not a factor in deciding what treadmill to buy as anyone in the house can use it, but the height, weight, and other characteristics of the person who will use the treadmill is an essential consideration for which one you should buy. This will give you a basis as to what type of treadmill to buy, as well as what other add-ons or special features the treadmill has to have.
Where – Where you want to place the treadmill will also affect your purchase decision. Obviously, you will not be able to buy a treadmill that is too large if you only have a small space for it. You also want your treadmill to fit as naturally into your home space as possible. This means that the style and design of the treadmill you select should go well with the space you have planned out for it.
Why – Aside from a general question of why you would want to buy a treadmill, you should also ask yourself why and how you plan to use it. Will it be part of a regular exercise program? How many times a week do you plan to use it? How many hours a day do you plan to be on the treadmill? Will you need varying speed levels? An incline? Think of these factors when selecting the type and quality of treadmill you should buy for yourself.
How Much – Never go into a store thinking of buying a treadmill without having an idea of how much you should pay for it. You should know how much you are actually willing to buy a treadmill for, and how much the treadmill you are looking for is actually worth. Try to find a middle ground or if there is no way going around the high actual price of the treadmill, see if you can get one on a discount or a promo. Ask the sales personnel if they have other options similar to the treadmill you are looking at as well. Keep this in mind as not setting a budget can cause you to go beyond what you can actually buy or if not, it could lead you to buy a treadmill that will not at all suit your needs and preferences.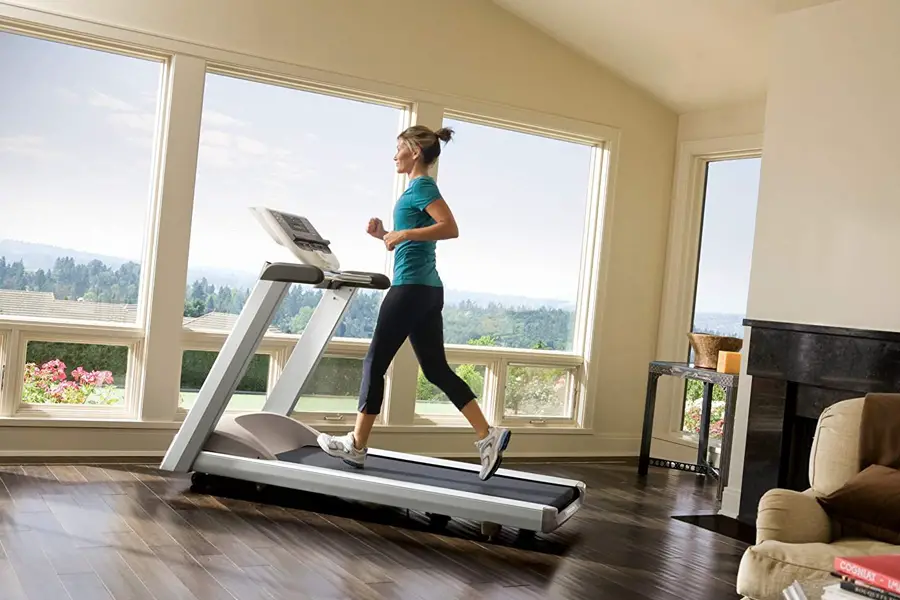 Manual, Folding, or Motorized Treadmill?
There are different types of treadmill, and the difference between these types could help you decide which one to buy. Some of the most common types available are manual, folding, and motorized, and it would help narrow down your choices if you knew what each of these types meant.
A manual treadmill relies on the user's steps to be operated. This means that it will work as long as you continue walking or running on it, but it will stop once you stop. In one sense, this is easy for those who wish to control their own pace and those who may have difficulties keeping up with a set speed. On the other hand, it can also be harder to use because fatigue sets in much quicker as the machine works from the effort of the user. If the user also wants to adjust the incline of the machine, he or she will have to get off first and do this manually. This type of treadmill may be the most basic and may also be the least expensive as well.
If you want a treadmill that can easily be folded up for storage or carrying, the folding treadmill is for you. This is mostly for those who do not wish their treadmills to take up so much space, or those who think that they will need to constantly move the treadmill from one place to another. Unfortunately, most treadmills of this type also tend to be more compact and could therefore be too small for certain users.
Motorized treadmills are the more expensive types available. These are the types that you would normally see in a gym which can operate with a simple press of a button. The belt can be operated to move on its own and the user will simply have to keep up with the pace. Most motorized treadmills have speed adjustment as well as incline adjustment buttons which can all be set before or during workout.
A motorized treadmill will also likely have additional features such as a heart rate monitor, pre-set programs, and computations as to the distance and the number of calories you have likely covered with your workout.
Additional Thoughts
On top of knowing your personal preferences, needs, and the difference between the types of treadmills available, you should also take into consideration other factors when selecting and purchasing your treadmill. Some of the other factors you should ask about are:
Warranty
Safety
Maintenance requirements
Ease of use
Quality and durability
You should also ask about other basic information such as the payment terms and options that you can choose from, any deals or promos with the machine, and even the delivery arrangement for the machine. As with any purchase, see that you get the best value for your money and make sure that you do not regret the decision that you make.