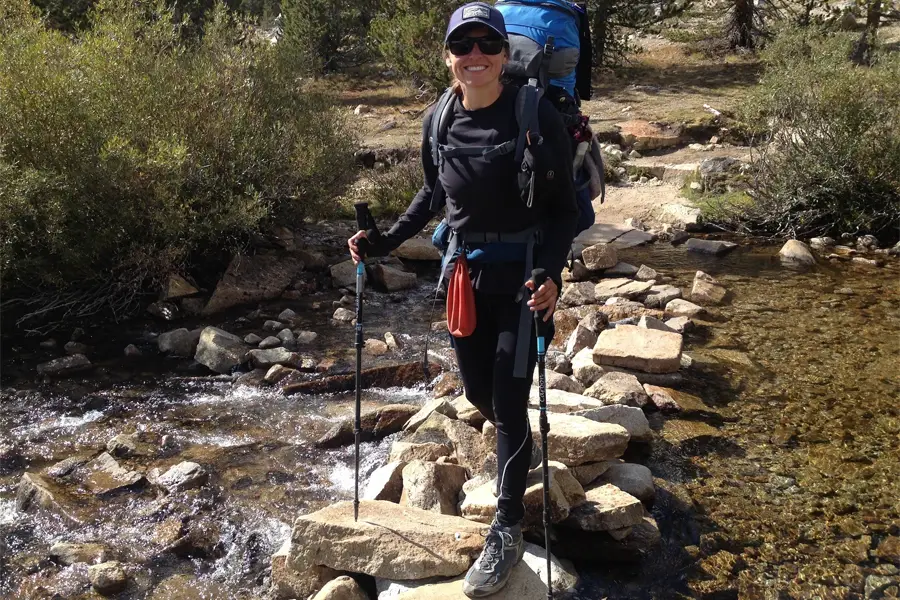 Trekking Pole Reviews
Trekking poles can be used by hikers, trekkers, backpackers, and snowshoes to get from location to location. The trekking poles can increase your stability and support on all different types of terrain. While looking for a trekking pole you need to consider weight, price, shock absorption, and shaft construction. The following trekking poles are made with top quality materials and will allow you to adventure anywhere you desire.
Most Popular Trekking Pole
Black Diamond Alpine
The Black Diamond Alpine Carbon Cork Trekking Poles (Pair)-2013 are great sturdy poles that will allow you to trek anywhere your heart desires. This premium-handling, lightweight pole with a natural cork grip will make your hiking experiences more comfortable. The FlickLock Pro feature will provide you to adjustable security. The Black Diamond Alpine Carbon Cork Trekking Poles are made with 100% carbon fiber allowing the trekking poles to be very durable. The natural cork grip has a dual-density top with a 360-degree Nubuck strap. The trekking pole has a non-slip foam mini-grip extension for secure choke ups. The Dual FlickLock Pro and Interchangeable carbide tech tips that can easily be switched out for rubber Tech tips for you to choose depending on your needs and comfort, to make your hiking experience more enjoyable. The Black Diamond Alpine Carbon Cork Trekking Poles come with a low-profile trekking basket and powder basket.
Lightweight pole with a natural cork grip
FlickLock Pro feature provides adjustable security
100% carbon fiber
Dual density top with 360 degree Nubuck strap
Interchangeable carbide Tech tips
– Anthony Dawson
Best Overall Trekking Pole
Black Diamond Trail
The Black Diamond Trail Compact Trekking Poles (Pair)are fire red in color and are offered in 59-125 centimeters in size allowing people of all heights to use this trekking pole. This trekking pole is an all-around pole that will provide you with excellent balance with comfort features at an affordable price. With the dual-density grip top your hands will be comfortable during hours of use. The Black Diamond Trail Compact Trekking Poles have a 360-degree padded webbing strap and a non-slip foam grip extension. This feature will make it so you can trek without having to worry about the devices stability. This trekking pole has Double FlickLocks with interchangeable carbide Tech tips. The carbide Tech tips can easily be changed to rubber tips allowing you to choose the tip that is most comfortable for your adventures. When you purchase this trekking pole, you will also receive a low-profile trekking basket and powder basket
Fire red in color and 59-125 centimeters in size
Dual-density grip top
360 degree padded webbing strap
Double FlickLocks
Interchangeable carbide Tech tips
– Anthony Dawson
Best Budget Trekking Pole
BAFX Products
The BAFX Products (TM) -2 Pack-Anti Shock Hiking/ Walking/ Trekking Trail Poles-1 Pair is very strong, durable pair of trekking poles that will help you succeed in all your hikes and adventures. This trekking pole is made of durable lightweight aluminum allowing you to hike and trek as you please without the product slowing you down. This trekking pole extends from 25.5 to 53 inches providing various heights for nearly anyone to use this device easily without causing any discomfort or strain on your arms, legs, or back. With the anti-shock springs provide hours of comfortable hiking. The BAFX Products (TM) -2 Pack-Anti Shock Hiking/ Walking/ Trekking Trail Poles has a durable tip provides less give for various surfaces with a rubber foot for flat surfaces and an optional snow disk. The soft plastic grips are very comfortable and have a wrist strap with a mini compass to help you find your way.
Made of lightweight aluminum
Extends from 25.5 to 53 inches
Durable tip for less giving surfaces
Rubber foot for flat surfaces
Wrist strap with mini compass
– Anthony Dawson
Trekking Pole Buying Guide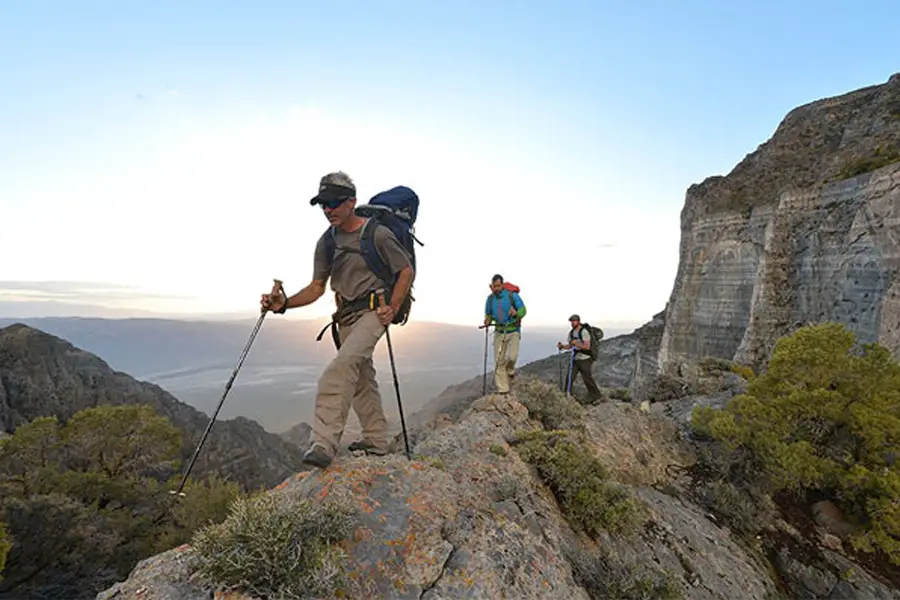 Trekking and hiking are some of the most exciting and fun adventures that you could experience in your lifetime. This is a perfect time to revitalize one's self and spirit. This is also the best time to bond with family and friends. Trekking and hiking poles allow you to witness the beauty of nature, and let yourself be awed by the breathtaking views and natural events such as the beauty of watching a panoramic sunset on the top of the mountain, the feeling of getting yourself mesmerized by the lush green vegetation of the countryside, and the excitement of exploring the depths and corners of the earth that you have never seen before. These activities are also proven to enhance wellness and self discipline. Studies have shown that people who are actively engaged in activities like trekking and hiking are the most likely to live a healthier and longer life because these are totally physical exercises that can help you lose weight, aid in the important biological processes occurring inside the body, and help in releasing bodily induced tensions and stresses. Moreover, activities like these help develop psychological and emotional stability.
Trekking Pole Usage
Are you planning to go on a day hiking trip this weekend on the Applachian trail together with your friends? You would want to make this adventure memorable and unpredictable. You would like to explore the entire trail and discover nature's hidden wonders. You are left with one more question: How will you ensure that you would be able to finish the entire hiking activity safely? There will sure be rough terrains along the trail and you have to be fully equipped with ideal hiking accessories that would enable you to enjoy the activity and at the same time free yourself from impending accidents and dangers. You must have a very strong gut, high spirit and a great quality trekking pole.
A trekking pole is a hiking accessory that is similar to ski poles. It consists of a tip at the bottom most portion, topped by basket, shaft, locking mechanisms, extended grip, rubber-padded handles and wrist straps. Two or three interlocking sections make the trekking pole identifiable from the rest. Adjustability which typically ranges between 24 and 55 inches lets you adapt the poles to the terrain conditions and to your height. Trekking poles are usually made of carbon fiber or high-grade aluminum.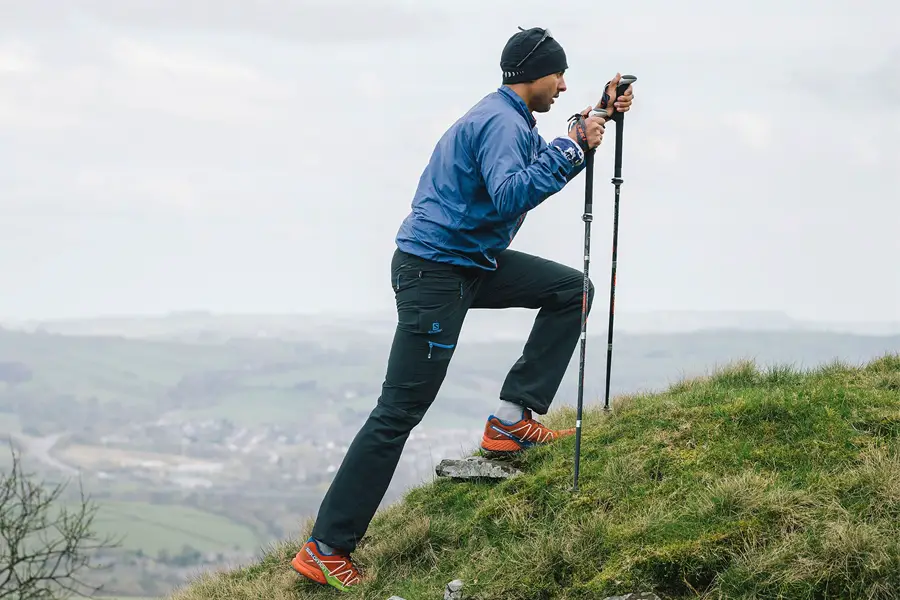 Trekking Pole Advantages
Trekking poles generally provide better balancing and footing even if you are on uneven grounds. It makes crossing loose rocks, streams and slippery surfaces such as ice and snow patches uncomplicated and trouble-free.  It helps you establish a walking rhythm. It assists in probing soggy terrain for boggy spots and holes and pushing back overhanging vegetation from the trail. It avoids the need to use up or spend too much energy in going up and down steep trails. It helps decrease the amount of stress on your legs and joints especially on downhill hikes. The pole transfers some of your weight to your shoulders, arms and back, which can reduce leg fatigue and add thrust to your ascent on uphill climbs. There have been studies showing that trekking poles can reduce impact force by up to 40 percent on your knees, which could make a backpacker or a hiker of any age appreciate it more.
Generally, trekking poles differ in features, make and capability. Antishock poles contain internal springs absorbing the shock when you walk downhill. These are highly recommended for people with damaged or weaker ankles, knees or hips. Standard poles are less expensive and lighter because these do not possess antishock features. It may not have that much shock absorbing power, yet these provide a similar level of balance and support. Compact or women's poles are made for hikers with smaller hands as these are short and have smaller handles. A hiking staff is a single pole that works at its fullest when used on relatively flat terrain and with futile or no load on your back. Nordic walking poles are perfect examples of modified and enhanced trekking poles. Youth poles made for children are now being developed and reproduced for mass purchase.
When you are searching and shopping for the right trekking poles for you, there are several factors that should be taken with utmost importance and consideration. These include cost, weight, shaft construction, the type of grip and shock absorption. You should also consider the overall health and condition of ankles, hips, and knees.
Trekking Pole Material
The cost of the pole is determined by the weight and makeup of its shaft. Carbon fiber poles are the lighter and most costly option. These are quite strong and are good in reducing vibrations. One thing to keep in mind is that these poles are more vulnerable to damages or breakages, under extremely stressful conditions.
High-grade aluminium poles are stronger and more budget-friendly. Under extremely stressful conditions, these poles are more likely to bend but are not prone to breakage.  The mechanism of two or three interlocking sections makes these trekking poles identifiable. Adjustability which typically ranges from 24 to 55 inches allows these poles to adapt to your body length and to the conditions of the terrain. You have to make sure that you have checked the size range of each model to ensure that it fits your height.
Most poles use the twist-and-lock system in which you have to consider initially the length you desire and finally twist the pole hard to the right to firmly hold. DuoLock, FlickLock, Stop Lock, and Super Lock System are some of the most familiar varieties of these locking mechanisms.  Grips can be made up of cork, form, or rubber. The positioning and appearance of these grips are based on the brands. It would be best to try at least some of the models first and select the one which gives you great comfort. Wrist straps can be adjusted to get a comfortable fit. Baskets can be a smaller or a bigger one, depending on the weather conditions. Pole tips can be made up of carbide, steel or rubber. Rubber tips are made to extend the life of your poles and reduce impact on the ground when used in highly sensitive areas.
Verdict
The Consumer Search website has recently announced the Top Five Best Reviewed Trekking Poles brands. These include the Black Diamond Spire Elliptic, the Gossamer Gear Lightrek3, the REI Summit, the Leki Traveller and the REI Four Wind Travel Staff. These poles vary in price, features and composition, yet before purchasing one, consider first every factor needed in order to have an enjoyable and safe trekking or hiking experience.