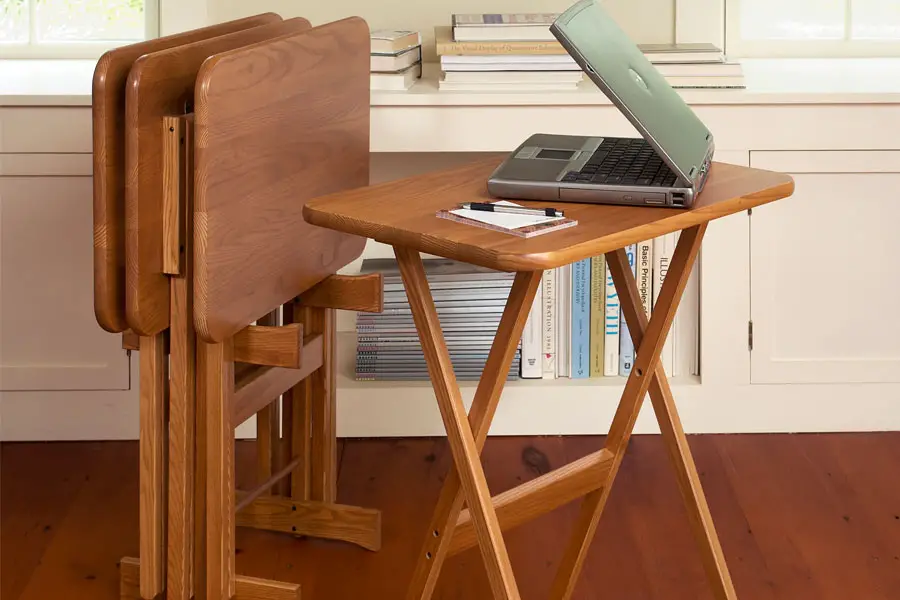 TV Tray Table Reviews
Today we are all about convenience and we enjoy products that provide us with solutions that increase this convenience. TV tray table offers a wide range of uses that add to our comfort. They can be used to serve dinners in a room other than the dining room. They also serve as a table to hold items. So whether someone is sick and in bed and needs to be brought food, reading materials, computers or other devices that need a table, or we are using it to eat dinner in the living room, TV tables add a great deal of convenience to our busy lives. The following TV tray tables will allow you to have a portable table that can be used anywhere.
Most Popular TV Tray Table
Winsome Wood
The Winsome Wood TV Table Set, Walnut will bring a small stylish dinner table to a destination in which you are most comfortable. These TV tray tables can be used for anything, not just meals. Instead of uncomfortably positioning yourself to read a book, flip through a magazine, or complete work, these TV tray tables allows you to do what you want, where you want. The TV tray tables are made of solid Beachwood that will last. They come in a set of four tables along with a storage rack. The storage rack provides a compact storage option when they are not in use. The legs of the TV tray tables are strong and will allow you to perform any task or eat wherever you desire. The Winsome Wood TV Table Set can also be used to add extra tables for dinner parties and entertaining.
Comes with 4 tables
Made of solid Beachwood
Includes a storage rack
Portable and can be used anywhere
Add additional tables when entertaining
– Anthony Dawson
Best Overall TV Tray Table
Winsome Wood
The Winsome Wood 5-Piece TV Table Set will bring a modern way of eating and working into your home. You will no longer have to hover over the couches arm rest; instead you can have a convenient TV tray table that will hold your items making it possible for you to relax comfortably. This TV tray table set will bring a modest and fresh accessory into your home. The Winsome Wood 5-Piece TV Table Set is made out of Beachwood. The finish on the TV tray tables has a natural look making it easy to compliment your home décor. It also is available in black. The TV tray tables have edges that are rounded preventing accidents and make it more comfortable to use. The tray tables are 19 inches in width, 14.6 inches long, and 26 inches tall.
Enables you to relax comfortably
Brings a modest and fresh accessory into your home
Made out of Beachwood
Available in natural or black color
Rounded edges
– Anthony Dawson
Best Budget TV Tray Table
Linon Home Dcor
The Linon Tray Table Set-Brown Faux Marble comes in a set of 4 tables. Portable tables offers you a new way to work or eat in convenient locations. Due to the classy faux marble with a brown tint, you will be able to bring a trendy fashion accessory to your home. The set includes a storage rack made for easy and compact storage when the tables are not in use. The storage rack has a handle on top allowing you to transport the TV tray tables easily. The TV tray table is 19 inches in width, 13 inches deep and 31 inches tall allowing you to have plenty of room to eat, work, or use as an extra table. The Linon Tray Table Set-Brown Faux Marble-Set of 4 is made out of strong wood that is built to last.
Classy faux marble with a brown tint
Four tray tables and a storage rack
Storage rack has a handle for easy transporting
Tables are 19 inches in width, 13 inches deep, 31 inches tall
Made out of strong wood
– Anthony Dawson
TV Tray Table Buying Guide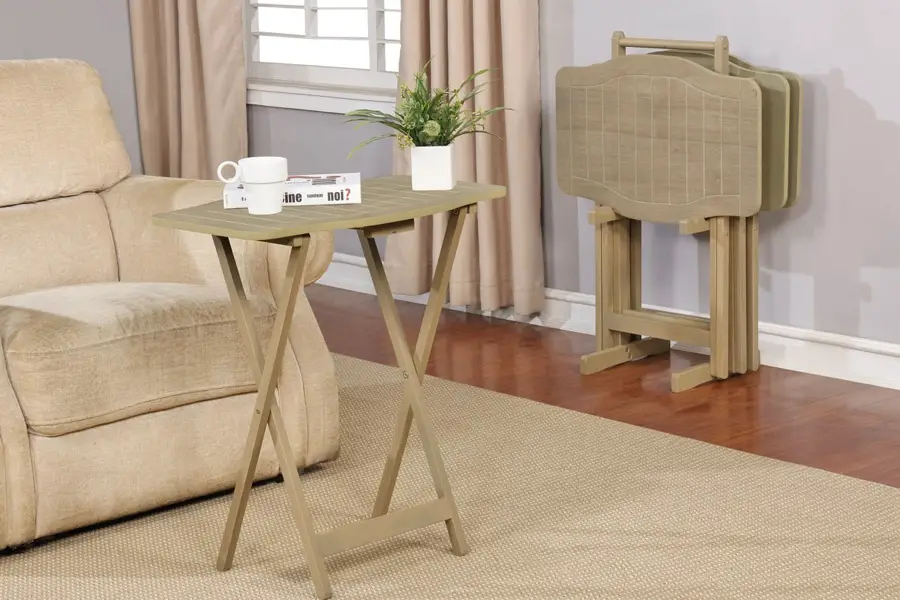 TV tray tables are useful in various activities. They are versatile such that you can use them for reading and placing snacks, laptops, and meals on them. They are also portable, and you can fold them for easy transportation. TV tray tables come in different designs and shapes. You should choose a TV tray that suits your needs.
Types Of TV Tray Tables
Overbed TV Trays
Overbed trays are mostly used in hospitals since they fit over the bed. They are suitable for people who want to work or eat from the bed. They have two legs on the floor that support the tray while is working or eating.
Overlap TV Trays
You can use these trays while sitting on the sofa and suitable for working or eating in the living room.
Snack TV trays
Snack TV trays are narrow and look attractive. They are also lighter and more portable.
Folding TV trays
You can easily fold and unfold these trays. They are usually square or rectangular and can be used as a laptop table. They take less space, and you can fold and store them you are not using them.
Wheeled TV trays These trays have wheels at the bottom for easy movement. They are usually strong and won't break easily.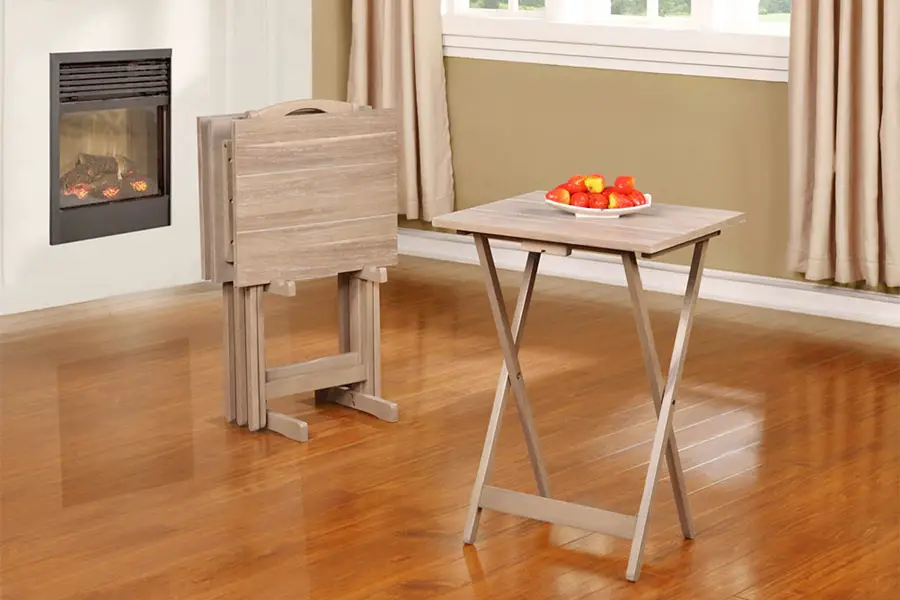 What To Consider When Purchasing TV Tray Tables
1. Weight
TV tray tables should be lightweight and flexible. Ensure that you find one that is easy to move and convenient to use.
2. Adaptability
The heights and angles of many trays can be adjusted. Some designs are made of wood and can't be adjusted, but they are elegant. However, adjustable TV is more convenient. You can customize them depending on your needs. You can use them for meals, reading, drawing, and even painting.
3. Build Quality
A good tray should be not only lightweight but also strong and of good quality. Versatile TV trays can be used for various activities without breaking or collapsing.
4. Materials Used
Trays are made from different materials depending on their purpose. People who want to place heavy things on the tray should go for metallic trays. Wooden trays are good for laptops since they are slip resistant. They are also good for studying.
Plastic trays are easy to clean and lightweight. Wood trays are elegant last longer than plastic ones. Metallic TV trays are also durable but heavy to move around.
Maintenance of TV tray tables varies depending on the material. Plastic TV tray tables should be cleaned with smooth clothes to prevent scratches. Metallic TV tray tables should always be dry to prevent corrosion.
Generally, TV trays need frequent cleaning, especially if you use them more often. Ensure that you handle them with a lot of care. Always ensure that the materials blend with your room décor.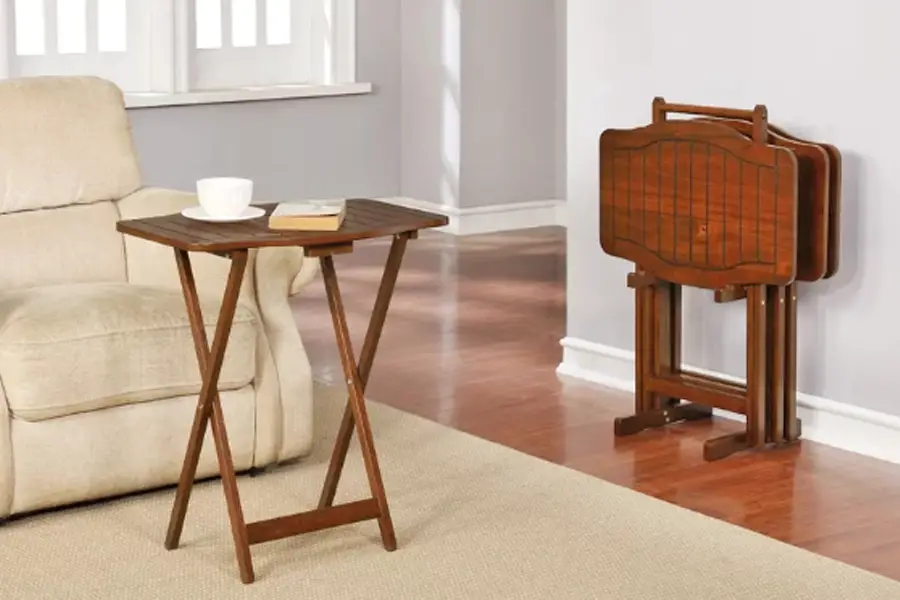 Is It Collected Or Requires Assembling
Some TV tray tables need you to assemble different parts into one piece. This should not worry you because the whole process is straightforward. Read the manual before you start to assemble the table. Just ensure that all the parts are in the box.
The Style
Go for a tray table that not only suits your needs but also integrates with your décor. Choose a stylish and elegant table, especially if you are planning to use it often.
Additional Tips For Buying TV Tray Tables
• Know the exact purpose for buying the tray. This will help decide on the type of tray to buy.
• Buy a tray that suits your taste and preference.
• Consider the weight of the tray.
• It's advisable that you buy a TV tray that has a storing stand.
• Compare several types and brands of trays before you settle for one.
Conclusion
It's crucial that you look for a TV table tray that is flexible, durable, convenient, and suits your needs. Choose the materials wisely since they suit different needs. Heavy loads need strong tables such as metallic TV tray tables.
Go for plastic TV trays if you want a table that's easy to move around. The types of TV tray table matter a lot. Buy overbed TV trays if you plan to work from your bed. Folding TV tray tables are ideal for people who want to free up space in their rooms.
If you follow the tips, then you shall have the best shopping experience for the best TV tray that will fit your needs saving you a lot of time and money.