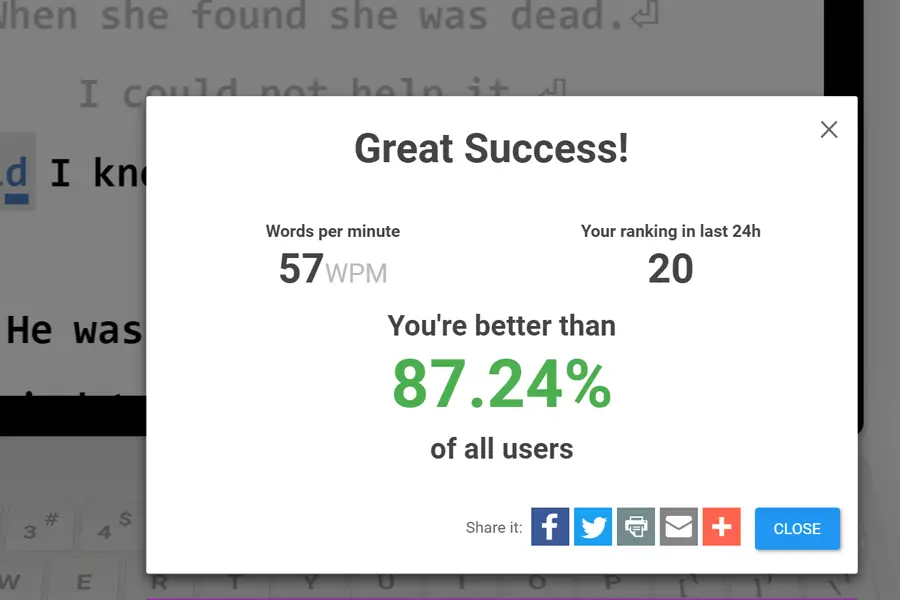 Typing Software Reviews
In today's society, computers are a ubiquitous aspect of everyday life, from work to school to personal at-home use. As such, the ability to properly type has become an essential skill not just for leisurely browsing the web, but also for progressing through higher education and seeking employment in the corporate world. More specifically the skill of touch-typing, wherein the ten fingers are trained to hit certain keys, allows the typist to read and type simultaneously, allowing for more accuracy, speed, and productivity. Regardless of your level of typing proficiency, typing software can teach you how to touch type like an expert, faster, and more accurately. Typing software typically features step-by-step instructional lessons, warm-up games and review exercises, optimized learning, and a variety of supplementary features to improve the way you grasp what you learn.
Most Popular Typing Software
Mavis Beacon Teaches Typing Powered
The feature-packed Mavis Beacon Teaches Typing Deluxe software can take index finger keyboard pushers and turn them into dynamic touch typists.The software comes with over 330 personalized lesson plans with different exercises and tests, 12 interactive typing games, along with jokes, song lyrics, recipes, and riddles so you're not always typing the same boring content. Students can learn to type in both English and Spanish, with detailed progress tracking and reporting that explains how you're progressing with the training. Mavis Beacon's interface emulates a classroom setting and the user selects various objects throughout the room to start different exercises and tests. In addition to its vast array of lessons and drills, MB Teaches Typing Deluxe has videos and text blurbs that give you advice on proper typing posture. Customize lessons plan to suit your individual learning needs, download lessons to your mobile device for lessons on the go, and import mp3 files to listen to your favorite music while you practice your touch-type skills.
330 individualized lesson plans, exercises, and tests
More than 12 arcade-style games make learning how to touch-type fun and interactive for all ages
Fast, easy installation can be synced to your mobile device for lessons anywhere
Bilingual typing instructions for English and Spanish with comprehensive progress reports
– Anthony Dawson
Best Overall Typing Software
Disney: Mickey's Typing Adventure for Mac
With Mickey's Typing Adventure, young typists enter into the magical world of Typelandia where they help Mickey and his friends on an adventure through instructional typing games. Kids can start their adventure in the Typelandia Village, where they can enter the Ye Old Magic Shoppe, the Arcade, the Library, and the Academy, each with their own exciting and interactive learning lessons. Within the visually focused curriculum of Mickey's Typing Adventure are 10 typing courses suitable for children of all ages, along with hundreds of lessons and exercises that are tracked and report speed and accuracy data. Beyond that, kids can play games with the new keys they learn inside seven exciting games and practice typing passages from ten Disney stories. Games include Mickey Mouse and the Pyramid of Peril and Run Pluto Run, with Huey, Dewey, Louie, Daisy, Donald, Minnie, and Goofy all along for the ride.
Instant feedback given after each lesson or challenge including WPM and accuracy
Practice typing passages from 10 familiar Disney stories or choose interactive games that motivate students to reach for the high scores
Join Mickey and all his friends in the world of Typelandia where 11 typing courses challenge students of all ages and levels
Over 160 individual lessons with structured content and proven skill-building exercises
– Anthony Dawson
Best Budget Typing Software
Typing Master 10 Premium
Promising an improvement in results with five hours of exercise and instruction, TypingMaster Pro 7 is the go-to typing software for teachers, students, and business professionals alike. Students can follow entire typing curriculums with step by step instructions through keyboard drills, review exercises, games, and typing tests that keep them engaged and supported through every step of the curve. Instant feedback and long-term statistical analysis make it easier for both student and teacher to track individual progress. The TM Pro 7 software is hailed by touch-type teachers in schools all over, as teachers can group students together, set target levels, and follow each student's progress in different report formats. For quick and advanced learners or those simply seeking to keep their speed and skills sharp, the program includes additional number row, speed building, and special marks courses and targeted review exercises.
Included typing courses in three languages – English, French & Spanish
Skills Tracker tool analyzes your typing while you work and issues hands-on training and lesson plans accordingly
Learn the basics of touch-typing within 6-10 hours and see speed/accuracy improvement in under 5 hours
Multi-user support can store individual study data for thousands of students, accessible on any computer within the network
– Anthony Dawson