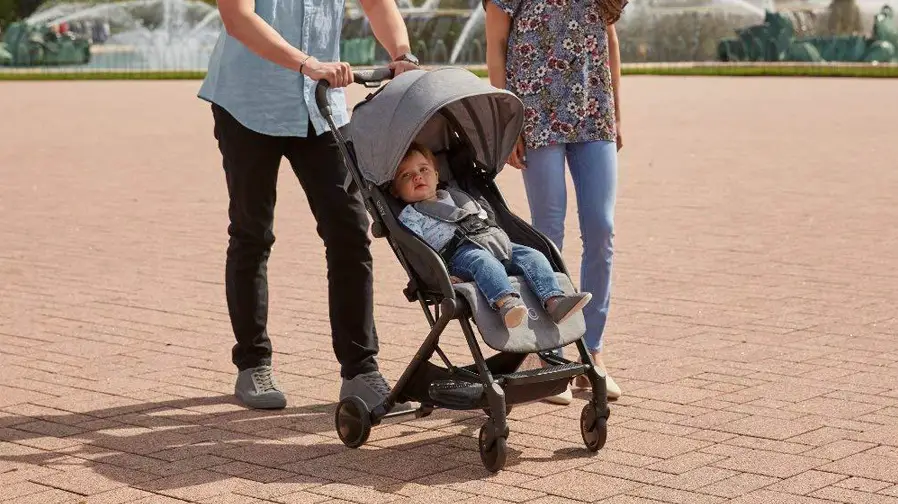 Umbrella Stroller Reviews
When you are out and about, an umbrella stroller is a great way to transport your child with a compact stroller that does not take up much room. The umbrella strollers allow your child to be comfortable when their legs get too tired to walk, before the outing or trip is over. These compact strollers fold up very small taking up little storage and car space and pop up for quick and easy set up.The following reviews provide umbrella strollers that are easy to sue and provide safety for your child during long outings or trips. These strollers are a wonderful convenience and are useful for children up to fifty pounds.
Most Popular Umbrella Stroller
Summer Infant
The Summer Infant Stroller comes in Tangerine. This umbrella stroller has a visor and will keep the sun out of your child's eyes while also shielding them from wind while you are walking around. The umbrella stroller has a snack tray that can hold snacks, along with an extra-large cup holder for drinks. The snakc tray rotates for ease of putting the child in and out of the stroller. It can also be removed for easy clean-up. The extra-large cup holder fits almost every kind of bottle, sippy cup, or beverage. Many cup holders are regular size and do not fit larger shaped sippy cups. The Summer Infant Stroller has a reclining seat that will allow your child to be very comfortable in various positions. The canopy is adjustable which will help your child be protected from Mother Nature. The umbrella stroller also has a 5 point harness to keep your child secure while on the outing. The large basket underneath the seat will hold a diaper bag, purse or other things you need to carry.
Extra-Large drink holder to fit cups or sippy cups
Multi position reclining seat
5-point harness to secure child
Large basket underneath stroller for storage
Canopy for protecting against the elements
– Anthony Dawson
Best Overall Umbrella Stroller
JOOVY
The JOOVY Stroller comes in nine different colors including: red stripe, polka dot, black stripe, city chic, Disney Minnie, naturalization, pop of pink, pop of teal, or sticks & stone. The many different choices allow you to choose a color that will match your personality. The umbrella stroller can be used for your child until they are fifty pounds. The JOOVY Stroller has a very strong frame which provides support for the child and creates easy maneuverability. The umbrella stroller has a 5 point harness that will keep your child securely in the stroller. The handle for the umbrella stroller is tall; however, the handle does recline into several positions, which allows you to select the most comfortable height. The JOOVY Stroller has a large parent console area and storage basket that will allow you to store you and your child's things while you are out and about.
Holds up to 50 pounds
5 point harness to secure child
Adjustable handle for more comfort
Storage basket for diaper bags or purses
Variety of colors available for personalization
– Anthony Dawson
Best Budget Umbrella Stroller
Kolcraft
The Kolcraft Stroller comes in seven different colors including: black/green, red/black, city chic, naturalization, pop or pink, pop of teal, or skull and crossbones. The Kolcraft Stroller can be used for young ones six months old until they are fifty pounds. This stroller is great as your child is sitting up comfortably. The stroller has adjustable handles that can be moved or reclined for your comfort. The Kolcraft Stroller has a 5 point harness that will allow your child to be secure in the umbrella stroller. The umbrella stroller has a large parent console and a lower storage basket that will allow you to hold your belongings along with your child's things. This feature will allow you to be hands free without having to hassle with the many things a child needs when heading out. The Kolcraft Stroller can be folded with the one hand fold feature and only weighs 11 pounds. The light weight design will allow you to transport the umbrella stroller easily.
5 point harness to secure the child
Lightweight; only 11 pounds
Parent console and storage basket
Good for children 6 months up to 50 pounds
Strong frame for safety and easy one hand fold down design
– Anthony Dawson
Umbrella Stroller Buying Guide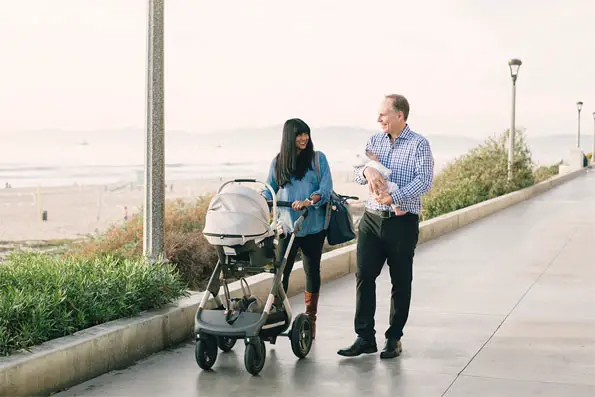 An umbrella stroller is considered to be a better and more convenient alternative for the conventional stroller. This type of stroller is very simple in design because it commonly has only one sling-type seat, which doesn't have any added extras such as a canopy and storage. This was the case before, but it has completely changed now.
Over the years, this particular type of stroller has been developed and modernized to produce a way better version. In today's time, the umbrella stroller that used to be very limited and simple is now highly stylish and functional. Strollers that are of this type already have great features such as canopies, optional reclines, and car seats that are used to be absent in a lot of strollers.
When buying an umbrella stroller, there are a few things one should keep in mind before making a final decision. It is said that the best kinds of this particular type of stroller have fundamental safety properties that would ensure the child or rider's safety. A basic stroller that has good safety features usually has a five-point trapping that comes with a tight buckle. Also, rear brakes on both wheels should be included as well.
Next are the easy-to-operate features. No one wants a stroller that is hard to deal with, which is why it is important to look for a stroller that has easy features one could easily work around with. Some of these features are the capacity to lock the one-handed fold in an instant, which is particularly helpful in securing the child in place.
The stability of the stroller is also greatly important. Before buying a stroller, it is crucial to make sure that no possible episode of accidental tipping backwards should happen because this could immensely put the child in danger. Testing out the stroller is also recommended so that the potential buyer will have a good feel of it before actually purchasing it.
A canopy should also be highly considered because this is what protects the child or rider from the harmful rays of the sun. Size usually differs from one another, but keep in mind that when acquiring a stroller that doesn't weigh too much, you need to make sure that you invest in a stroller that has an adjustable or removable canopy. There are also strollers that include canopies that are made of UV-protected fabric, which are considered to be a great bonus.
Depending on the owner of the umbrella stroller, there are a few things to ask yourself before making a purchase.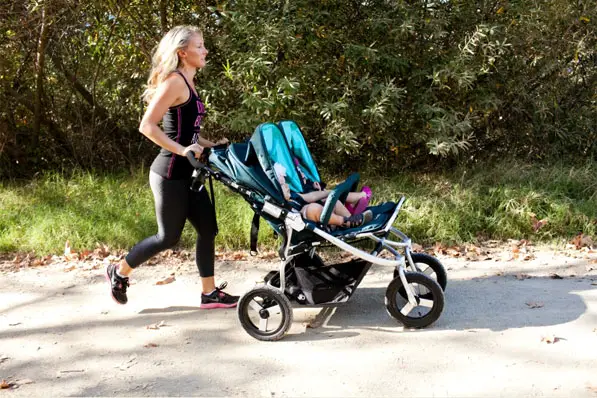 Things to Consider
Is The Umbrella Stroller The Right Size?
The first one is the size and capacity of the place where the stroller will be stored. Whatever happens, strollers are bought to be transported to different places, which is why measuring the trunk of the car or the space where it will be stored is highly helpful.
Is The Umbrella Stroller Easy To Lift?
Is the lifting capability of the owner. Since strollers aren't necessarily the lightest things on Earth, the weight of the stroller should highly be considered. It is important that the owner or whoever's going to carry the stroller will be able to lift it without hassle, so make sure to pick a stroller that is manageable when carried.
How Long Do You Want To Own The Umbrella Stroller?
How long do you want to own the umbrella stroller. Strollers do have a life span, depending on the type of it, which is why planning ahead is useful when acquiring a stroller. Some strollers can only accommodate children up to 6 months, so after that period of time, then it would be time to buy a new one. For those who are looking for a stroller that could accommodate a child until he/she has turned 3 years old, it is advised to invest in a stroller with a higher weight rating.
How Often Will You Use The Umbrella Stroller?
The frequency of using the stroller should also be considered. If it is going to be used on a daily basis, then it is highly recommended to look for a stroller that has the most comfortable features and components so that the child or rider will feel completely at home while on it.
What Terrain Would The Umbrella Stroller Be Mainly Used On?
The terrain where the stroller will be used is also important. Some strollers only work in places that have a smooth ground or surface. On the other hand, if the stroller will be used in places wherein the surface or ground is rough, then it is advisable to invest in one that can operate on difficult terrains.
There are certain buying tips and tricks one could follow before buying a stroller. The very first one is trying the potential acquisition first. Purchasing a product right away could be tempting and less of a hassle sometimes, but always remember that testing something out first could greatly help in ensuring its quality. Try pushing the stroller around the store first in order to get a good feel out of it.
Before buying, one should verify the weight ratings of the product. Some sellers of strollers tend to exaggerate information about the product, which is why it is highly recommended to verify any thing that one might find confusing.
Buying last year's model or style isn't wrong at all, it will actually allow the buyer to purchase it for a much lower price. Since new and modern styles come out every now and then, those styles of last year are often forgotten and are sold for a cheaper price than how it really used to cost.
Last but not the least, one of the most important things you should keep in mind is to not buy used strollers. Although it can be cheaper in price than a brand new one, used strollers tend to be more prone to damages that could endanger the child or rider's safety. The quality of the stroller doesn't even matter when it comes to buying second-hand ones. While there are also used strollers that are still in good condition, the buyer should still be skeptical and keen before making a decision. It is always good to buy brand new stuff so that the quality will be at par and recall-free.