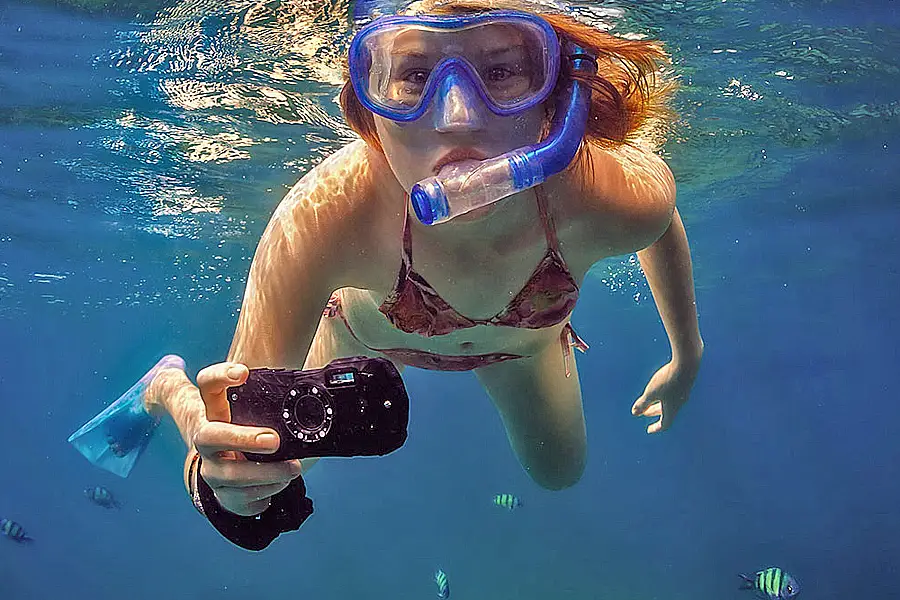 Under Water Camera Reviews
Not too many years ago waterproof cameras were expensive, clumsy and not very durable. In the last year the advancements seen in cell phones and the built in cameras have put the fire under camera manufacturers to produce better products with more features. They have had to step up their game and improve their pricing because now they are not only competing with other camera manufacturers but cell phone providers as well. This has produced better cameras at lower prices, taking amazing pictures. If you have thought about an underwater camera but have put off the purchase, now is the time to explore the market again. There is a wide range of options available for high quality cameras at reasonable prices in the point and shoot market. We have selected the best underwater cameras that provide rugged use and sharp clear pictures for your enjoyment for years to come.
Most Popular Under Water Camera
Nikon
The Nikon-COOLPIX-Waterproof-Digital-Camera is a rugged camera built for withstanding the outdoor elements. The camera is waterproof to 33 feet and shock proof to 5 feet and freeze proof to 14° F. It comes with 16MP and a 3″ LCD monitor and has 5X optical zoom and 4X digital zoom. The CMOS sensor is great for low light pictures and fast action shots. It keeps moving objects in focus and reduces the noise in the photograph. The Nikon-COOLPIX-Waterproof-Digital-Camera has full HD capability and records with stereo sound. The VR image stabilizer keeps the images steady even when the environment is not steady. The buttons and controls are easy to operate, even when wearing gloves. This makes this camera great for skiing, scuba diving or other rugged outdoor adventures. The Nikon-COOLPIX-Waterproof-Digital-Camera has a GPS and e-Compass capability and can record the time and location of your adventure shots automatically. The Nikon camera comes with a 1 year warranty.
Waterproof to 33ft, shock proof to 5ft, temperature range is 14° F
5X optical zoom and 4X digital zoom
16MP; 3″ LCD monitor; 5X optical zoom and 4X digital zoom
GPS and e-Compass capability
1 Year warranty
– Anthony Dawson
Best Overall Under Water Camera
Canon
The Canon-PowerShot-Waterproof-Stabilized-Wide-Angle camera is a great camera for outdoor adventures. Whether you are headed to the beach, going scuba diving, kayaking, rafting or skiing, this camera is built for a variety of outdoor elements. It is water proof to 33 feet and shock proof to 5 feet. The camera will also withstand temperatures from 14° F to 104°F. The 3″ LCD monitor has true color technology giving you photo viewing that will look like the pictures will be if they were printed out. The Canon-PowerShot-Waterproof-Stabilized-Wide-Angle camera comes with 12.1 MP and a CMOS sensor. The optical zoom is 5X and the digital zoom is 4X. It has full HD video capability and a dedicated video button for taking sharp and crisp videos of your vacations and daily life. There is also a GPS function which records the date and location of all your shots automatically. The buttons are easy to operate even with gloves which make the usage underwater or in adverse conditions easy and convenient. The Canon-PowerShot-Waterproof-Stabilized-Wide-Angle camera has a DIGIC processor which reduces the noise in the picture. This allows you to take high resolution pictures even in low light. The camera comes with a 1 year warranty.Waterproof to 33ft, shock proof to 5ft, temperature range is 14° F to 104°
F12.1MP; 3″ LCD true color monitor
5X optical zoom and 4X digital zoom
Full HD Video capability with DIGIC processor for sharper pictures
CMOS sensor with image stabilizer with GPS capability
1 Year warranty
– Anthony Dawson
Best Budget Under Water Camera
Fujifilm
The Fujifilm-FinePix-XP60-2-7-Inch-Yellow underwater camera is a compact point and shoot camera that will take care of your photography needs near the water or the beach. The camera is waterproof to 20 feet, shockproof to 5 feet, freeze proof to 14° F, and sand/dust proof. These qualities make it a great camera to take to the pool or beach, snorkeling and photographing underwater. The Fujifilm-FinePix-XP60-2-7-Inch camera has 16.4 mega pixels for a sharp clear picture and a 2.7″ LCD screen that has anti-reflective material making it easy to view even in bright sunlight. The 5X optical zoom and 2X digital zoom allow you to get close to your subject and makes taking action pictures easier. The Fujifilm-FinePix-XP60-2-7-Inch also comes with full HD movie recording. It has a mode button which allows you to take pictures, while recording. A few of the interesting modes are 3D, panoramic and underwater settings. The camera includes movie editing, anti-vibration and noise cancellation features for clearer more professional looking pictures and videos. The Fujifilm-FinePix-XP60-2-7-Inch comes with a USB cord, a battery and battery charger.Waterproof to 20ft, Shock proof to 5Ft, Freeze proof to 14° F, and sand/dust proof.
Full HD video recording16.4 MP
2.7 LCD monitor
10X optical and 2X digital
CMOS image sensor with optical image stabilizer
Movie editing and noise cancellation
– Anthony Dawson
Under Water Camera Buying Guide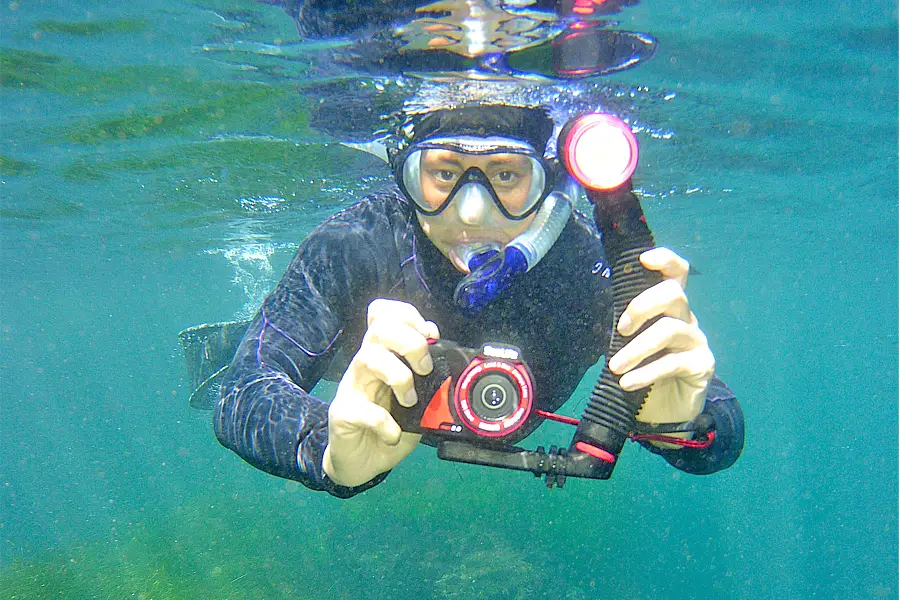 Summer is just around the corner. It's time to enjoy the tropical beaches whether right in your hometown or in other popular tourist destinations.  It's the season to explore the underwater world and its hidden treasures.  The trouble with these under the sea adventures is that you don't often get to capture the memories in the deep blue.  Luckily for people today, technology has come up with a solution:  an under water camera.  Now, you can take the images of the beautiful underwater scenes home with you to show your friends and relatives.
A camera designed for under water use is definitely the choice for those who love to swim and dive.  Photographs can be taken while swimming, snorkeling, or diving without fear of damaging the electronics inside the camera.  The casing is sealed tight enough to withstand the water pressure at specified depths.
Things to Consider
This could be the best gadget you could have this summer season. But do not be in a hurry to purchase one right away. Deciding what to buy when looking for a camera for your sea and underwater adventure can be fairly challenging. You have to be careful since it is not the regular digital camera that you can just point and shoot.  The kind of camera that you choose should match the kind of water activities you will be doing.  There are certain special effects and settings that you might want to have in your camera as well to allow you to enhance your underwater photographs.
Now, if you are on a tight budget, you would have to go for the compact cameras rather than the expensive DSLRs or Digital Single-Lens reflex cameras. Before considering this, you have to check the appearance of your subjects and the background you would see in taking photos underwater. Remember that sunlight is quickly absorbed when on water, so if your subject is farther from you, you would get less color and contrast. So when using compact cameras, you would consider getting closer to objects and have an under water flash or any light source to get the color back on the subject. However, the disadvantage of this is that you would scare off the moving objects like the fishes. This camera is only good when taking photos for coral reefs and underwater plants.
Similar to taking photographs on land, DSLRs would still be the great choice since you would have a wide range of lenses where you can have the option of taking the subjects without scaring them off. In line with this camera, you can also use a special kind of flash called the fill flash that allows you to restore any unsaturated colors that go missing in the surroundings.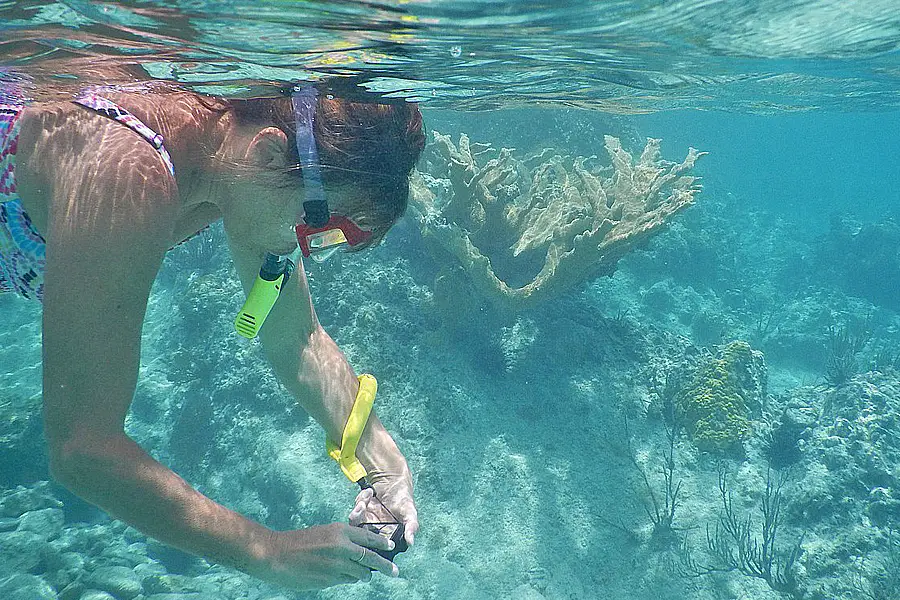 Different Types Of Housings
Either way, you would still think about getting the right equipment whether or not the camera is waterproof.  For dry cameras, you should get special kind of housings that are made for an assortment of digital cameras and their brands. Not all under water cameras have the same casing protecting the internal parts, thus the different kinds of housings for underwater.
These housings are made of reasonably priced plastic to strong aluminum cases.
These cases can also be made with bridged lenses where the photographer could have the option for fisheye, wide-angle, or even macro shots. These lenses can also have some kind of dome glass port to reduce the refraction of light that can go through the lenses.
They are built-in control knobs that can contact the camera inside, allowing the use of standard functions. Most of these cases are generic and can be compatible with the major brands of digital cameras.
They can also have attachments for an external flash often connecting them to a kind of cable between the housing and the camera inside. Because if you use the internal flash, it would only be reflected by the glass material of your housing. And this external flash can solve the backscatter problems. Backscatter happens when the camera gets a shot of the small particles that are floating underwater.
It is also important to consider your photography skills when it comes to taking underwater pictures.  You would likely miss the creatures you want to photograph if you have to fumble with the knobs and controls on your camera.  Choose an under water camera that matches your skills and read the manual to learn how to operate the camera properly even before you get near the water.  Aside from the manual, you might want to check out online websites that offer free underwater photography tips and lessons.
If you still want to purchase a point and shoot camera, consider the manual controls. Underwater photography cannot be easily photographed on automatic controls, remember that light exposure and focus mode can be very difficult to achieve in the deep blue. Be sure to have the basic skills required to adjust the exposure and focus with a digital camera.
Other Features to Consider
Compact cameras also have a little bit of delay when taking pictures. This is called the lag on the shutter opening. Similar to dry photo capturing, moving objects will not yield a clear photo output when there is a shutter lag on your camera. Choose a model of camera that can produce the least lag when pressing the shutter button.
Look for cameras with video capability if you are planning on capturing moving objects on video.  Choose those that can give you high quality videos.  You will be wasting your time taking underwater videos that you cannot view well when you get back home.  A camera with an HD video capability is recommended.
In this age, most of the cameras include an LCD screen where you can check the photos real time or check the result of the photo. It's better if you get a camera with a larger LCD screen with good back lighting since it will be very dark underwater.
Size and weight can be a huge factor as well. You would not want to drop your camera in the bottom of the sea so get a camera that has a lightest weight and that is small enough for you to hold on to while underwater.
To purchase one, it is important that you check the nearest camera store so you could check the under water camera hands-on.  This is better than purchasing a camera online.  A good alternative would be to check out the camera model in-store and then order from an online store that offers the same model at a better price.