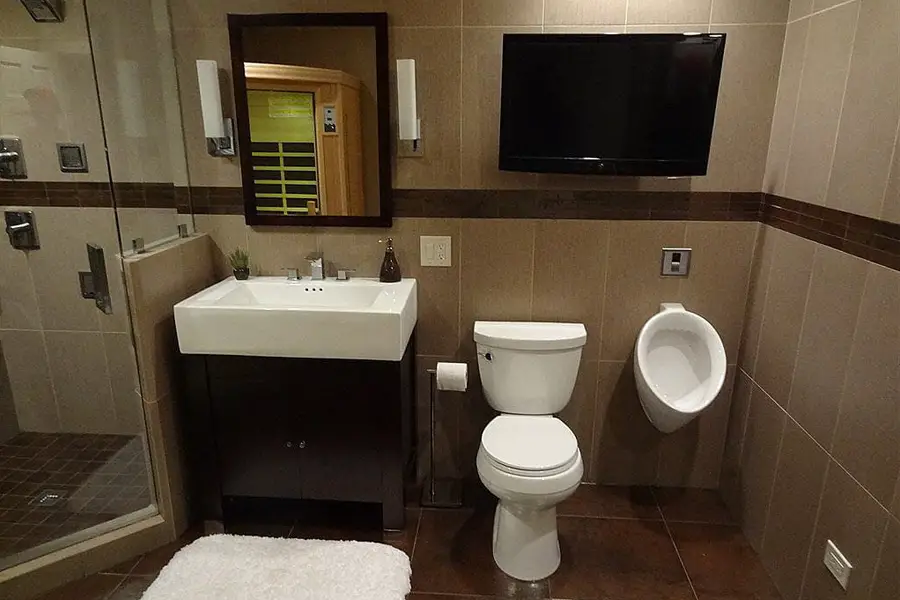 Urinal Reviews
Urinals allow men to use the bathroom in a setting they are most comfortable. Urinals provide a better way for men to use the restroom standing up. The following urinals are durable and will bring a refined atmosphere wherever they may be placed.
Most Popular Urinal
Toto UT447E-01
The TOT UT447E-01 Commercial Washout Urinal With Top Spud, Cotton White will bring a polished look to any bathroom. This urinal is very efficient and has a Gpf of 0.5 or lower. With a potent flushing feature users will be able to flush without leaving residue in the urinal. A strong flush feature will reduce odors within the bathroom. This urinal has a trap that is integral and should be mounted on the wall. The TOT UT447E-01 Commercial Washout Urinal With Top Spud is compliant to ADA regulations. The shape of the urinal gives the user an open front making it easier to use. The I.P.S. outlet is 2 inches and the spud inlet on the top of the urinal is ¾ an inch. It is eco-friendly and will conserve water. It comes with a one year warranty.
Gpf of 0.5 or lower
Potent flushing feature for clean bowl
1 Year warranty
Wall mounted design
Compliant to ADA regulations
– Anthony Dawson
Best Overall Urinal
American Standard
The American Standard 6581.015.020 Maybrook Vitreous China 1.0 GPF Urinal, White will allow men of all ages to enjoy their bathroom experience more. Cleaning the bathroom may be your least favorite chore; however, this urinal was designed with surfaces that can be cleaned easily. When flushing the urinal it is self-washing allowing it to be clean and reduce odor. It provides users with a tailpiece tubing that is 1 ½ inches with an outlet spud. The American Standard 6581.015.020 Maybrook Vitreous China 1.0 GPF Urinal will go any décor as it comes in a neutral white color. The urinal is wall mounted and is offered in different finishes. The Gpf is 1.0/3.8 Lpf with a rim that flushes making cleaning even easier. The strainer is integral and provides its users with flush requirements approved by ANSI. It comes with a lifetime warranty.
Designed with surfaces that can be cleaned easily
Urinal will be washed out when flushed
Tailpiece tubing that is 1 ½ inches with an outlet spud
Offered in different finishes
Lifetime warranty
– Anthony Dawson
Best Budget Urinal
Toto UT104E-01
The TOTO UT104E-01 Commercial Washout Urinal With Top Spud makes the bathroom a more gratifying place to use the bathroom. This urinal is offered in three different colors allowing you to choose a urinal that will highlight the décor within your bathroom. With a Gpf of 0.5 the urinal is very water efficient. The flushing action is strong and will allow users to flush their waste with the washdown method. The washdown method keeps the urinal clean and free of waste buildup. The shape of the TOTO UT104E-01 Commercial Washout Urinal has an open front allowing users to aim more precisely preventing unnecessary waste on the sides of the urinal. The urinal is to be mounted on the wall and meets the ADA requirements. Not only is this urinal efficient in discarding waste, it is designed to preserve water reducing your water bill. It comes with a limited warranty for one year.
Offered in three different colors
Gpf of 0.5 for water conservation
Strong flushing action
1 Year warranty
Meets the ADA requirements
– Anthony Dawson
Urinal Buying Guide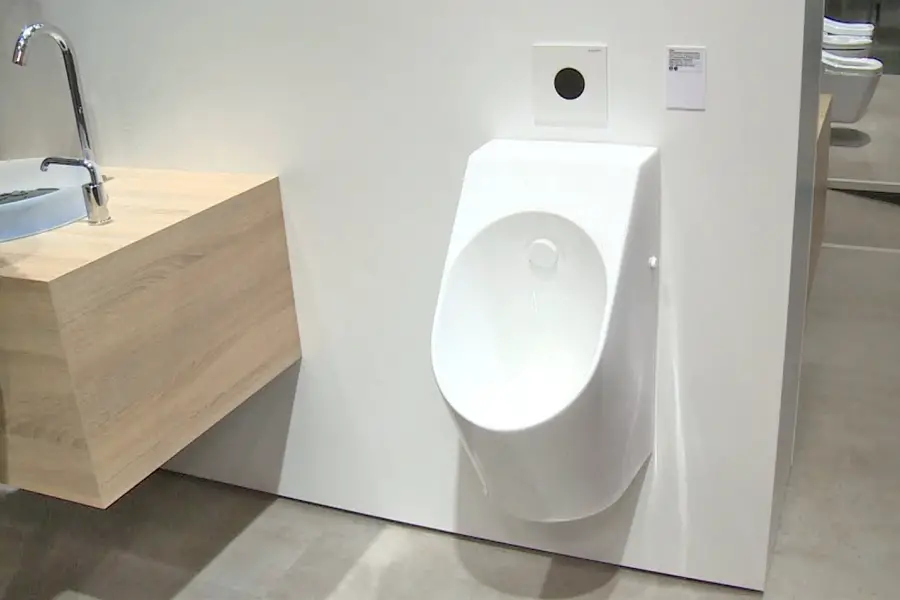 Urinals have become more popular than ever. Nowadays, homeowners install urinals in their own personal bathrooms. Because of this, manufacturers have started producing urinals specifically for home use
Why You Should Have A Urinal In Your House
Urinals take less space compared to traditional toilets. They are easy to clean and maintain. You will also spend less money on your water bill since urinals use less water. In fact, some urinals don't need water at all. Urinals are efficient and quick to use.
2 Types of Urinals
There are two main types of urinals in the market today. They include:
1. Flush Urinals
This is the most common urinal that you will find. Just like a standard toilet, you flush away the urine once you are done. Water drains the urine from the bowl into the sewer line. They come in different styles, designs, and features. The good thing about them is that you won't have to clean regularly as compared to waterless ones. This doesn't mean that you won't clean and sanitize them often. They are suitable for commercial properties. They are also cheaper than waterless urinals.
2. Waterless Urinals
These urinals use gravity to push down the liquid waste. The waste then goes down to the sewer line. Urinals are becoming popular since they slash the amount of water used, especially in places where there is high traffic. They reduce your water expenditure and are more suitable for a healthy environment. However, one drawback is that you will have to clean them more often.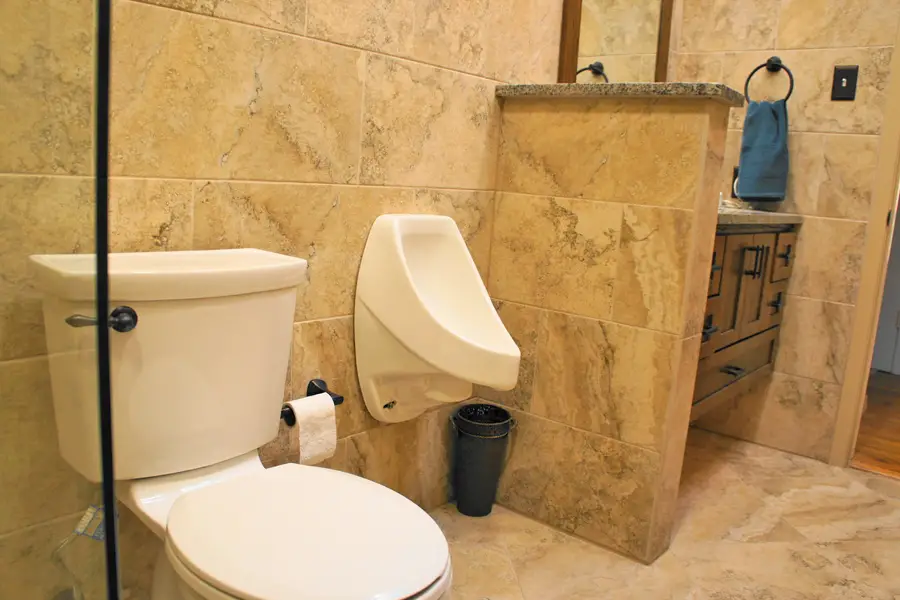 Factors To Consider When Buying Urinals
There are a few things that you should consider to help narrow down your options. Here are the factors to keep in mind when purchasing a urinal.
1. Size
Urinals come in different shapes and sizes. Some are small while others can take a significant amount of space. You should measure the available space before you go shopping for a urinal. It's disappointing to buy a urinal only to find that it doesn't fit.
For instance, you should buy smaller urinals if you are planning to use them in commercial buildings. You will fit in many urinals in a small space. It will help the traffic move more quickly. Just don't put them too close to each other.
When buying a urinal for your home bathroom, you should check your space first. Note that large urinals cover more room and may hinder movement. The advantage of buying a large urinal is that they capture waste even if you don't aim accurately. They also enhance your privacy.
2. Flush Options
There are various features that you should look out for if you choose a flush urinal. Most urinals have a lever that you can pull to flush the waste. Others have a sensor that flushes the urine automatically once the user is done. Urinals that come with a sensor are great when it comes to sanitation.
3. Design
The design influences functionality and appearance. Some are designed to capture the urine, reducing splatters. Trough urinals can accommodate several users at ago. They are cheaper and are ideal for residential properties. However, they do not offer much privacy. You should analyze how the urinal's design will affect usability and cleaning.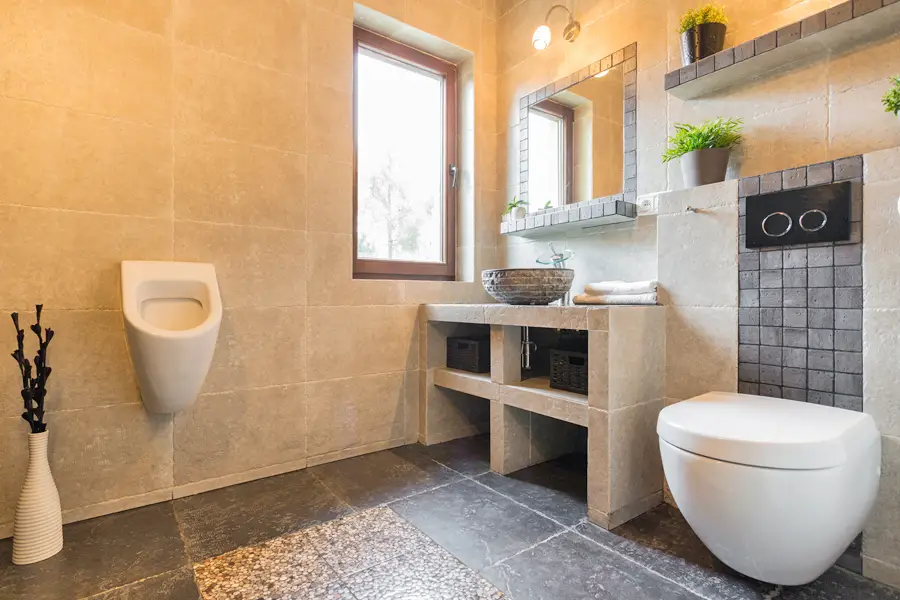 4. Ease of Cleaning
You will need to clean your urinal regularly. The flush type will dictate the frequency of cleaning the urinal. You should be ready to clean the urinal frequently if you settle for a waterless urinal. Flush urinals are easy to clean since water does most of the job. Also, the shape can influence the ease of cleaning. Cleaning urinals that have spots that are hard to reach is tedious.
5. Cost
Urinals come with different price tags. A waterless urinal is costly than the flush type. Also, a urinal with an automatic flush comes with a heftier price tag. The design and brand can also influence the cost of the urinal. A convenient urinal that's easy to use and clean may cost you more as compared to a standard one.
Conclusion
There are other factors that you should consider, such as compatibility and the materials. A urinal can help you save water and also reduce the traffic in the bathroom. You should find the right one and maintain it to avoid bad odors. Take your time to analyze your options before you settle for one. Choose a urinal that suits your needs.