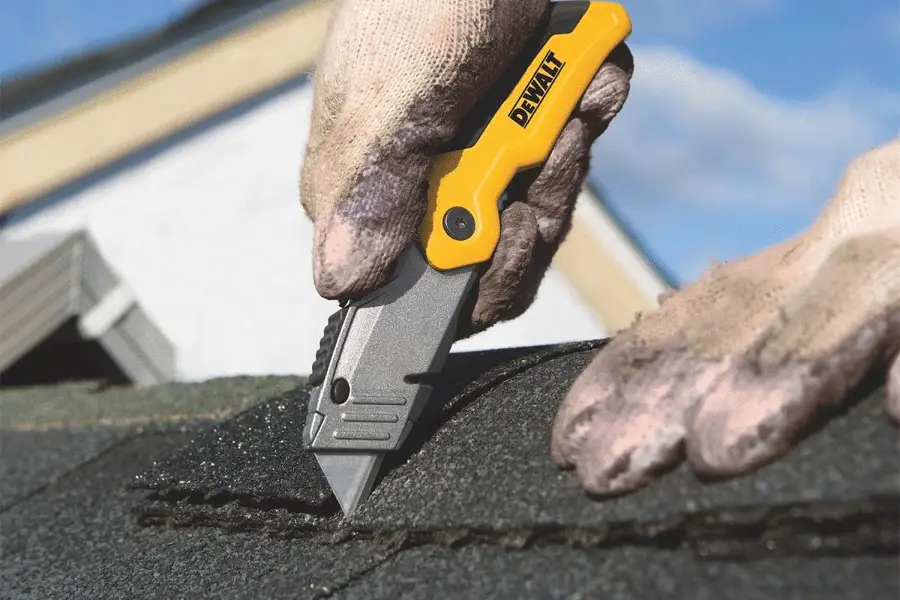 Utility Knife Reviews
Utility knives are all around knives that are good for most household projects. They are small and compact and convenient to use when cutting objects. Whether you are cutting carpet, plastic or insulation a good utility knife will increase the ease and speed that a project is completed. We have evaluated and recommended the best utility knives available. These affordable knives will be used continuously as you work on projects both inside and outside of your home.
Most Popular Utility Knife
Allied Tools Blade Auto
The Allied-International-82067-ProGrade-Utility knife is a pro grade design that will get the job done quickly and efficiently. The knife comes with 5 replaceable blades that are easy to change. The design of the handle is ergonomic and provides a comfortable grip for when the knife is used for extended periods. The knife is built to be lightweight and easy to extend and retract the blade. This prevents cutting things that are not meant to be cut. The blade compartment is easy to access and the knife has a quick change feature which makes changing the blade a simple process. The Allied-International-82067-ProGrade-Utility knife comes with a lifetime warranty, though the warranty does not include the actual blades.
Compact utility knife with retractable blade
Comes with 5 replaceable blades
Quick change blade system makes changing the blades a simple process
Ergonomic design for comfortable grip
Knife comes with a lifetime warranty
– Anthony Dawson
Best Overall Utility Knife
Bessey Quick-Change Folding
The Bessey-D-BKWH-Quick-Change-Folding-Utility knife comes with a wood grain handle. It is compact enough to fit in your pocket yet versatile enough to be very useful. Included with the knife is a belt clip which allows for easy access to the knife when you are on the go. The replaceable blade is a standard size and can be replaced with any standard utility knife blade. The Bessey-D-BKWH-Quick-Change-Folding-Utility knife has a quick blade replacement system that is patented and one of the best features to the knife. No more working with a dull blade because it's too much trouble to change the blade to a new sharp one. The biggest advantage is that no tools are required to change the blade. The blade opens and closes easily with one hand operation.
Utility knife with replaceable blade
Wood grain handle
One hand operation
Patented quick blade replacement system
Uses standard size utility blades
– Anthony Dawson
Best Budget Utility Knife
DEWALT Folding Retractable Utility Knife
The DEWALT-DWHT10035L-Folding-Retractable-Utility knife is yellow in color making it easier to keep track of the knife. The handle is an ergonomic design which offers a comfortable grip for using over an extended period of time. The blade is retractable and can cut at various depths depending on the project. The blade is easy to change and offers a rapid load system with a button that releases the chamber and enables you to change the blade with no tools. The knife folds which will prevent you from cutting things accidentally. The blade is also retractable for additional convenience. The folded blade can open and close with one hand operation. The body of the DEWALT-DWHT10035L-Folding-Retractable-Utility knife is made of metal for a longer life.
Adjustable knife cutting depths
One hand operation for opening and closing the blade
Retractable blade
Easy to change blade with access button
Metal design for rugged use
– Anthony Dawson
Utility Knife Buying Guide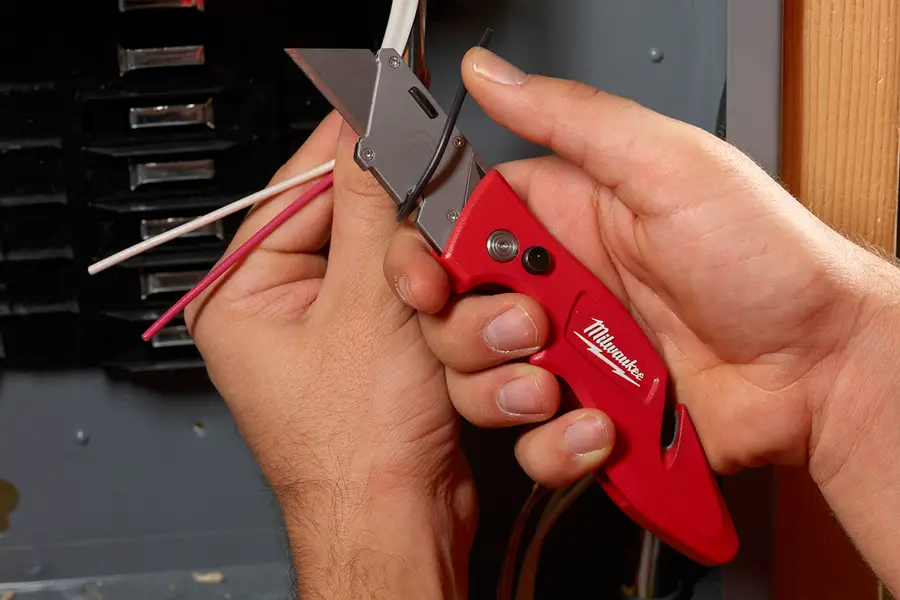 A utility knife is the general name given to a range of knife cutters. With different types available for the kitchen, the workplace, the outdoors, and even the art studio, utility knives are versatile and handy in all all sorts of situations. These small, handheld knives are designed to cut through soft materials such as Styrofoam, cardboard, and plastic food packaging. Utility knives that are designed for kitchen use usually feature a a scalloped blade for cutting fruits and vegetables. Other types are able to handle heavier tasks like cleaning and gutting fish.
Utility knives are sold with either a snap-off or a replaceable blade. Some models feature retractable blades, while others include a sheath as a protective cover. They are sometimes referred to as Stanley knives or knife cutters. Many utility knives have a specific name.
Types of Utility Knives
Utility knives are classified by the type of blade: retractable or fixed. Below, you'll find a definition of the two types, as well as some common types of utility knives.
Retractable Blade
Retractable knives have a button that allows you to pull the blade back and conceal it inside the handle. These types of utility knives provide better control and safety than other types of utility knives. The blade moves in and out of the housing via a thumb-operated slider. Some models allow you to lock the blade in place in its most extended position, while others let you lock the blade in different positions. The body of the knife may be straight, or curved to fit your hand. Common types of retractable blades include:
Box Cutter – Versatile and ideal for home and office use. Used for cutting cardboard, wires, and home improvement materials.
Snap Blade Knife – Snap blades are long and thin, and ideal for cutting into toy and electronic packaging. The size of the blade can be adjusted.
Stanley Knife – A general name given to a range utility knives, snap blades, and box cutters, Stanley blades are retractable and replaceable.
Fixed Blade
Fixed-blade utility knives tend to be larger, and are commonly used in outdoor activities such as fishing or camping. Outdoor knives have very sturdy blades with edges specially designed to resist chipping. Smaller fixed-blade utility knives are commonly used in crafts and model-making, where the small, thin blades offer the best precision and control. Fixed blade utility knives include:
Kitchen Knife Cutter – These are a hybrid between a slicing and paring knife. They are idea for cutting vegetables and citrus fruits.
Folding Knives – This is any small knife that can be folded in half, concealing the blade when not in use. They are available in replaceable and fixed models.
Scraper Knife – These are used by hobbyists and handymen to remove materials stuck to cement and tile. They can also be used to open cardboard boxes.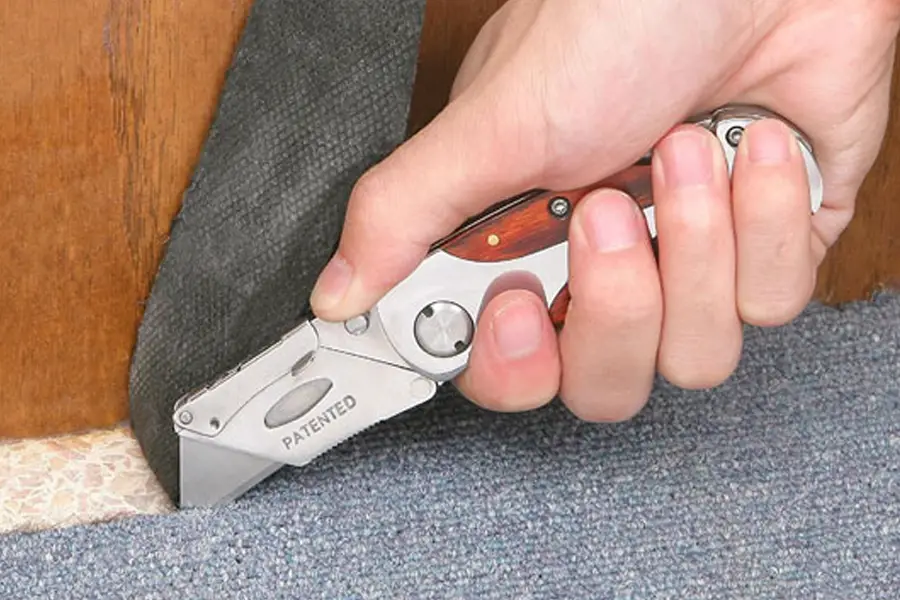 Blade Types
Besides the standard utility blade, there are several other specialized blades available for performing different tasks. Here are a few common blade types and their common uses:
Utility – The utility blade is used for general tasks. They are effective in cutting sheet materials of various thicknesses.
Breakaway – This is a replaceable and retractable blade that allows you to snap off dull sections, revealing a new, sharper tip. To reduce the risk of slipping, blade segments should be broken off as soon as they become dull.
Hobby and Craft – Hobby and craft blades are used for carving, cutting, modeling, whittling, scoring, and trimming. They are used on a wide range of materials and are available in several designs, including low-angle and curved. Hobby and craft knives can be used to trim carpet, roofing, and flooring materials, as well as cardboard boxes. They do not cause any damage to the material beneath the surface being cut.
Carpet – Carpet blades feature a double-edged blade for cutting carpeting materials.
Scoring – The scoring blade allows you to make deep grooves and clean breaks in acrylics. They are also used for laminates and other sheet materials.
Round-Point Utility – This is similar to the utility blade, in that is can be used for general tasks. They feature blunt ends, however, which can help prevent injuries.
Linoleum – This blade is ideal for making clean cuts in flooring materials like vinyl or linoleum.
Utility Knife Features
Utility knives boast different features to make utility knives safer and easier to use. Below are some common features you'll see on various utility knives.
Self-Retracting Blade
Some knives offer a self- retraction feature, which basically consists of a button that you keep depressed while cutting. When you finish cutting and release the button, the blade retracts automatically. This is good for preventing accidents that can occur from forgetting to manually retract the blade.
Folding Fixed Blade
The folding fixed-blade knife resembles a pocket knife, in that the blade folds into the handle. This reduces the risk of injury from an exposed blade.
String Cutting Tool
Located behind the head of the blade, the string cutting tool is a small slit in the body of the knife that is designed to cut through sliding strings and twine. This is a handy tool for producing easy, quick cuts.
Blade Storage
Some knives provide internal storage for replacement blades. The better ones will use a magnet or guide to keep the blades in place. This will prevent the blades from rattling around loosely in the storage compartment, which ca cause blades to dull over time.
With proper care and maintenance utility knives are an excellent addition to any toolkit. With a wide range of blade types, knife types, and knife features, there is a utility cutting tool available for any project or task. From the kitchen to the warehouse, a utility knife is the tool you need to get the job done fast.