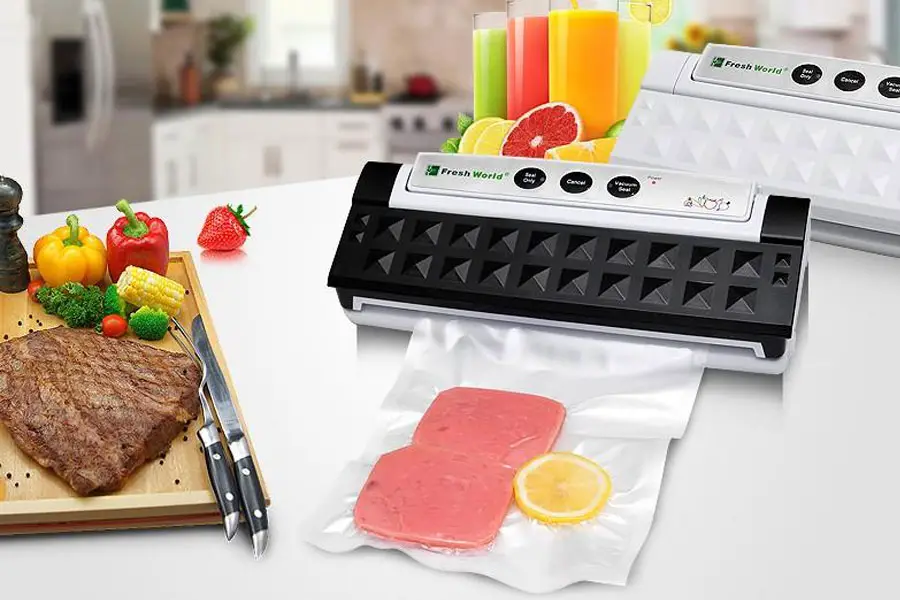 Vacuum Food Sealer Reviews
Vacuum Food Sealers are a relatively new appliance on the market today. They have become extremely popular as consumers realize they can make bulk purchases and extend the life of their food with the use of a vacuum food sealer. The vacuum food sealers can also be used to extend the life of fresh fruits and vegetables, reducing kitchen waste. With food prices skyrocketing, it makes more sense than ever to own and use a vacuum food sealer. With so many products on the market it is hard to select the vacuum food sealer that will meet your family's needs. We have selected a few products, of various price ranges, that have excellent track records.
Most Popular Vacuum Food Sealer
FoodSaver V3835
FoodSaver-Vacuum Sealer V3835 with SmartSeal-Technology is easy to use with its SmartSeal technology. The FoodSaver-Vacuum Sealer V3835 SmartSeal has an auto bag detection system. Just place the open end of the bag in the machine and it detects that it is there. It detects the amount of liquid in the food item and seals it appropriately. This provides a reliable seal. It has an automatic shut off, so when the food is properly sealed the machine shuts off. There is no guesswork questioning whether the food is properly sealed.
The FoodSaver-Vacuum Sealer V3835 SmartSeal also has a retractable hose. This allows you to seal canisters and other items. One unique feature of the FoodSaver-Vacuum Sealer V3835 with SmartSeal is that is has a marinade mode. Marinade your meat and vegetables in minutes instead of hours. The rapid flavor infusion feature allows the meat and vegetables to take in the flavors in a very short time. The FoodSaver-Vacuum Sealer V3835 with SmartSeal has a stainless steel body which looks great on countertops. The slim design does not take much room for storage.
Auto Shut off
Auto bag detect system and auto liquid detect system
Retractable accessory hose
Marinade mode
Stainless steel body
– Anthony Dawson
Best Overall Vacuum Food Sealer
FoodSaver
FoodSaver V2240-Advanced-Design-Vacuum-Sealer has a very simple design and is easy to use. It comes with a touch pad control panel. The FoodSaver V2240-Advanced-Design-Vacuum-Sealer has hands free operation and an easy lock latch. It comes with 2 sealing speeds and 2 sealing levels so you can seal each product with the right amount of vacuum pressure. It has food specific settings which allows for the proper sealing of both dry and moist foods. The instant seal feature allows you to instantly stop the sealing process so it will not damage delicate foods. The FoodSaver V2240-Advanced-Design-Vacuum-Sealer comes with an accessory hose which allows for sealing canisters. The flat design is easy to store and the white color goes with all kitchen décor. The FoodSaver V2240-Advanced-Design-Vacuum-Sealer can seal almost any bag which preserves food even better. Vacuum seal potato chips and cereal keeping then fresh longer. Double sealing foods that will go in the freezer will make then last even longer.
Hands free operation
2 speeds and 2 sealing levels
Accessory hose
Easy lock latch
Touch pad control panel
– Anthony Dawson
Best Budget Vacuum Food Sealer
SEAL-A-MEAL
The Seal-a-Meal-FSSMSL0160-000-Vacuum-Sealer is compact, lightweight, easy to use and easy to store. The Seal-a-Meal-FSSMSL0160-000-Vacuum-Sealer comes with the initial bags. Simply place the meat or vegetables in the bag, place it on the sealer, and press the start button. For your convenience it also has a removable drip tray that is easy to clean. The drip tray is also dishwasher safe. The Seal-a-Meal-FSSMSL0160-000-Vacuum-Sealer provides for hands free operation. It also has a press/hold and release system that makes the operation simple and fast. It uses most standard bags on the market and fits both 8 inch and 11 inch bags. If you pre-freeze items before using the Seal-a-Meal-FSSMSL0160-000-Vacuum-Sealer the sealing process is faster and there is no liquid to deal with. This creates a tighter seal for foods that will be frozen for longer term. For fruits and vegetables that will be used soon, just seal and their shelf life will be more than doubled.
Removable drip tray
Hands free operation
Drip tray dishwasher safe
Can use 8″ or 11″ bags
Compact for easy storage
– Anthony Dawson
Vacuum Food Sealer Buying Guide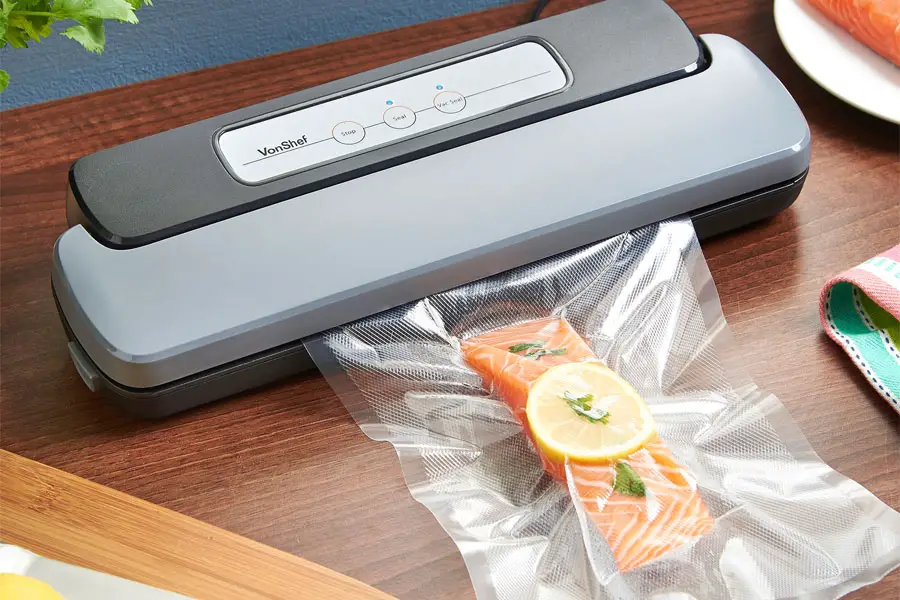 In a common household kitchen, vacuum food sealers are probably one of the least famous home appliances. Families would just prefer to store food in the freezer to increase its shelf life or throw it away once it's past its consumable date. But for businesses dealing with perishable items like groceries or convenient stores, vacuum food sealers are a must. Meat can last around 1-3 years in the freezer in an airtight vacuum-sealed plastic or container. Before you decide on buying one, read this buyer's guide first.
What is a Vacuum Food Sealer?
Vacuum food sealers are electronic or battery operated appliances that create a vacuum in the plastic where food is stored before heat sealing the plastic's opening. The bigger and pricier the vacuum food sealer, the higher the standard of vacuum it produces. Vacuum food sealers are available as countertop, portable and the largest kind, chamber type.
Types of Vacuum Food Sealer
Portable Vacuum Food Sealers
These come as battery-operated or rechargeable and could fit effortlessly in a shoulder bag. They are the most affordable kind of vacuum food sealer. Some portable models provide a specifically designed zipper bags, plastics and containers that are only compatible with the same manufacturer.
Tabletop Vacuum Food Sealers
They are about the size of a computer printer. Like the portable models, they come with specifically designed bags and plastic rolls. This and the portable vacuum sealer are the so-called external sealers because they seal the food from the outside by drawing out air and sealing them in an airtight plastic.
Chamber Vacuum Food Sealers
They are the so-called internal sealers that remove 99% of oxygen in the food before sealing. Instead of sucking out the air before sealing, the entire chamber becomes a vacuum, not just the bag. They are available in two types: compact and commercial. The compact type can sit atop of the counter just like the tabletop vacuum sealer but provide more vacuum power. The two kinds function pretty much the same except that the commercial type can seal about 160 bags per hour, depending on the size. They are more complicated to use and features controls like seal time, vacuum cycle, dwell time and gas time, depending on the type of food to be sealed. The only con is that chamber type vacuum food sealers are bulky and relatively expensive, fetching around US$500 and up.
The benefits of using a vacuum food sealer are: fresher food and longer food shelf life; fresher packed food for camping; no freezer burnt food; more storage space since you'll eliminate the use of plastic containers in the refrigerator; and deep penetrating meat marinates.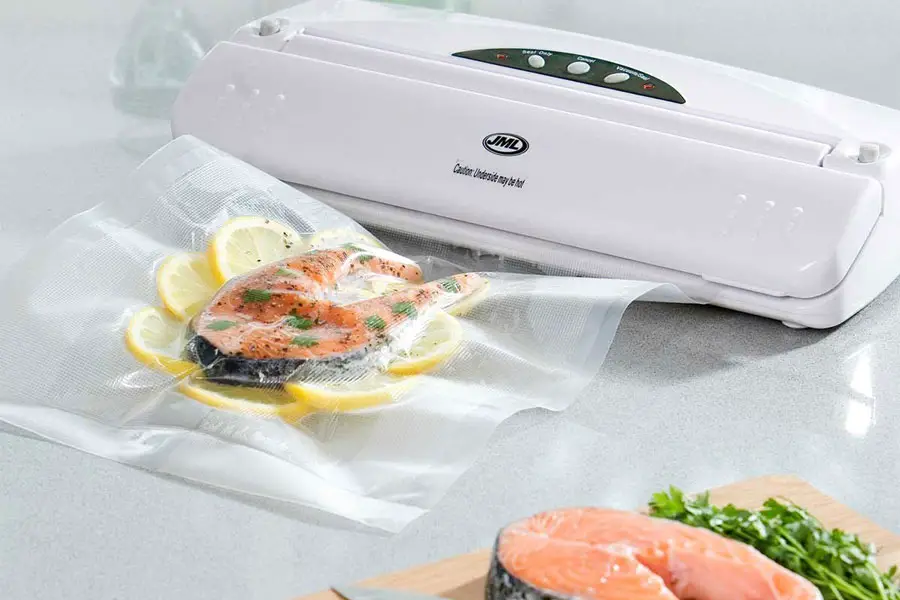 Purchase Consideration
It's useless and impractical to buy a chamber type vacuum food sealer only to food you'd consume after a few days. Assess your needs first. The portable, countertop and compact chamber vacuum sealer are suitable for household and culinary uses. If you're a business owner dealing with cheese, dried goods and delicatessen, go for commercial type chamber vacuum sealers.
Portable vacuum sealers are perfect if you plan to consume the food after a few days' or weeks' time and seal it again. It is best for fruits, vegetables, beans, cheese, meat and other foods that don't have much juice or liquid in them since the sealer would just suck the air out. Now the tough fight comes between the countertop and the compact chamber vacuum sealer. It is often an issue of size and price; countertop vacuum sealers are smaller, lighter and cheaper than compact chamber vacuum sealers, which can weigh about 40 lbs. Do you have the means to transport that? Are you willing to pay for the shipping fee for it? Countertop vacuum food sealers costs around US$100 to US$400 and weigh around 10 lbs.
Now the difference between the sealing power of a countertop one and the portable chamber type vacuum sealer lies within their technique in sealing. As mentioned before, the entire compartment in chamber vacuum sealers becomes a vacuum space, unlike the countertop one that would just suck the air out. If you'd just like to marinate meat and seal food from time to time, then a countertop vacuum sealer would do just fine.
Space and Storage
Unless used commercially, it's unlikely that you'd be vacuum sealing your foods over and over every day, except for portable vacuum sealers, that just uses a special zip lock bag without the need for heat sealing. Portable sealers can be placed on the dining table or stashed away in the cupboard because it's just about the size of a telephone.
A countertop and compact chamber type vacuum sealer require an empty counter's space. These are electronic so keep the plug away from wet areas.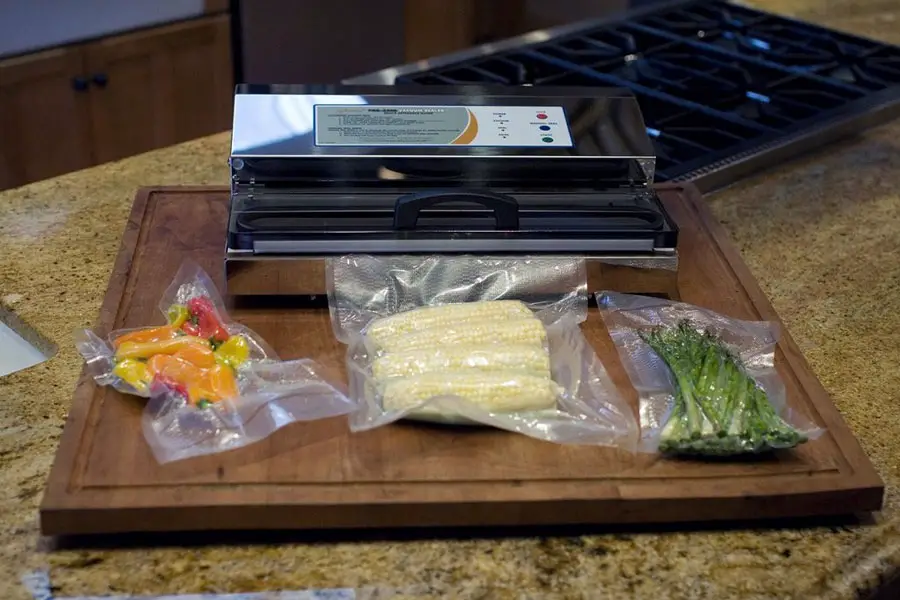 Speed and Additional Features
How fast it would seal depends on the machine and the user's experience. Portable vacuum sealers are the simplest to use, although it's not ideal for marinated meat. Some suck out air using a manual pump, some within a press of a button. It is recommended to also have a portable vacuum sealer around for daily quick sealing purposes. Besides, they're inexpensive.
Countertop vacuum sealers come with few heat seal bags and are the most popular for home use. They can seal in about 20-30 seconds and less in chamber vacuum sealers.
Customer and After Sales Services
As a consumer, make sure that the vacuum food sealer comes with a warranty and a return period. Also, before you plan to purchase from an appliance store, ask if they are willing to have the item sent to the manufacturer for repairs. Chamber type vacuum food sealers are too heavy to be transported unless you have a car so ask what can be done in case a chamber type vacuum gets technical problems.
Ratings
Lastly, if you have a certain vacuum food sealer in mind, don't hesitate to check the ratings online. Most users, if not all, voluntarily put up their ratings or review about their purchase. Some even blog or record a video demos about it.