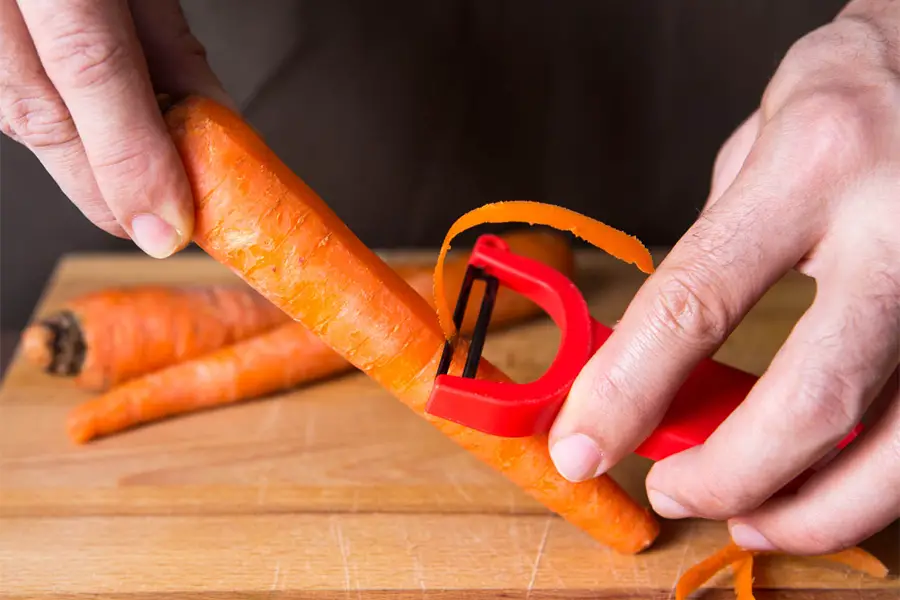 Veggie Peeler Reviews
A kitchen essential home cooks do not want to do without. The newer designs available on the market today have produced peelers that do not take the effort of older peelers. Newer designs are easy to grip and come with sharper long lasting blades. These designs have made peeling fruits and vegetables so much easier and safer. No more cuts on fingers because a blade slips. No more losing most of the fruit or vegetable to the peeler or having to go over the same area over and over again. With the improvement of peelers, it is no wonder they have become so popular. We have combed through the many products available on the market today and selected the best peelers on the market for you to use.
Most Popular Veggie Peeler
OXO Good Grips Pro Y-Peeler
OXO-Good-Grips-Pro-Y-Peeler is one of the best peelers on the market. The long, non-slip, contoured handle is easy to grip for better control. The blade is made of extra hardened stainless steel providing a blade that will stay extra sharp for extended periods of time. There is a replacement blade available when it eventually dulls. The OXO-Good-Grips-Pro-Y-Peeler is designed so that when you use the peeler you will only remove the skin and not the delicious fruits and vegetables below. Often peelers take much of the fruits and vegetables away with the peel. This peeler removes just the right amount. The wide blade and design enables you to peel both fruit and vegetables with ease. The soft skin of an eggplant or the hard skin of a butternut squash can both be handled with ease. The OXO-Good-Grips-Pro-Y-Peeler also includes a sharp eye which removes blemishes from fruits and vegetables with ease. The OXO Good Grip Pro Y Peeler is dishwasher safe.
Non-slip and contoured handle
Stainless steel blade
Replacement blade available
Sharp eye for removing blemishes
Dishwasher safe
– Anthony Dawson
Best Overall Veggie Peeler
Prepworks by Progressive Magnetic Peelers
Progressive-International-Magnetic-Peeler-Set comes with three peelers. There is a magnetic disk on each peeler so they stay together and are easy to store. The Progressive-International-Magnetic-Peeler-Set comes with a julienne blade, a serrated blade and a straight blade, for all your peeling needs. The julienne blade is perfect for salads and garnishes. Curling up vegetables and creating presentation pieces. The Serrated blade is perfect for peeling fruits and delicate foods with soft skins. The straight blade is good for peeling vegetables and food with harder, thicker skins. Each blade has its own sharp eye for removing blemishes. The Progressive-International-Magnetic-Peeler-Set has blades that are made of stainless steel. This material resists rust and maintains a sharp blade for an extended period of time. The handles are made of a hard comfortable plastic for easy gripping. The blades are sharp enough that you can make very thin peels or add a little pressure and peel a thicker amount. The Progressive-International-Magnetic-Peeler-Set is dishwasher safe.
2 blades (Julienne, Serrated and Straight)
Magnets to keep them together for easy storage
Stainless steel blades
Plastic handles with comfortable grips
Dishwasher safe
– Anthony Dawson
Best Budget Veggie Peeler
OXO Good Grips Swivel Peeler
OXO-Good-Grips-Swivel-Peeler has an oversized handle that makes gripping the peeler comfortable, even when you have a lot of peeling to do. The durable rubberized handle has a non-slip surface for better gripping. The twin stainless steel blades are good for both left and right handed users. The blades stay sharp for long periods of time without needed to be replaced. The blades are set at an angle so that the skin removal does not take much effort. The swivel movement in the blade allows the peeler to contour to the shape of the fruit or vegetable so no more than necessary is peeled off. Whether you are peeling an apple, a potato or the hard to peel sweet potato, this peeler is comfortable and efficient. The OXO-Good-Grips-Swivel-Peeler also includes a sharp eye for removing blemishes in fruits and vegetables. It also has a hole in the bottom of the handle, which allows for easy storage. The OXO-Good-Grips-Swivel-Peeler is dishwasher safe.
Oversized handle for comfortable grip
Twin stainless steel blades
Sharp eye for removing blemishes
Swivel movement allows for easy peeling with minimal force
Dishwasher safe
– Anthony Dawson
Veggie Peeler Buying Guide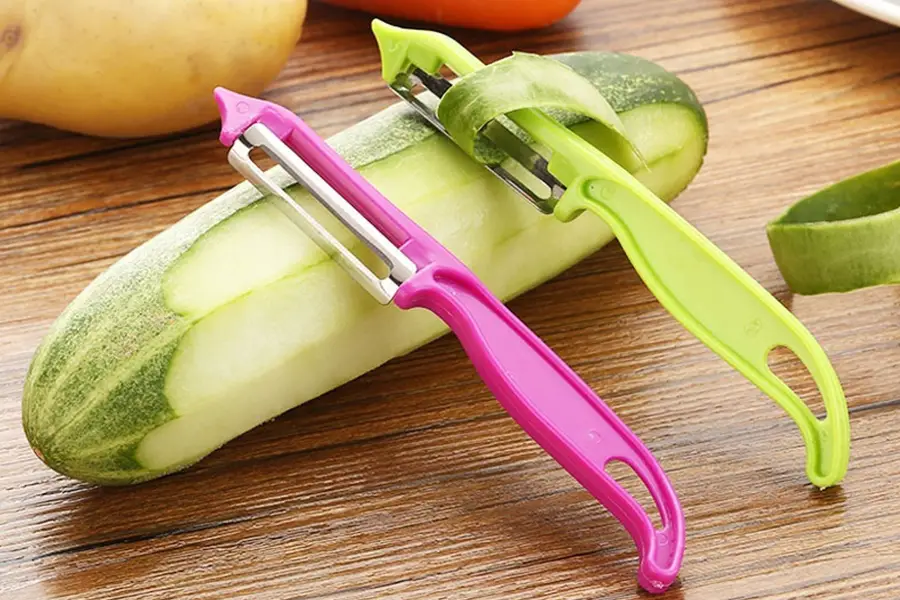 Vegetable peelers seem like an inconsequential purchase. If it doesn't work as promised, you can simply dispose it. But it's such a hassle to buy vegetable peelers over and over so it's better to invest in a few good ones so you can save yourself some time. They are a simple but essential tool in every kitchen. Get a good vegetable peeler rather than getting by with a simple knife. Read the following guidelines on how to choose a good vegetable peeler.
What is Vegetable Peeler?
Vegetable peelers are an important kitchen tool with a sharp stainless steel edge specially designed to peel off vegetable and fruit skin or cut off thin vertical strips. They have the same stainless steel or plastic handles. Some of them are dual ended. Because of its sharp nature, always keep them away from children. They're so sharp that even a nudge on the skin is enough to slice it.
Having a good, handy vegetable peeler means less effort when peeling vegetables. It should be so sharp that only a minimal pressure is required. For care and maintenance of your vegetable peeler, don't just haphazardly throw it with the rest of the utensils. Always keep the blades sharp and they will be one of your kitchen best friends.
Guidelines on Buying a Good Vegetable Peeler
Choosing a good vegetable peeler may not require a lot of research unlike choosing a good refrigerator or vacuum cleaner. The advantage of vegetable peelers over knives is their smaller blades that can adjust themselves around a few degrees, adapting to the vegetable's curves and ridges.
The good thing about fruit and vegetable peelers is that you can own more than one. Cheap models cost around US$4 and ergonomic and professional peelers cost around US$9 to US$30.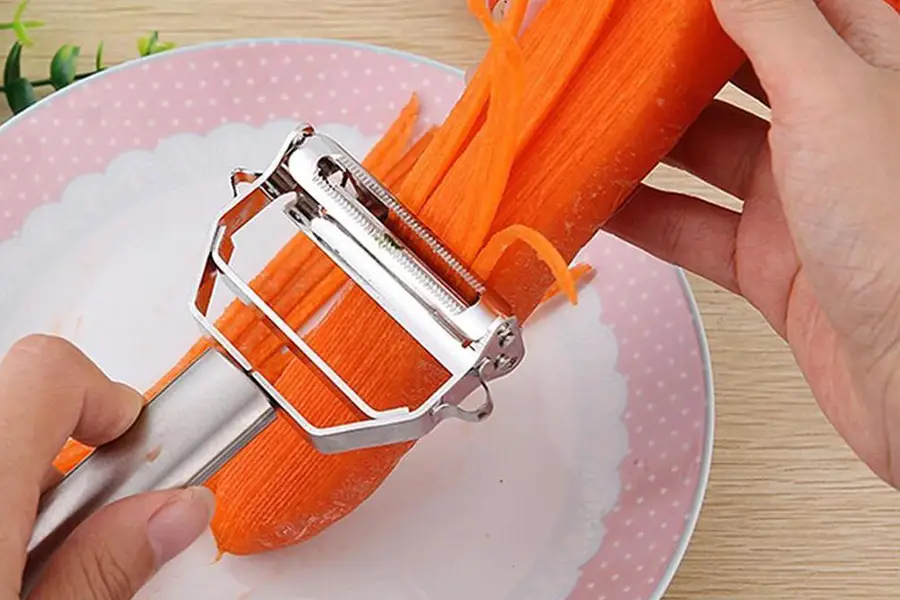 Handle and Blade type
The blade should be at least 2″ long. There are four ways that a vegetable peeler is designed. Some vegetable peelers are called Lancashire peelers. The blade is parallel to and an extension of the handle. When using these kinds of vegetable peelers, you have to hold it horizontally or diagonally so the blade would run smoothly on the vegetable, and then peel it away from you. Using a Lancashire peeler is very similar to using a knife for peeling. They are specifically made for right and left-handed people. They are best used to peel long and thin vegetables like carrots. Next there is the Y-peeler. Y-peelers come with a Y shaped end that holds the blade perpendicularly to the handle. Unlike Yorkshire vegetable peelers, the blade of Y-peelers can adjust itself a few degrees to adapt to the vegetable's surface. There is no need to place your thumb on the vegetable as a support. When peeling small and large vegetables, Y-peelers are easier to use. In fact Y-peelers are specially designed to peel spherical and rounded surfaces due to its adaptive blade.
The less famous peelers are the palm peeler and the mechanical peeler. Palm peelers have no long handles; instead they have a flat, spacious body that fits perfectly on the palm and a finger grip that is worn like a ring. When buying palm peelers, make sure that it has a rubberized top so your hands won't slide out of place. The blade would be lying underneath so unclogging it of debris and washing it would require extra effort since it won't be easy to reach the narrow spaces.
Mechanical Peelers
Mechanical Peeler can slice, dice and peel the vegetable or fruit. It is ideal if you need a lot of peeling to be done or if the fruit or vegetable skin is hard. They come in many designs specific to the vegetable or fruit.
The handle should have a good resistance so you won't slip your hand accidentally on the blade. It is assumed that your hands would be wet when peeling so a good vegetable peeler should have a rubberized handle, a coarse metal one or a plastic one with ridges perfectly cradling the fingers.
Every vegetable peeler has two parallel blades; one acts as a peeler when you push it and one acts as a support in order to position the peeler. The blade should be well-angled so it won't cut too deep. However, it's hard to tell if whether the angle is good or terrible so it is best, if possible, to use it in the store. Nowadays there are many materials used for the blade. Aside from stainless steel, vegetable peelers with blade made out of carbon steel and even ceramic are available. Carbon steel is the sharpest among the three, but rusts when not dried properly. Ceramic blades can be sharper than stainless steel, but they break easily if mishandled or dropped. Stainless steel vegetable peelers remain as a staple because it can be sharpened like a knife once it dulls down and it doesn't rust. However, if you feel like trying some vegetable peelers made out of ceramic and carbon steel blades, then feel free to do so. Just exert proper care to carbon steel and ceramic blades. After washing carbon steel peelers, towel dry them and brush a thin layer of vegetable oil (or any edible oil) on the blades to prevent them from rusting. When you see rust forming, buff them away with an abrasive sponge. If you own a ceramic blade peeler, be careful not to drop it or toss it around.
Customer and After Sales Service
Sometimes questions would arise. At worst, if you're a chef or a culinary student and your relatively pricey vegetable peeler broke, your best thoughts would be to ask for a refund or replacement. The manufacturer or the store should be willing to accept replacement but remember that the window for returns usually lasts just 7 days from purchase. Some peelers offer a lifetime warranty but the rest are just covered by the store's limited warranty.
Ratings
It is not surprising to see most people rate their purchases online. Some even create a blog or a video blog or demonstration on their vegetable peelers. If there is a particular fruit and vegetable peeler in mind and you want to be sure about your purchase, take some extra time researching about it online.