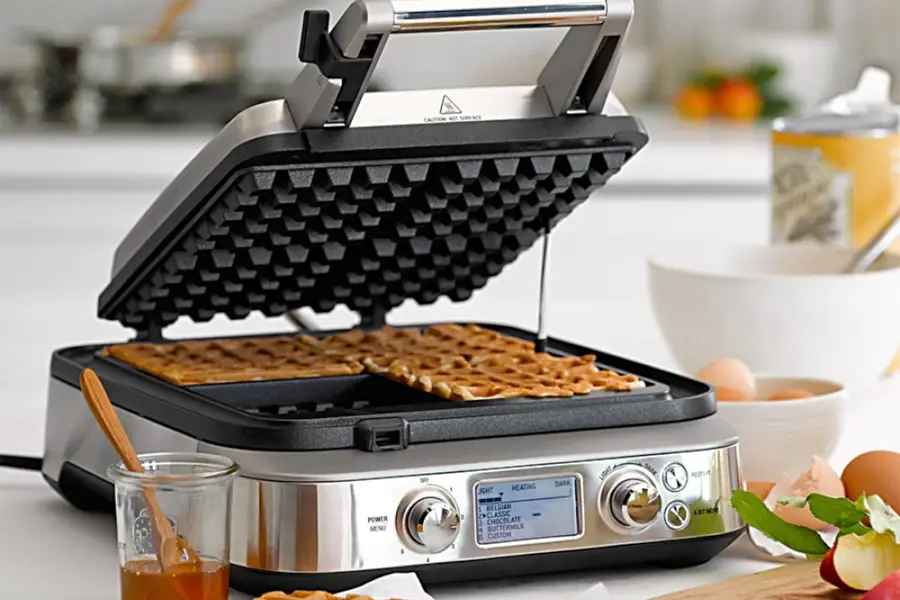 Waffle Iron Reviews
If you have ever stayed at a hotel that served fresh waffles for breakfast, you know how it makes you long for a waffle iron of your own. Waffle Irons are a great addition to your kitchen. They do not take up much room and they make breakfast a meal to look forward to. Getting the right waffle iron is a lot trickier. There are many products that do not measure up when it comes to creating perfect waffles with ease. We have searched through the available products on the market to find the best waffle irons available.
Most Popular Waffle Iron
Cuisinart
The Cuisinart-WMR-CA-Round-Classic-Waffle maker could not be easier to use. It has red and green light indicators to let you know when the waffle is ready to take out. There are 5 browning settings so you can make waffles that are to the exact brownness that you prefer. There is also a thermostat to regulate the temperature. The waffle maker has a sophisticated brushed stainless steel exterior and a non-stick interior plate. This makes waffles easy to remove and easy clean up. The Cuisinart-WMR-CA-Round-Classic-Waffle maker makes waffles that are 7″ in diameter and can be easily cut into 4 quarters. The weighted lid prevents the lid from rising as the waffle cooks. It also has rubber feet which secures the waffle maker and prevents sliding on the counter. The Cuisinart-WMR-CA-Round-Classic-Waffle maker can either lay flat or stand vertically for easy storage. The Cuisinart-WMR-CA-Round-Classic-Waffle maker comes with a 3 year warranty. It also comes with a recipe book for ideas that add variety to the standard breakfast Belgium waffle.
Makes 7″ diameter waffle
Red and green indicator lights
5 settings for brownness
Stainless steel exterior and non-stick interior plate
3 year warranty
– Anthony Dawson
Best Overall Waffle Iron
Calphalon
The Calphalon-No-Peek-Waffle-Maker is easy to use and makes perfect waffle making automatic. The Calphalon-No-Peek-Waffle-Maker has three temperature settings and an automatic shut off, when the waffles are done. It has an Opti-Heat system that heats the waffles evenly and maintains a constant temperature. This creates a waffle with a nice crust yet soft inside. The Calphalon-No-Peek-Waffle-Maker is constructed with bronze non-stick plates. This creates an easy clean up. It also reduces calories by minimizing the amount of oil needed. The waffles come out of the waffle maker easily. There are three temperature settings, and an LED light that lets you know when the waffle maker is on. You can choose from three different levels of darkness for your waffles. The Calphalon-No-Peek-Waffle-Maker chimes when the waffles are easy. All you need to do is add the syrup to your thick Belgium waffles and you have the perfect breakfast.
Bronze non-stick plates
3 temperature settings
Auto shut off
Opti-Heat system for temperature control
Chimes when ready
– Anthony Dawson
Best Budget Waffle Iron
Presto
The Presto-03510-FlipSide-Belgian-Waffle maker flips 180 degrees to evenly spread the waffle mix for perfect waffles every time. The Presto-03510-FlipSide-Belgian-Waffle creates a waffle that is 7″ in diameter and is crispy on the outside but tender and delicious on the inside. The waffle maker also makes it easy to divide the waffle into 4 smaller pieces for smaller portions. The Presto-03510-FlipSide-Belgian-Waffle has a countdown timer so you know exactly when the waffles will be ready. It takes right at 3.5 minutes to cook a perfect waffle. With 1350 watts of power, making waffles weekly is an easy task. You can freeze waffles and re-heat them in the toaster for a quick breakfast during the week. The exterior of the waffle maker is stainless steel and the interior has a non-stick surface. This makes removing the waffles quick and clean up easy. The unique thing about the Presto-03510-FlipSide-Belgian-Waffle maker is that it locks in a vertical position. This makes storing the waffle maker space saving. It takes up very little room on the counter or in the cabinet.
Stainless Steel exterior and non-stick interior
Makes 7″ diameter waffles
Flips 180 degrees for even thickness
Locks in vertical position for easy storage
Make waffles in 3.5 minutes
– Anthony Dawson
Waffle Iron Buying Guide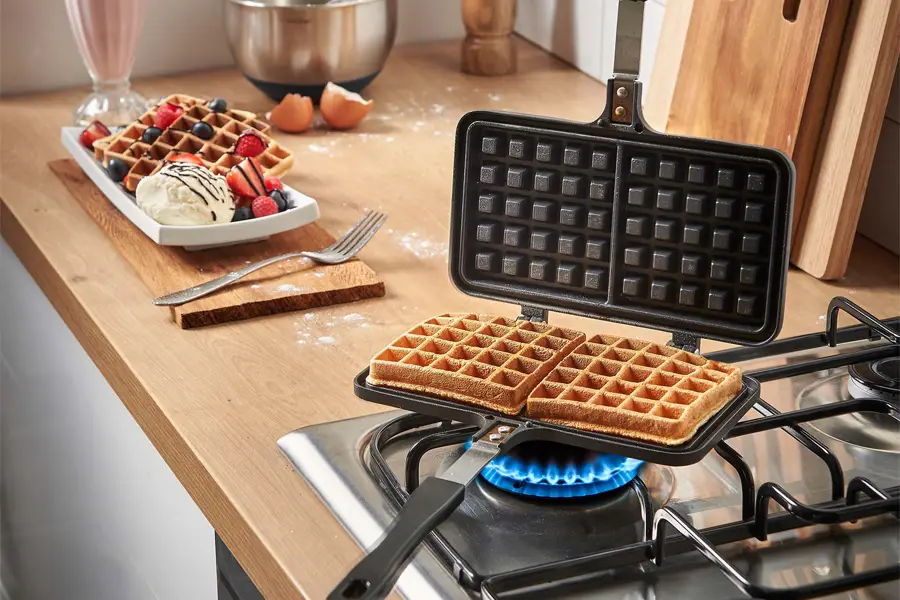 Waffle iron is a kitchen device consisting of two attached metal panels for cooking the usual honeycomb-designed waffles. Many households use this appliance because it is portable and convenient to use, letting you enjoy a delectable waffle any time of the day at the comforts of your home.
Types of Waffle Irons
Wide array of waffle makers that are available in the market are as follows:
Traditional – This type of Waffle Maker has an attached wooden handle and cooks waffles by putting it over a stove or fire, hence handy for a campsite.However, it does not have a non-stick coating surface, so it requires tough cleaning. In addition, you have to estimate cooking time to get well-baked waffles.
Waffle Cone – Maker creates homemade cones, which has superficial metal plates.The appliance comes with a mold that shapes your perfect waffle cone.
Waffle Maker with Detachable Plates – Enable you to clean the device without the fuss. Models with flat surfaced plates are multi-functional, as it allows you to grill or toast sandwiches. This is a value for your money since you will be purchasing a single appliance that serves several purposes.
Rotating Waffle Maker– This device in response to the unevenly cooked waffles produced by the older versions of waffle iron. The rotating type permits you to flip the waffles so there is consistent heat circulating throughout the machine.
Commercial Waffle Iron – It is for business purposes, hence are sturdier than domestic models. The usual production averages from 50 to 100 waffles, so it has a heating element designed to withstand overheat.You need to coat the cast irons with oil or softened butter to avoid waffles from sticking to the metal plates. Furthermore, the waffle iron should be capable of rollover to distribute heat on both sides, thereby making excellent waffles that can entice more buyers.
Heart Shaped Waffle Maker – It is similar to the any waffle device except that it creates a heart shaped waffle that initially became popular in Italy and Scandinavia. This unique shaped waffle can highlight your creativity as you incorporate different presentation concepts at home or for your business alike.
Mickey Waffle Iron – This is a Disney inspired appliance, which became a favorite item of families because it fascinates the kids to try baking and eating the dessert.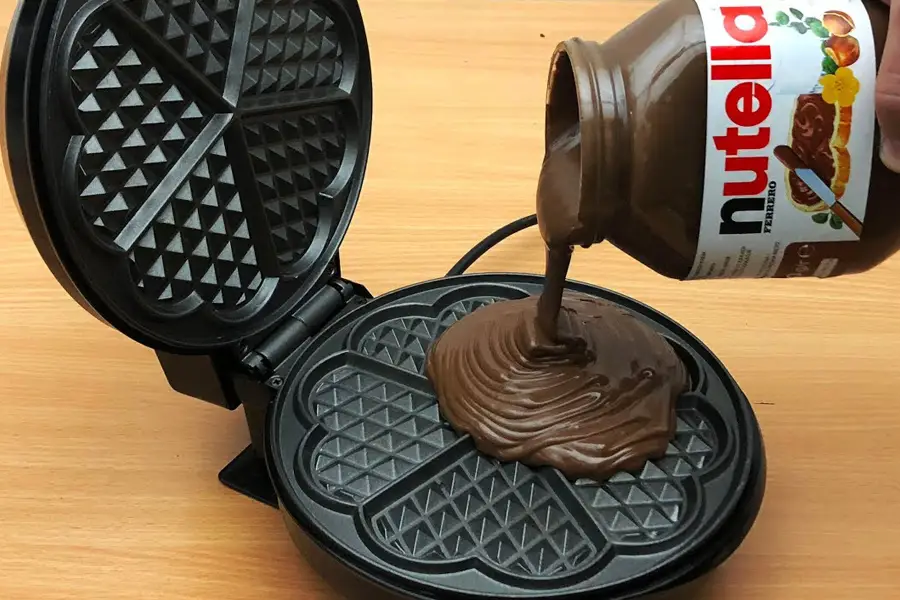 Classic Waffle Iron – It creates the traditional circular shaped waffles dating back to the 14th You enjoy the original shape with the modern features of the device such as electricity generated machine and non-stick surface.
Professional – This type synchronizes all the features of the waffle iron to supply the expected quality of waffles in large dining establishments. Aside from being robust to produce large quantities, it preserves the heat inside the device to keep the waffles hot and fresh.
Buying a Waffle Iron
In purchasing a waffle iron, it is important to know the following guidelines that will help you choose the suitable device:
Functions
Some waffle iron comes with a flat metal plate for cooking omelets and pancakes, thereby reducing time spent on food preparation. In addition, evaluate the need for a big waffle maker that can bake several waffles at a time or if a single waffle maker will suffice.
The appliance can produce waffles of different shapes such as round, square and rectangle. You may opt to choose the type of waffle iron that will create your preferred shape.
Controls
Waffle irons have cooking regulators, adjustable temperature settings, indicator lights and alarm or beep to alert you that the baking process is complete.An appliance with a thermostat allows you to control the quality, texture and color of the cooked waffles according to your preference. Choose an appliance supplemented with a recipe book that will provide the specific controls for baking waffles.
Aftercare
You should read the instruction manual of your waffle maker so you can adhere to the manufacturer's recommendation regarding its clean up.The appliance uses various types of non-stick covering such as Teflon and silicone anodized. Teflon does not require cooking spray to clean its surface, as opposed to the silicone anodized. Some waffle iron makers recommend using paper towel drenched in oil or moist cloth to remove attached bits of food. Experts agree that scouring with a brush damages its surface.
Dimension
This is a significant consideration when buying the appliance, therefore you have to assess the available space for storage. Most modern versions can stand upright and utilize a small area in your kitchen countertop.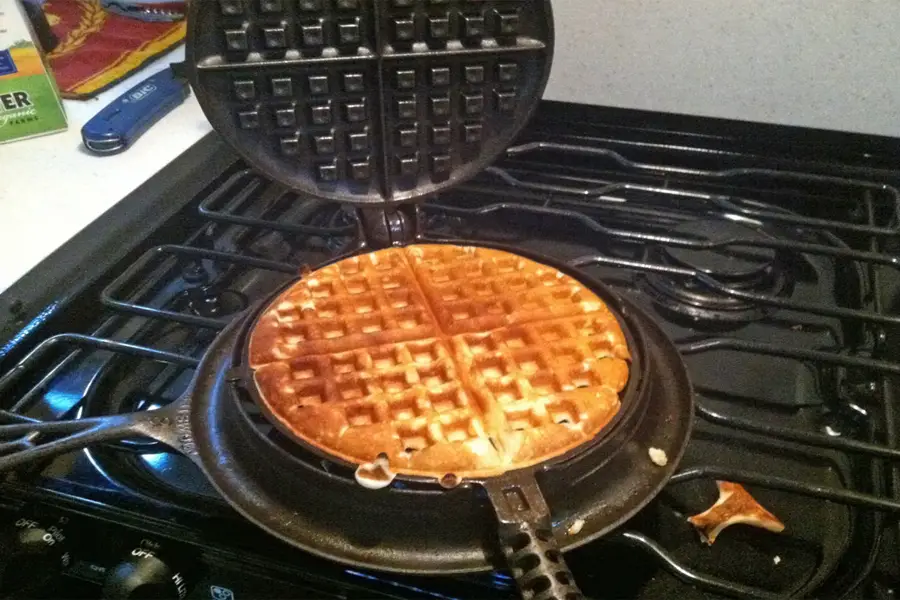 Durability
It is one of the key factors in determining the type of device to purchase. Take time to read reviews available on the internet to know the various experiences shared by the users.
Overflow Tray
This is a built-in reservoir to collect the spilled batter from the waffle iron, decreasing the mess during the cooking activity.
Thickness of the waffle
Shallow metal plates will create thin waffles while deep plates will have thick waffles with deep pockets.
Insulated device
New models have insulation, hence cool to touch and need not use oven gloves during baking.
Digital display
The modern version has digital controls to view remaining cooking time for better time management.
Color
The device is available in different colors to match your preference that will also enhance the aesthetics of your kitchen.
Safety Tips
Users should follow the following basic precautions to prevent accidents when using waffle irons:
Read the handbook prior to using the appliance.
Never attempt to touch the hot surface, instead use the safety handles.
Unplug the cord from an electric outlet after using and allow the device to cool down prior to cleaning. Do not use liquid detergents, nor soak in water or clean in a dishwasher. You may gently brush off leftover particles and wipe with clean cloth or paper towel.
Use Accessories
Use accessories endorsed by the waffle iron manufacturer to prevent damage to the unit Buyers will benefit from knowing the different types and features of both the traditional and modern versions of the waffle irons. With the various selections available, it is best to assess your needs and review the various types of devices. While it is not a must-have, it is a good appliance, which will let you enjoy one of the tastiest desserts.