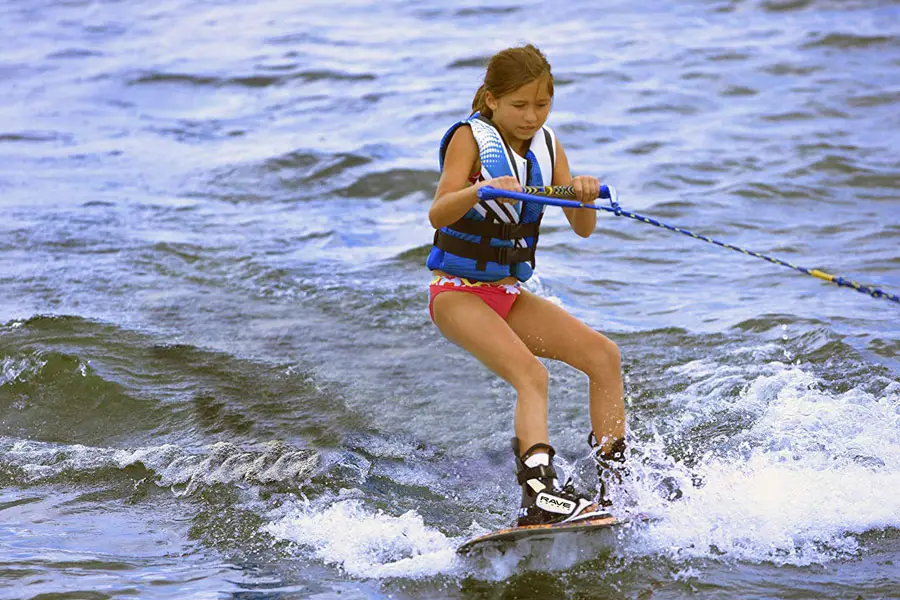 Wakeboard Reviews
Do you love to live on edge and experience an adrenaline rush? Do you love spending time on the water? Many customers find wakeboards easier to use than other water devices. They get you up and enjoying the water quickly and allow you to enjoy the day on the water, rather than spending hours learning how to use the equipment. They also allow you to complete tricks and stunts on the water. The following wakeboards will allow you to jump on the water and enjoy time with your friends and family for hours on enjoyment. These are top quality boards at affordable prices.
Most Popular Wakeboard
O'Brien
The Obrien Wakeboard will allow you to take numerous adventures and enjoy the water of your nearby lake. This particular wakeboard has a 2.25 continuous rocker allowing you to have a smoother ride and will give you lifts off the wake if you want to perform tricks. The wake board has a straight edge profile. The Obrien Wakeboard will provide everything you need in any water condition. The Obrien Wakeboard comes in two different colors with a choice between black/blue or red/white. It will glide over the water with ease while rolling up on waves in a constant manner. You will be able to slip your feet into the boots easily with several different stance measurements including 21, 23, and 25. The Obrien Wakeboard is ideal for amateurs and experienced boarders. No matter what your experience level, you can enjoy the Obrien wakeboard.
Two colors available
2.25 continuous rocker
Straight edge profile
Several different stance measurements
Ideal for any experience level
– Anthony Dawson
Best Overall Wakeboard
Airhead
The AIRHEAD AHW-1015 Bonehead II Wakeboard with Grab Youth Bindings is 124 cm long great for young riders that weigh up to 130 pounds. The RIM core has a PBT top with skull graphics. Skull graphics are certain to impress your children's friends with a cool and stylish graphic. With this wakeboard you will be able to slip your feet in and begin riding the waves. This wakeboard is lightweight with a twin tip created to help younger riders develop their wakeboarding skills and help them become more comfortable with gliding on the water. The consistent rocker is fast and flexible allowing the board to roll easier. The AIRHEAD AHW-1015 Bonehead II Wakeboard will allow your young one to perform and improve their skills while being made of high quality materials lengthening durability. There are two fiberglass parts that are reinforced with nylon fins allowing you to track and carve the waves better.
124 cm in length
For young riders that weigh up to 130 pounds
Twin tip light wakeboard
Consistent rocker
Two fiberglass parts with reinforced nylon fins
– Anthony Dawson
Best Budget Wakeboard
Body Glove
The Body Glove Wakeboard is meant for young riders up to 125 pounds. With the rounded tip and rounded tail your young wakeboard rider will be able to tack and carve waves easily. By having this wakeboard you will watch your child grow and begin to conquer jumps while enjoying a smooth ride across the water. With the wide design your child's performance will improve quickly. The Body Glove Wakeboard has lace up bindings making your child feel more secure on the wakeboard. The lace up bindings will also help your child's feet mold to the foot pieces with ease making the adventure more comfortable. The Body Glove Wakeboard is meant to help improve performance quickly and will continue to help you perform better and ride harder as you work on your jumps and wakeboarding skills. Due to the wakeboard's lightweight nature, your young ones are able to experience the water with more of an adrenaline rush. Instead of frustrating younger riders, this wakeboard will allow you to get on the board easier and ride stress-free.
For riders up to 125 pounds
Rounded tip and tail
Wide design will help younger riders improve faster
Lace up bindings for a snug fit
Due to construction riders can get on and stay on easier
– Anthony Dawson
Wakeboard Buying Guide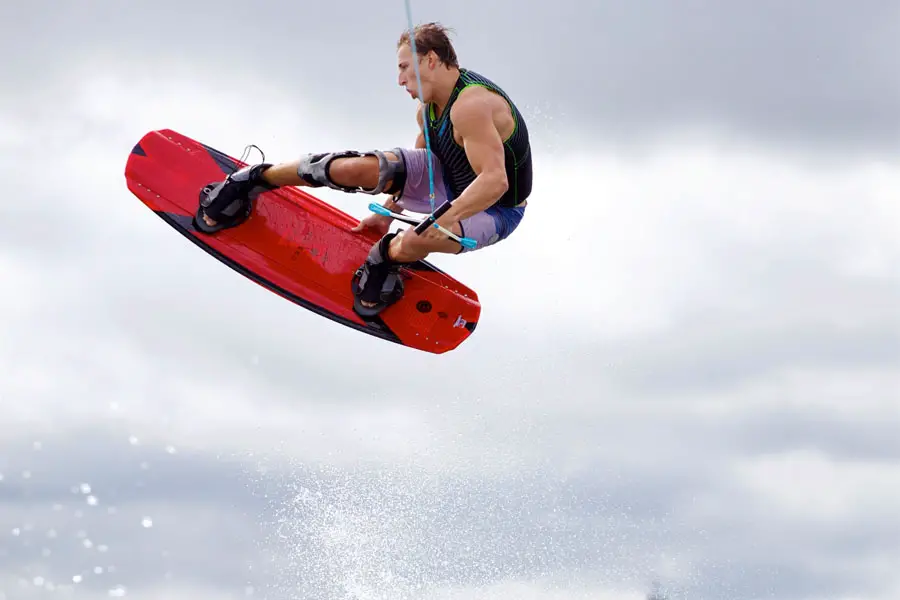 If you're an adventurous type of person, you probably have tried or want to try wakeboarding. There are actually a couple of things that you have to consider in buying wakeboards—such as their size, length, weight, shape, and ability level. Here's what you need to know about wakeboards so you can decide what to buy.
Ability Levels
There are different types of wakeboards that are suited for each ability level and these are as follows:
3-Stage Rocker

You'll recognize that a wakeboard is a 3-stage rocker when you see three planes located at the bottom part of the board. This is great when waves are high so it's recommended for beginners because it helps them feel safe for it offers less slippery feelings while you're on the water.

Continuous Rocker

This is also recommended for beginners because it is able to provide smooth and fast rides because it is a curve-shaped board. It also helps the rider gain speed without making him fall down and is best used during crisp, cold mornings.

Hybrid Rocker

Anything that is a board that combines the features of Continuous and 3-Stage Rockers is called a Hybrid. It is recommended for those in the advanced and intermediate levels.
However, if you feel like you're more comfortable in using a hybrid rocker even if you're only a beginner, you may feel free to do so, too.
Wakeboard Length
Then, you should also think about the length of the wakeboard. You should choose a board that is suited for your weight primarily because it will help you maintain your balance and it will make you feel at ease while you're riding the waves. Riders also get different feelings while riding different sizes of boards. You need to be concerned with the length because you may not have an easy time on the waters if the board you choose is not compatible to your size.
A shorter board usually uses a lot of energy and move slowly in the water but it is easier to flip or spin or even ride the wave. You just have to be careful of landing, though, because it is expected that short boards make you dive into the water, too.
Longer boards, meanwhile, are great because they are easy to use and they'd make you feel more stable while you are on the water. Longer boards are also recommended if you want to learn new tricks because they are able to move faster on the water and they are able to provide softer landings, as well.
Take a look at the wakeboard length and size chart below and choose which one is suited for you:
| | |
| --- | --- |
| Wakeboard Length | Rider Weight |
| 130 cm | 100 lbs |
| 130-134 cm | 90-150 lbs |
| 135-139 cm | 130-180 lbs |
| 140-144 cm | 170-250 lbs |
| 144 cm | 200-275+ lbs |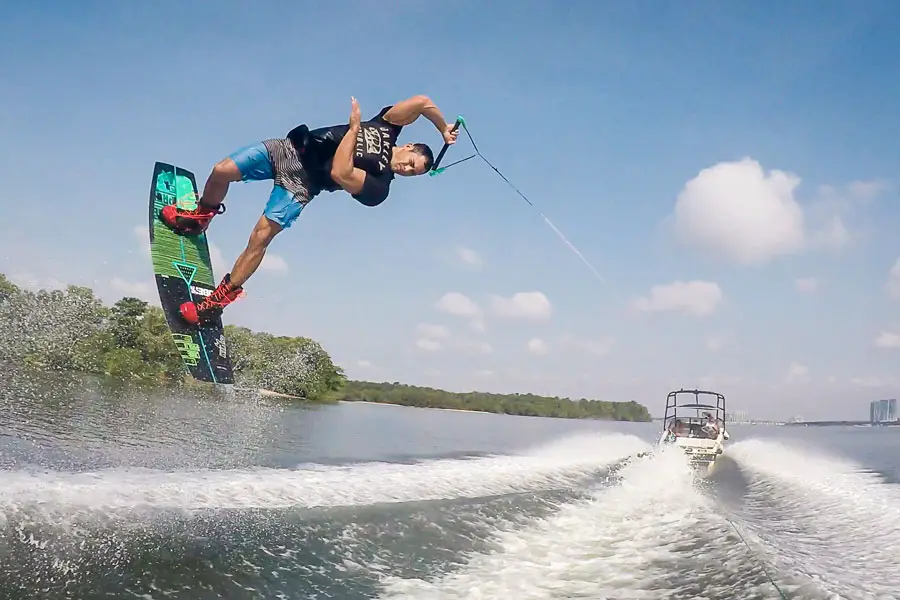 Fins and Edges
You also have to understand how a board's fins and edges work. Fins are responsible for keeping the boards balanced over the water so that you won't keep on falling down.
Molded-in. Most wakeboards have molded fins. These fins are not removable and are best for sliders as they are durable.
As the name suggests, you can remove these fins from board so you get to change how you want your ride to feel like.
As for the edges, they are two main types, namely: Variable and Sharp.
These are thicker in the middle with thin tips and tails that give the rider firm grip and tracking while going through butter slides and will also help you learn tricks easier. With variable edges, you can experience pop and lift patterns while riding the waves.
With sharp-edged wakeboards, over-all speed and acceleration will be improved but the catch is that because of the speed, you may dive into the water while you're trying to ride the wave. So, mainly, these are recommended for intermediate riders already.
You should also choose boards that have longer or deeper fins because they'd help you feel stable while riding the waves. Beginners can also choose boards with a couple of fins on the edge so that they would be able to control their balance better.
Shapes, Materials and Weight
And of course, the shape and weight of the wakeboard should also be taken into consideration. Lightweight boards make it easy for you to maintain your balance while riding the waves and they're very easy to maneuver. There are also super light boards which are very easy to use but also cost way higher than normal boards. The various shapes and materials that are used for most boards are as follows:
V-Shape Spines. These help you roll from edge to edge and promote soft landings, and are often used for 3-stage rocker boards.
You usually see these at the bottom of the boards. They are like the fins of a fish that are able to break surface tension and prevent you from swan-diving, especially if you're only a beginner.
If you see some dents on the wakeboard upon buying, it means that they have concaves. These are special dents that are great for the accelerators because they act as suctions that make it easy for you to maneuver the board as it will feel lighter.
Grind Bases. These were made because most wakeboarders requested that they need an item that will make tail-riding easier for them. These also keep the riders safe from sliding over docks, metals or PVC pipes.
Meanwhile, if a board does not have any of these special features, it is called "featureless" and the fin and rocker set-up are the only things that will affect the ride.
Also, there are also "blem" wakeboards or those that have blemishes that occurred during production period, such as slight changes in graphics or designs. These blemishes do not affect the performance of the board, so if you're only starting to learn the sport, you can try these kinds of boards out.
Choose What's Right for You
Now that you know the various specifications of wakeboards, it's time for you to decide which one is right for you. Keep these tips in mind and you'll surely be able to find the best wakeboard. Good Luck!