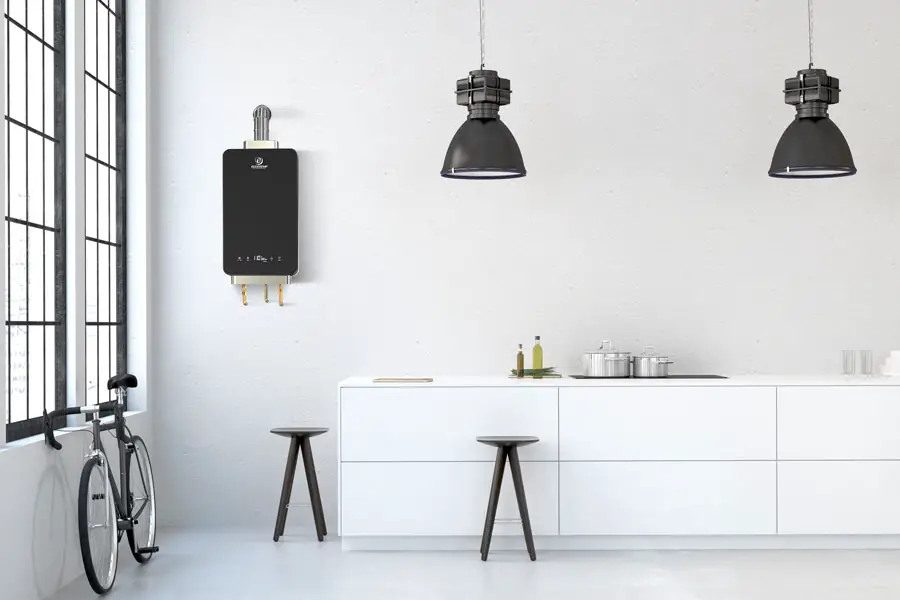 Water Heater Reviews
If you are in the market for a water heater, there have been a lot of technological advances in the past several years. Tankless water heaters have become more cost effective allows more consumers to be able to take advantage of the savings. Even the tank water heaters are more energy efficient in heating and maintaining water temperatures. Since water heaters will last a long time it is worth investing in the best heaters available. We have selected the best water heaters for gas, natural gas and electric providing you with years of hot water and a lot of cost savings with these newer models.
Most Popular Water Heater
EcoSmart
EcoSmart ECO 27 Electric Tankless water heater is used on electric units. It only uses 27 KW of energy and runs on 240 volts of power. The unit offers a patented technology that provides self-modulating features. EcoSmart ECO 27 Electric Tankless water heater can reduce your costs of heating water by up to 60%. This wall mounted unit takes up much less storage space than a traditional water heater and comes with a lifetime warranty. The thermostat can be controlled to within one degree of accuracy. This gives you greater control over the hot water temperatures and results in a higher level of savings. The unit will heat up to 3 GPM at water temperatures as low as 37 degrees. This makes this unit good for homes in the northern parts of the US as well as southern homes with higher water demands such as Jacuzzis. The water flow can handle 2 showers simultaneously in the northern climates and up to four simultaneous showers in southern climates. There is never a concern about running out of hot water because the unit heats the water as it is used.
Electric Water Heater
Up to 3 GPM in cold climates with water as low as 37 degrees F
Saves up to 60% of hot water heating costs
Large enough for Jacuzzis and multiple showers simultaneously
Lifetime warranty
– Anthony Dawson
Best Overall Water Heater
Rheem
The Rheem-PROG50-40N-RH62-Professional-Residential water heater holds 50 gallons of water. Its tall and slim design has space saving features. This energy efficient unit offers low emissions and is a natural gas water heater. It comes with an auto pilot light that does not require matches. The Rheem-PROG50-40N-RH62-Professional-Residential water heater is efficient with an EF rating of .58-.62. This provides a lower operating costs and a higher level of performance. It will heat 50 to 90 gallons with a recovery of 30.3 to 50.5 gallons. The unit does not require a filter to be changed giving you maintenance free water heater. There is also a safety device that provides an air/fuel sensor and automatic shut off if the ratio is not within acceptable ranges. It comes with a 6 year warranty.
Natural Gas water heater
Tall design for space saving feature
Auto light does not require matches
Maintenance free operation with no filter to change
6 Year Warranty
– Anthony Dawson
Best Budget Water Heater
TAKAGI
The Takagi-T-KJr2-IN-NG-Indoor-Tankless-Natural water heater is for residential use with gas. It offers 140,000 BTUs and has a maximum flow rate of 6.6 gallons per minute (GPM). The unit provides for inlet and outlet temperature controls which allow for consistent water temperatures and constant monitoring. The Takagi-T-KJr2-IN-NG-Indoor-Tankless-Natural water heater is the smallest tankless heater than Takagi offers and is best used in small apartments. Larger units are available for all home sizes to meet your water consumption needs. The unit is equivalent to a 40 gallon water tank as far as capacity is concerned. The Takagi-T-KJr2-IN-NG-Indoor-Tankless-Natural has the ability to deliver from 200 to 500 gallons of hot water per hour, based on your application and home needs. It has an indoor and direct vent installation as a safety feature. It also has an air to fuel ratio sensor and a water temperature safety control with an exhaust. The overheat cutoff fuse and internal freeze protection are also features that add to the high level of safety and prevent accidents from malfunctions. The unit requires a category III 3″ intake of stainless steel.
Comparable to a 40 gallon water heater
Maximum water flow of 6.6 GPM
Overheat and freeze protection devices along with air/fuel ratio sensor and temperature control
Can offer 200 to 50 gallons per hour of use
Gas water heater
– Anthony Dawson
Water Heater Buying Guide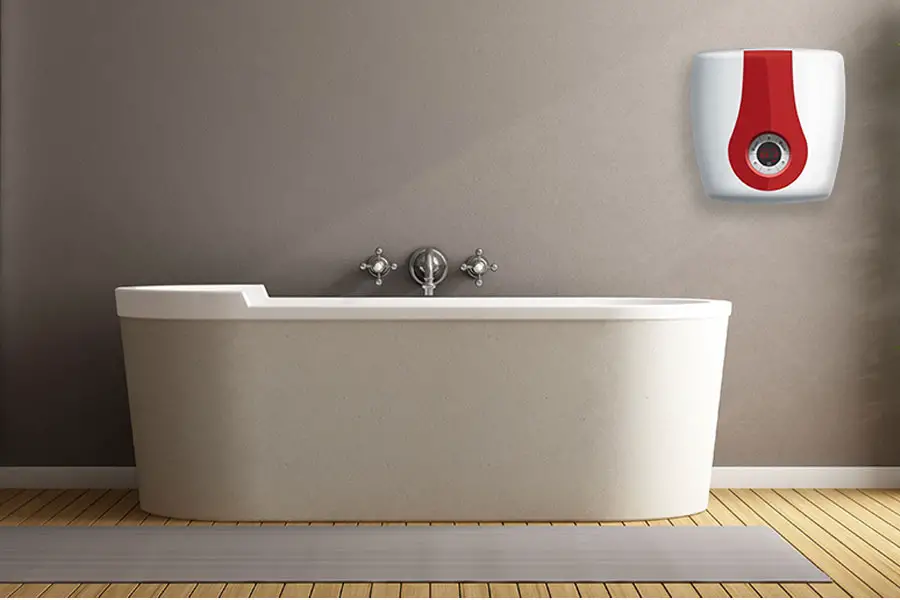 Installing a tankless water heater in any residential home is the best option to enjoy a supply of hot water that is virtually endless. One of the benefits of a tankless water heater is hot water is ready whenever it is needed. Hot water is also available for performing many tasks at the same time. This will provide an ideal solution for increased energy-efficiency, comfort, and convenience in a home.
Features
Saves Time with Tankless Water Heater
Conventional hot water heaters need time to recharge when the hot water is depleted in the tank. If you are using tankless technology, then waiting for hot water will never be an issue. The hot water from the unit installed in a residential home allows multiple water sources to be used at once. You can easily use your washing machine, dishwasher, or other hot water source while taking a bath or a shower. The best aspect to keep in mind is running out of hot water will never be an issue.
Efficiency of Tankless Water Heater
Energy-efficiency is becoming more and more important for consumers. The technology available with any tankless hot water heater will be a great option. Many units will have one or two heat exchanges, which are able to provide the maximum amount of efficiency. Another thing to keep in mind is meeting standards for Energy-Star qualification. Tankless units will use 40 percent less energy than conventional units.
Saving Energy
Tankless units save energy by not needing to keep water heated in a tank. Conventional units will need to run occasionally to keep water heated to at least 120 degrees. This will reduce the energy being used and will help reduce monthly utility bills for a homeowner. There is no standing pilot light needed as a unit will have an electronic ignition.
Smart Investment
Investing in a tankless water heater is a great way to increase the value of your home. Many buyers are looking for added features and are willing to pay more for various conveniences. Homeowners often have an assortment of tax credit and rebates that are available for energy-efficient products. Tankless water heaters are a good investment for some.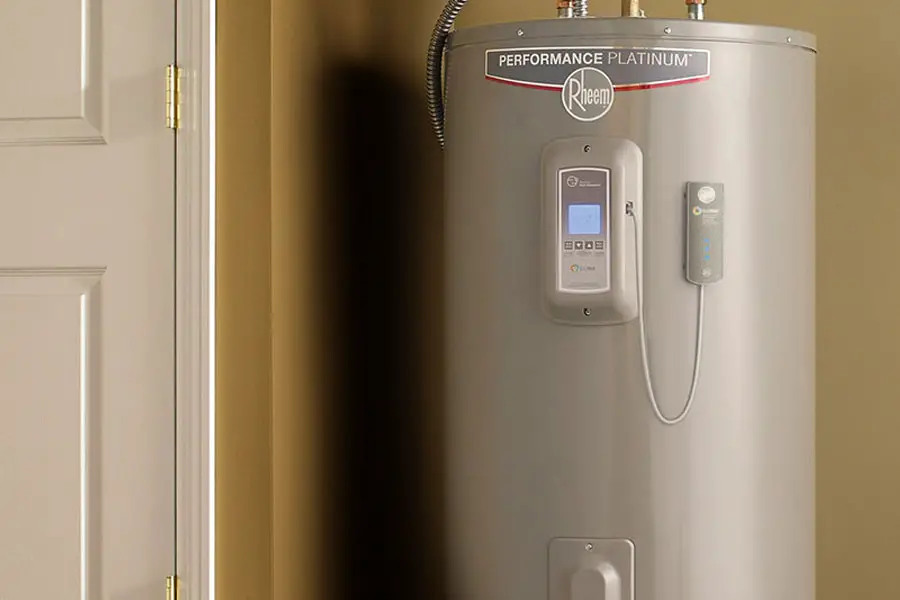 Multiple Sizes of Tankless Water Heater
The size of unit for your home will depend on your water needs. There are many sizes available for use in a residential home. One thing to keep in mind is to calculate the proper size unit that will provide the amount of hot water that is necessary. Many units can be customized to meet any need or preference.
Tankless Water Heater Repairs
Repairs to tankless water heaters is all that is needed when a problem occurs. These units use parts that are easily replaceable if there is a failure or other problem. Full replacement is often necessary if an issue occurs to a conventional unit. Exchanging components is cheaper than replacing the entire unit.
Minimal Space
These units measure 18.5 inches, 16 inches, by 10 inches. This means they are about the size of a small piece of luggage. A tankless water heater can be installed on any wall, in a crawlspace, attic, basement, or other out-of-the-way area in a home. You can choose to have the unit installed on an interior wall or on an exterior wall. The compact design of these units allows for flexible installation in any size home. A unit can can also be installed in a mobile or modular home. The result of an installation is extra free space.
Tankless Water Heaters are Eco-Friendly
Natural resources are being conserved as these units employ special condensing technology. The result is maximum energy-efficiency when the unit is running.
Less Waste
Conventional water heaters that are replaced often means material is taken to a landfill. A tankless unit has parts that are recyclable and will result in less waste being taken to landfills. Another aspect with a tankless unit is they will have a longer lifespan than a conventional unit. Tankless water heaters have a lifespan of up to 20 years or more.
Tankless Watrer Heater Low Emissions
Tankless units produce lower CO2 emissions. This will help contribute to a healthier home and cleaner air that will have a positive effect on the environment.
The installation of a tankless hot water heater in a residential home is a great option for lowering utility bills by decreasing energy use. One aspect to keep in mind is the installation is often higher, but will be recouped in just a few years.