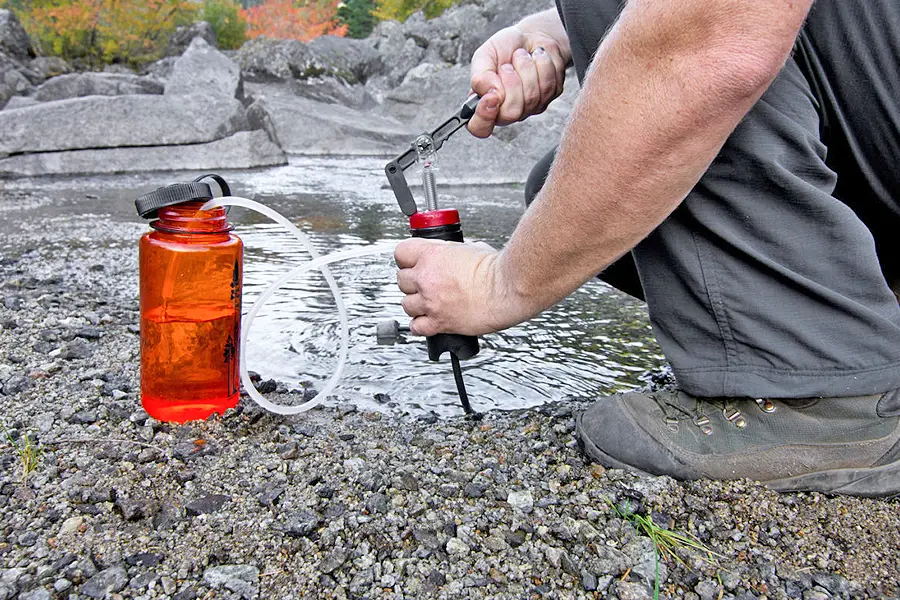 Water Treatment Reviews
When hiking, camping or simply enjoying the great outdoors, water is one of the most important provision you should never overlook. One can easily rack up some real thirst especially under the scorching sun. Without access to potable water in the woods, you need to take the necessary precautionary measures to protect yourself from contaminated water. Aside from nasty bugs and critters, there is always that all too real possibility of bacterial growth such as Cryptosporidium and Giardia lamblia, which can pose serious health problems and even death. It is for this reason that people who love the great outdoors should invest in water treatment products as a necessary protection. While a lake or stream may look pristine, it can easily be teeming with contaminants and may not be fit for human consumption. In fact, based on EPA reports, more that 90% of fresh water supply around the world is contaminated.
Most Popular Water Treatment
LifeStraw Personal Water Filter
Awarded as the "Invention of the Year" by Time Magazine, LifeStraw is a world's most compact, ultralight and advanced water filter specifically designed for personal use. This product does not contain any chemical nor does it uses iodinated resin, any moving parts or batteries that will eventually wear out or break down.
LifeStraw is not only widely used by hunters, campers, hikers and Boy Scouts, it is also an essential addition to any modern day emergency preparedness kit. This product is capable of filtering 0.2 microns using hollow fiber membranes. It features small pores that prevent contaminants from flowing through.
This capability has made LifeStraw the leading water filtration kit used by NGOs worldwide as part of their humanitarian relief missions.
Does not have any unpleasant or strange aftertaste
Perfect choice for travelling especially to exotic countries
Prevents you from sucking it water if it is no longer capable of filtering
A great gift or personal investment for emergency purposes
– Anthony Dawson
Best Overall Water Treatment
Katadyn Vario Water Filter
Vario is designed to deliver the best combination of no-fuss handling and individual efficiency in a water filtering system. Featuring an innovative technology that filters water in three levels, the system consists of a ceramic pre-filter, a glass fiber filter and an active charcoal to eliminate odor.
If you are looking for a water filter that can churn out two liters of water per minute, you can use the filters for glass fiber and the active charcoal. However, if you are dealing with exceptionally cloudy water, the ceramic pre-filter can also be used.
The Vario water filter works well with many standard hydration bladders and standard outdoor bottles, which makes it the perfect outdoor companion for hiking, camping and adventure trips. This makes it a great personal investment as well as a perfect gift item for the adventure seekers.
Easy to hook up and filters clean water fit for drinking in minutes
Lightweight and compact making it perfect for travelling especially if you don't trust the water source
The bi-directional pumping mechanism is ergonomically designed and simple to execute
Threaded water bottle securely attached to base, making it convenient to use
Easy to operate and comes with long-term storage instructions
– Anthony Dawson
Best Budget Water Treatment
Potable Aqua Water Purification Tablets
This is a germicidal tablet that is specifically intended for disinfecting drinking water in emergency situations. These tablets have been formulated to ensure water is transformed into a bacteriologically potable liquid fit for human consumption.
This water purification tablets from Potable Aqua Plus is widely used by hikers, campers, emergency organizations and militaries around the world. This is typically used when water is known or suspected to be substandard bacteriologically.
It works by giving a neutralizing effect on water. Aside from treating water from contaminants, it is also known to neutralize color and after-taste. With this tablet, you can look forward to drinking potable water in 30 minutes and is always ready to use anytime and from anywhere. This makes it a great and must-have addition to any camping, hiking or travel emergency kit.
Works great and water doesn't have any unpleasant aftertaste
Can be used not just to decontaminate water from bacteria but also from chemicals
Great to carry around for those outdoor adventures and remote areas
– Anthony Dawson
Water Treatment Buying Guide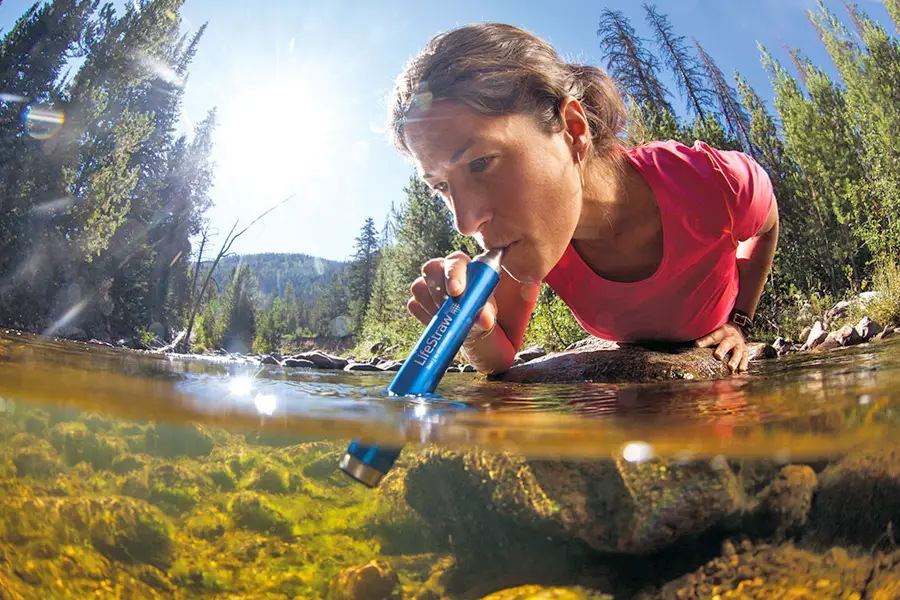 Most of us are aware that drinking water from sources that are found in the great outdoors can lead to serious consequences if the water is contaminated. When camping, it's easy to misjudge the amount of clean water that will be needed for drinking, food preparation and cleaning. It is a good idea to always take along water treatment materials to ensure that you can use any available water sources with confidence. This guide is designed to show you which camping water treatment solutions are the best choices, and why they are important to keep on hand.
Consequences of Drinking Impure Water
Some water sources in the outdoors may contain bacteria or other impurities that get there from animal droppings or other sources. Even though the water may be clear, it is impossible to see the potentially harmful life forms that are likely to thrive within. These can cause diarrhea, intense sickness and worse in some conditions. This is why having a system to purify water is so important. Yes, we need to drink water for survival, but we don't want the water that we do drink to cause illness or in some cases, death.
Types of Water Treatments
Water Boiling Method
The most popular way to treat water when camping is to boil it. Just bring the water to a full rolling boil for a couple of minutes and you're good to go.
Pros and Cons of the Water Boiling Method
Although boiling water is the least expensive and simplest option for treating water when camping, this isn't always an option and it is time consuming in high altitudes as water comes to a boil much more slowly. If there isn't an available heating source, or if fires are not allowed in the area in which you are camping or backpacking, it won't be an option.
Chemical Water Treatments
Chemical water treatments are becoming more popular and are considered by many to be the better choice, especially for backpackers and hikers who have limited space in their packs. There are a few different choices available. Iodine tablets, chlorine tablets, or a convenient liquid drop solution can be used to render water from lakes and streams safe for human consumption.
Pros and Cons of Chemical Water Treatments
Chemical water treatments come in small packs of about 20 tablets, or a small container of liquid. They are fairly inexpensive to purchase and take up little space when hiking or transporting by foot. There are drawbacks to this method. It can take anywhere between 15 and 60 minutes until the water is ready to drink. In addition to this, not all chemical treatments are effective against all of the germs that can exist in outdoor drinking sources. You will need to check the label to ensure that the type that you purchase is effective against whatever germs are typical to the area in which you will be camping. This type of treatment can also affect the taste of the water.
Ultraviolet Light Wands
UV light is another method used to purify water.
Pros and Cons of UV light water treatments
The UV light wands require batteries which is a plus unless your batteries die and you don't have access to more. They are simple to use. Just flip a switch and wave them around in the water. They a fast, easy and portable means of water purification that doesn't affect the taste of the water. The drawbacks are that they do not work in muddy water, they are often expensive, and can only treat small amounts of water at a time.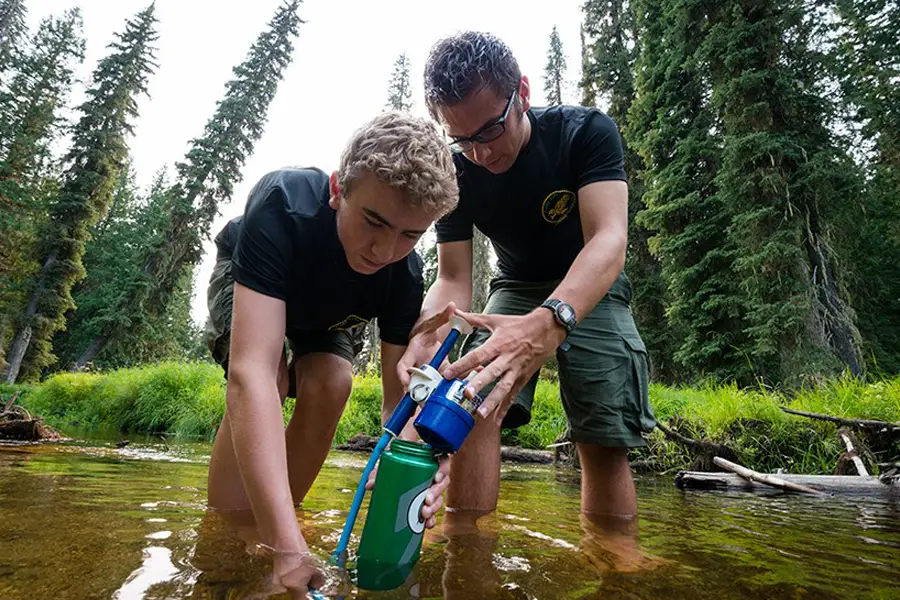 Water Treatment Filters and Mechanical Units
Filters are excellent choices for use with water that may contain mud or silt. They work on a mechanical pump basis in which water is pushed through a screen and filter that actually strains out the germs and impurities, leaving the water clearer and cleaner. Some models also offer the additional protection of using electrostatic functions or iodine to kill dangerous impurities such as viral contaminants.
Pros and Cons of Water Treatment Filters and Mechanical Units
These systems remove not only contaminants in the water, but they also remove mud, silt and other solids from the water. The drawbacks are that they can be expensive and they are bulkier to carry than the chemical tablets. There is also the chance that they will fail when you need them the most. Since they do have mechanical parts, there is always a chance of the mechanisms clogging or experiencing some other technical breakdown.
Mixed Oxidant Treatment
This method uses electricity and salt to use for treating water. Although this is portable and easy way to purify water, it can be expensive, it requires batteries to operate the unit, it does not filter out silt and other solids, and it can take up to 15 minutes before the water is ready for consumption.
What You Should Look For In Selecting Camping Water Treatment Solutions
Safety is the top concern. Make sure that you choose a method that will adequately purify the water to make it safe for you to use. Next, establish what you are willing to pay. This will narrow your search if you're trying to keep costs down.
While some of the more expensive options remove solids from the water, they have their drawbacks as well. The best choice is the one that most closely meets your needs for portability, producing water for consumption within the time frame you desire, the amount of water produced and the quality for aesthetic purposes such as taste and appearance.
Conclusion
There are several excellent options for camping water treatment solutions. When the standard method of boiling water for a few minutes isn't the best option, you may choose from mechanical filtered systems, chemical treatments, UV lighting wands or electricity and salt based methods. The bottom line when selecting the best method, is to find one that is in your price range that will provide the quality and amount of water you will need in a reasonable time period.