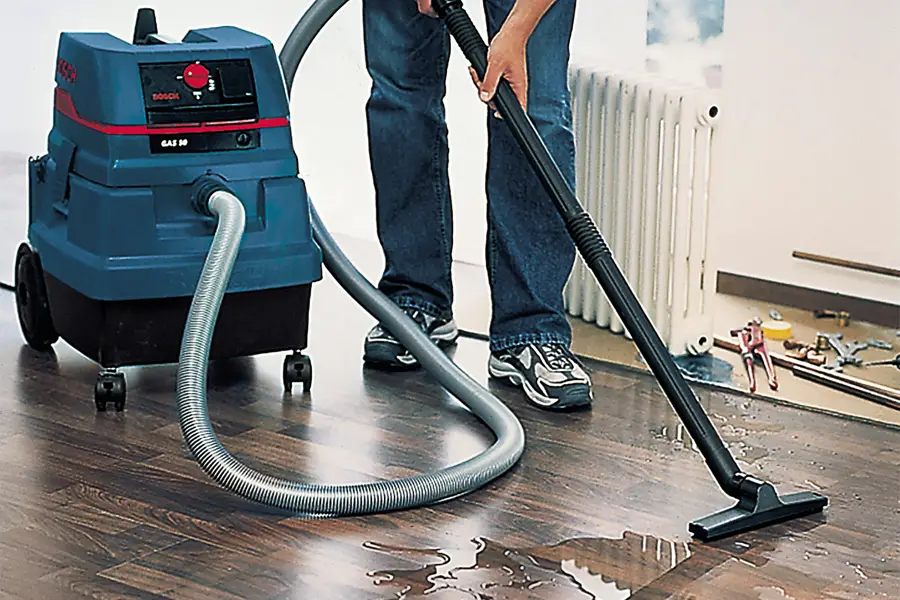 Wet Dry Vacuum Reviews
Wet Vacs have been used in garages and shops for many years. They are a must have when it comes to cleaning big jobs that require more power than a standard vacuum. Many consumers have discovered that even though the wet/vacs are louder and bulkier than a household vacuum, they do a much better job of cleaning hard to pick up items like pet hair. So whether you are cleaning up the garage, the car or the house, being able to pick up larger items and both wet and dry items, making the Wet Vac a popular household item. Each wet/vac brand and model has features that are attractive. These sturdy units can last for years if you find the right one. We have evaluated the best units on the market, creating a selection of wet vacs that will meet your needs and perform better than the average unit on the market today.
Most Popular Wet Dry Vacuum
Shop-Vac-5872410
The Shop-Vac-5872410-5-5-Peak-Horsepower-Contractor is a portable wet/vac that is small enough to store easily, yet powerful enough to clean the garage, the car and even the house. There is a top carry handle which makes it easy to move from job to job. The Shop-Vac-5872410-5-5-Peak-Horsepower-Contractor also includes a rear blower port, which is very useful for jobs that require blowing rather cleaning. Whether you are needs to blow sawdust off your work bench or leaves off the outdoor furniture, this wet/vac will get the job done. The unit comes with 8 accessories and an onboard accessory storage unit. There is a 20 foot power cord along with a cord wrap on the wet/vac. The Shop-Vac-5872410-5-5-Peak-Horsepower-Contractor has a 7 hose with 1 ½" in diameter, a crevice tool and a filter to prevent dust from blowing back into the garage. There is also a 1 year warranty.
5 Gallon Tank
5.5 HP Motor
7 Foot hose with 1 ½" diameter
Made in the USA
1 Year Warranty
– Anthony Dawson
Best Overall Wet Dry Vacuum
Vacmaster
The Vacmaster-VBV1210-Detachable-Blower-Vacuum combines two power tools in one. It is a shop vac and blower providing you with the ability to clean the shop, vacuum out your car and even blow leaves off the driveway. With a 1 button release the shop vac converts to a blower in seconds providing strong power for any clean up job. The 5 HP motor and 12 gallon tank has the ability to suck up any object that will fit through the 2 ½" diameter hose. The housing is made of polypropylene construction, add the caster wheels and handles and the unit is both rugged and easy to move around. The 7 foot hose and 8 accessories allow for completing any clean up job quickly and efficiently. The Vacmaster-VBV1210-Detachable-Blower-Vacuum also has onboard storage for keeping accessories organized and in one place. There is a 12 foot power cord along with a cord wrap for easy storage. This unit also has a drain port. This allows you to empty the unit without having to pick it up. The Vacmaster-VBV1210-Detachable-Blower-Vacuum comes with a filter to prevent dust from blowing back into the air and a 2 year warranty.
12 Gallon tank
5 HP motor
7 Foot hose with 2 ½" diameter
Extra-large drain port for easy cleaning
2 Year warranty
– Anthony Dawson
Best Budget Wet Dry Vacuum
Shop-Vac-9650600
The Shop-Vac-9650600-3.0-Peak-Series is a 6 gallon shop vac. Made of durable plastic this shop vac is rugged and will stand up to heavy use and wear. It is easy to move from place to place as it has canister wheels in addition to handles on both the sides and the top. The Shop-Vac-9650600-3.0-Peak-Series comes with a 3 HP motor, which is strong enough to pick up most items. Regardless of whether is it wet or dry, if it will fit in the hose, this wet vac will pick it up. The hose is 1 ¼" in diameter and 8 feet long. It locks into place so that it will not pull out even if the unit is pulled by the hose. There are also extension wands, a 10″ nozzle, and a 6 foot power cord, allowing you to clean large rooms with ease. Whether you are using it as a vacuum to suck up pet hair, or using it in the garage or car to clean up large messes, the shop vac-9650600-3.0-Peak-Series will get the job done. Included is an accessory holder to keep everything together. There is also a 3 year warranty.
6 Gallon Shop Vac
3 HP motor
Lock in 8 foot hose with 1 ¼" diameter
Caster wheels, side and top handles for easy mobility
3 Year warranty
– Anthony Dawson
Wet Dry Vacuum Buying Guide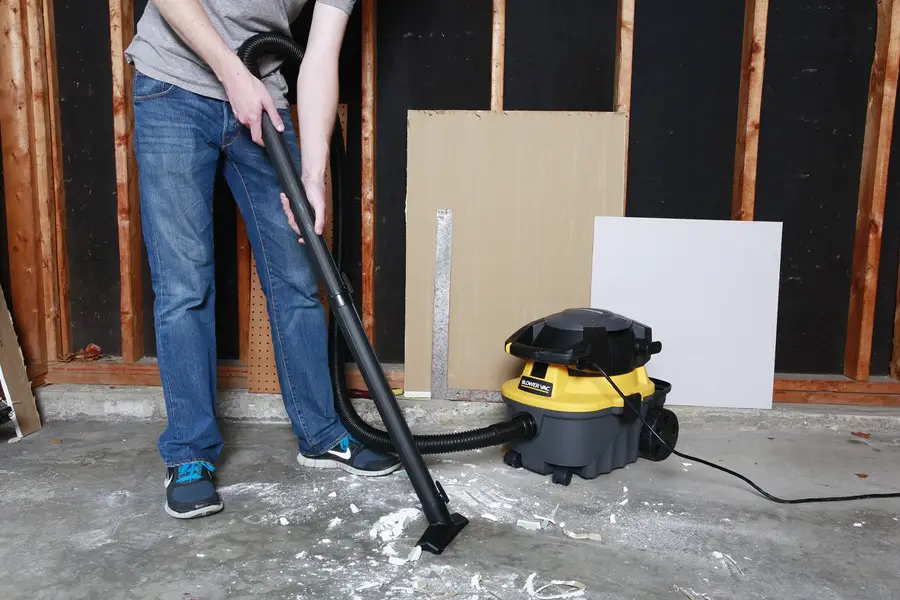 A wet/dry vacuum is a powerful device that has the ability to remove regular trash and dirt it can also be used to clean up just about any type of mess imaginable. This device is commonly used for cleanup in construction environments and in areas where a regular vacuum would not be practical or a broom would not be very efficient. There are different types of wet/dry vacuum models that perform this service. The following information will describe the different types of models and their intended use.
How Does A Wet/Dry Vacuum Work?
A wet/dry vacuum works by using a fan driven motor to pull air through a collection chamber and a hose. As the air is being pulled in through the hose it picks up more speed and force, which allows it, collect large items such as nails, wood chips and screws. Once the objects are inside of the collection chamber the air pressure is reduced which allows the items to remain inside of the space. Since the motor is not situated in a part of the device that can come into contact with moisture, the vacuum is able to suck up moist or wet debris. This is especially beneficial for situations where debris has to be removed from areas where a lot of water is present.
Bags are not contained inside of wet/dry vacuums. Since bags are not included in these units the storage bin keeps most of the dirt contained inside of the device. Only a small amount of dirt is released back into the air. The rest is dissolved by water inside the bin.
The Importance of Vacuum Size
A wet/dry vacuum is typically sold in various sizes. Each size will determine the suction force of each vacuum. Here is a breakdown of the vacuum sizes that can be used to pick up certain types of debris.
Large Wet/Dry Vacuums
Large wet/dry vacuums are designed to suck up lots of dust and debris. They can remove large items such as nails, screws and pieces of metal. These types of vacuums have different hose sizes and features but they are usually made to be powerful enough to remove oversized items. Large-sized wet/dry vacuums are essential for construction work sites and for large-scale building projects where debris and dusts has a tendency to accumulate. These units are not easy to move around and are rather bulky.
Medium-Sized Wet/Dry Vacuums
Medium-sized units are great for removing debris and they are also easy for transporting around. These types of wet/dry vacs are great for cleaning small to medium-sized areas. They can also be used to clean up areas for some large building projects or construction sites.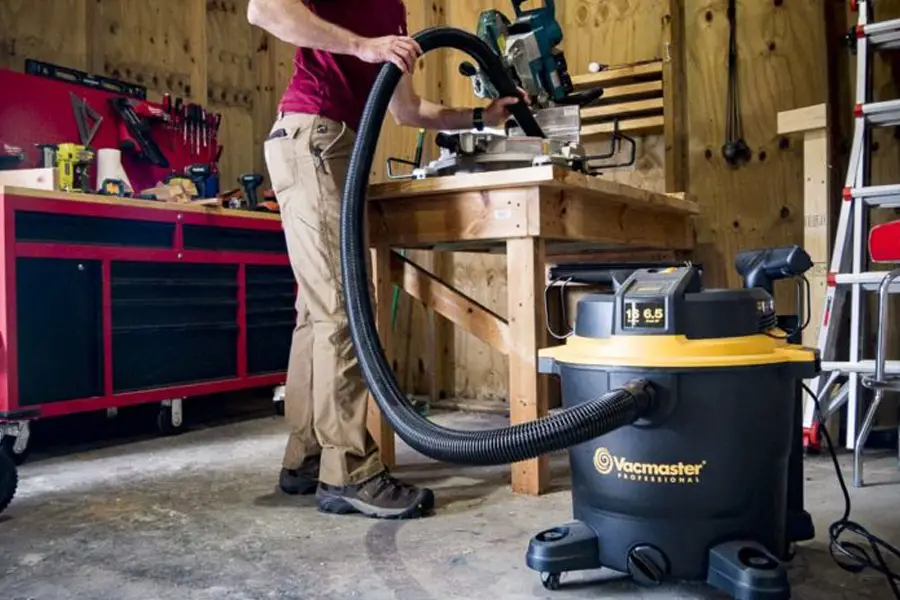 Small Wet/Dry Vacuums
Small wet/dry vacuums are perfect for smaller areas but they have a limited capacity for what they can clean up. They are impractical for large clean up projects.
Mini-Sized Wet/Dry Vacuums
These devices are best suited for residential home use that involve simple and easy projects or clean up jobs.
There are some industrial sized wet/dry vacuums that have been created for large-scale clean up applications. These types of wet/dry vacs are typically needed to remove roadside spills and debris from trucks, removing water from structures and for sucking up large debris and dust from huge areas.
Materials Used For Wet/Dry Vacuums
Most wet/dry vacuums are made out of heavy-duty plastic and metal parts. These parts are usually durable and long lasting. The more expensive brands have a better construction and design. The weaker units and the cheaper models are not as durable and should be used sporadically or for short-term projects.
Wet/Dry Vacs Parts and Accessories
Manufacturers sell a variety of wet/dry parts and accessories that can be used for these devices. Items such as end-hose attachments, filters, dust collection systems and hoses are available for sale for wet/dry vacuums.
Cautions for Wet/Dry Use
People who use wet/dry vacuums should avoid placing the cords into water. While it is true that the machines are able to suck up moisture and water, the cords are not waterproof. People should use a Ground Fault Circuit Interrupter (GFCI) equipped extension cord when using a wet-dry vacuum. A GFCI extension cord severely reduces the chance of electrical shock.
Cons with Using A Wet/Dry Vacuum
Some workers might be temped to believe that they can clean up any type of mess since they have a wet/dry vac on hand. This is true in most situations but not all. People should make sure that their unit is designed to clean up specific messes or debris. Units that are not suited for a specific clean up job could easily be damaged. Workers should also check the owner's manual for a particular wet/dry vac to ensure that they are using it in the right way.