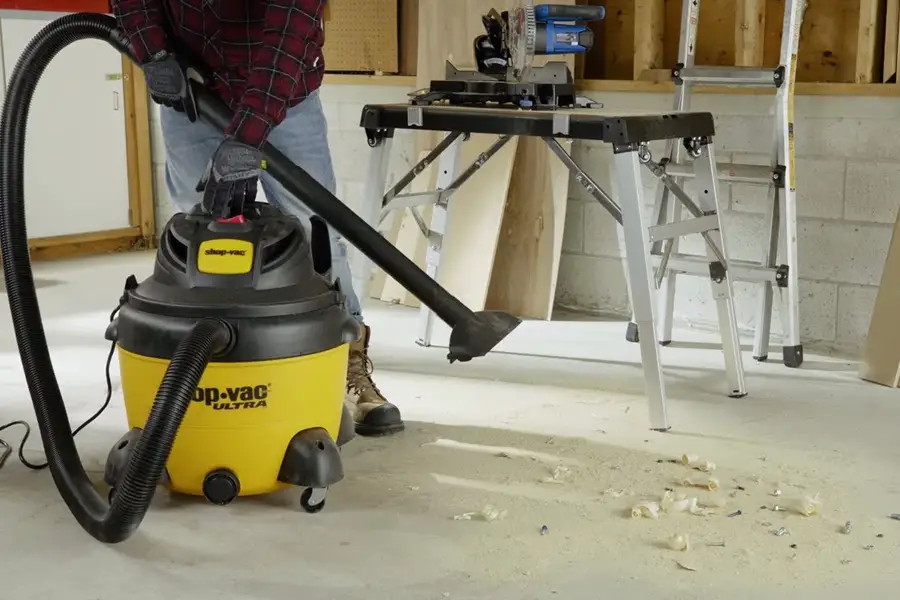 Dry Vacuum Reviews
Dry vacuums are tremendously versatile and come in handy for the home, office, or inside your car. Many models even have a blower to dry the outside of bikes or push away dust on the shop-room floor. When it comes to choosing a Dry vacuum, you really want to think about power. There's nothing more frustrating than when you go to clean something and the mess is still left behind after all your efforts. It's also not a bad idea to find something that has a noise diffuser, because we all know that a powerful vacuum can be quite loud and annoying to listen to. Convenient features like a top handle for easy carrying, retractable cord, and various different vacuum nozzles are a huge bonus. Also think about what kind of bag you want. If you're ok with constantly replacing bags, then a traditional model will do. However sometimes it's nice to have a bag-less version and save yourself a little extra time.
Most Popular Dry Vacuum
Shop-Vac
This 6.5 peak horsepower vacuum from Shop-Vac is a professional/industrial quality 12-gallon appliance that cleans dry messes with ease. The detachable blower allows this to also double as a leaf-blower or dryer for your car or bike. Other fantastic accessories that come with this include a LockOn hose, extension wands, floor nozzle, elbow, crevice tool, utility nozzle, ergonomic elbow grip, blower nozzle and concentrator nozzle. It pretty much looks like you're getting everything you could possibly need to clean a number of different kinds of surfaces. The 18 foot power cord gives you ample space to carry the vacuum where you need it to go. The side tank handles make it incredibly easy to transport in conjunction with the carry handle on top. Just think of how much less mess you'll have to put up with in your garage, basement, workshop, vehicle, and more.
Comes with detachable blower
12-gallon Dry vacuum
Comes with LockOn hose, extension wands, floor nozzle, and so much more
Easy side and top handles
– Anthony Dawson
Best Overall Dry Vacuum
Vacmaster
The Vacmaster is pretty much two amazing appliances in one. Not only are you getting a powerful Dry vacuum that works on even the toughest messes, but you're also getting a leaf blower as well. There are no annoying latches or locks to deal with, and the rugged 12-gallon tank is built tough and built to last. The extra large drain makes this vacuum a sure-thing for fast emptying, and the onboard tool storage is convenient for stowing tools or any accessories that you may need. 12 ft. power cord allows you to take the vacuum wherever you need it to go. It's incredibly easy to transform this Vacmaster from a vacuum to a leaf blower with a simple 1 button release. The large On/Off dust sealed switch means that there's no more searching all over the vacuum before you can finally remember how to turn it off. All in all, the versatility, tough construction, and intuitive design of this vacuum make it a sure thing for your home, garage, workspace, or yard.
Detachable blower with 1 button release
Super-sized drain port
Easy to find On/Off switch
12 foot long cord
On board storage capacity
– Anthony Dawson
Best Budget Dry Vacuum
ArmorAll
ArmorAll has made a pretty fantastic utility Dry vacuum that allows you to pick up both liquid and solid mess in a snap. The 2.5 gallon polypropylene tank is just the right size to carry around without straining your back, and is still large enough to clean up a big miss. The 2 horsepower motor is the genius behind the ample suctioning power of this vac, and it also converts into a blower. The auto shut-off is a great feature that automatically turns the vacuum off when it's too close to being full. Not only does this guarantee more safety, but it also keeps the vacuum from breaking or being damaged. It's easy to carry around thanks to the top handle, and comes with a 10-foot long cord with wrap. The reusable cloth filter is easy to use and is good for the planet. It also comes with a deluxe car nozzle that makes it convenient to clean the inside of your car. The detail brush is another added perk.
Easily picks up dry debris
Comes with 6-foot hose and 10-foot cord
2 horsepower motor
2.5 gallon storage tank
Auto shut-off when close to overflow
– Anthony Dawson
Dry Vacuum Buying Guide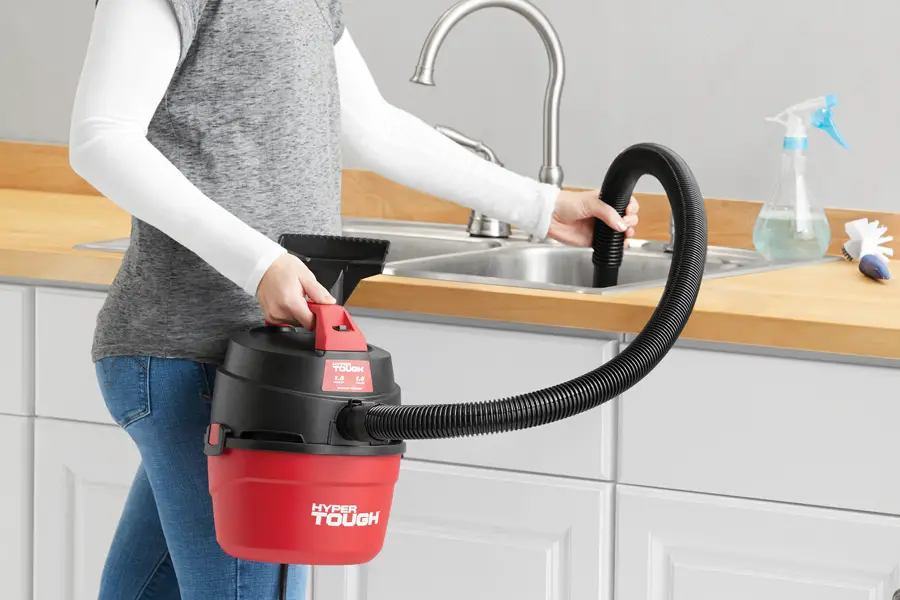 dry vacuum, is a vacuum that is able to clean dry spills. It is one of the best things that a household needs in order to stay squeaky clean. Woodworkers have also expressed their appreciation on this wondrous household equipment. It is able to capture dust and other dirt particles really thoroughly and makes the job easy while doing so. It is a great investment so people should consider purchasing one for the household. In light of this, here's a guide that could help a person choose.
Match The Task At Hand With The Size, Power Level, And The Intake Capacity Of The Dry Vacuum.
These dry vacuums come in a range of kinds and sizes. It would be best for the person to know which kind of dry vacuum would be most appropriate for the tasks or chores the person would be doing. It would also work in the buyer's advantage to be aware of how frequent he would be using the dry vacuum.
To understand what to look for in a dry vacuum, a person should first know what the power level and capacity of the vacuum is. He should first check how many gallons the vacuum can hold. This is the capacity of the household equipment. Then, he should look for the power level of the vacuum, it is the one with the unit of peak horsepower or hp. Knowing these two would let the user know the capabilities and limits of the dry vacuum. For simplicity's sake, a person should be aware that a high capacity vacuum would not immediately and readily translate to a proportionally high power level.
In handling light duty chores, a person could be content with a low capacity unit, usually just about two to six gallons, and with a similarly low power of around 1 to 4.5 peak horsepower. These dry vacuums are typically small, and compact, making it easy for the owner to store away the household equipment when not in use. It is also lightweight, making it easy to carry around. These kinds of dry vacuum could be cordless and even smaller than the normal so that it would not be a problem to just carry the unit around. These smaller versions are best for people who clean their car, home, or boat. There are also dry vacuum mounted on a caster so that a person would not find it difficult to maneuver the household equipment. Other tasks considered light are using it to clean the dry stains, and could manage to get the stubborn particles that some vacuum cleaners cannot get.
Next, for people who have medium duty chores, they should choose a dry vacuum that has a capacity of 8 to 14 gallons. With this kind of range, the chosen vacuum could work in any of the given surroundings such as household, garages, and workshops. A person should also pick the vacuum with a peak hp of 5 to 6. This range of power guarantees the owner of a great suction and adaptable performance. These dry vacuums could also be transformed into blowers. This will allow the user to use the vacuums for their lawns and garden activities, like leaf gathering and removing of grass cuttings. It could also double as an air pump, inflating air mattresses and even sports balls like basketball and volleyball. The unit could also be applied to clean other harder to clean stains and spills such as those seen in the basement or even the garage. This multipurpose feature of the dry vacuum makes it invaluable and necessary for a given household.
Lastly, for people who have to work on heavy duty activities, they should search for an equally high levelled capacity and power for dry vacuum. These activities usually entail intense and concentrated cleaning power. The range should be about a peak hp of 6 or more. The capacity should also be large enough. The best estimate is for a person to get 14 to 18 gallon capacity in a dry vacuum. These levels of specs of dry vacuum would usually be seen in a commercial business setting such as shops, industrial companies and other similar places. Professionals also prefer to use these type of dry vacuum for their business area. To improve on mobility and easy of maneuver, these dry vacuums are typically mounted or placed on a huge caster. Just like the dry vacuum that works best in medium range activities, the dry vacuum in heavy duty tasks are also multipurpose and could be used in a lot of situations and in any place, regardless whether residential or commercial.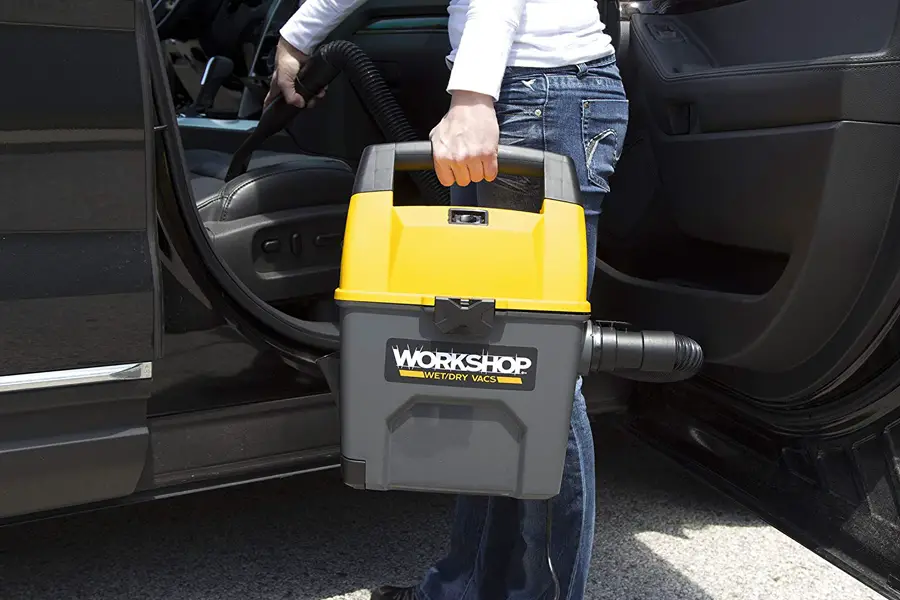 Be Aware Of The Other Features And Know How Needed Add-Ons Are In Buying A Dry Vacuum.
It is very tempting to see a list of features of vacuums and buy the dry vacuum with the most number of additional components. Doing so may however entail a large monetary investment and a waste of actual features. A person should be aware of the features and know which ones will be actually used when the dry vacuum is employed.
The first thing that a person should be aware of is the noise level that the vacuum could produce. Before, the dry vacuum produces so much noise that it was considered bothersome in a working environment. The good thing nowadays is that the newer models of the dry vacuum offer a quiet operation wherein the noise produced ranges from minimal to tolerable. A person should therefore make sure that the model he is going to buy does not produce noise above the acceptable decibel level,
Another feature that the person should look for in a dry vacuum is how portable it is. Portability and mobility is a huge factor in purchasing a dry vacuum because a number of these vacuums have a high end engine with a relatively smaller capacity. But these models provide the same level of cleaning quality as the bulky dry vacuum inn a little movable format.
One should also be aware of the storage for the dry vacuum. It is unfortunate when a person is able to clean the place with the vacuum but could not find a space to store it. By leaving it around the house, one creates an image of disorder.