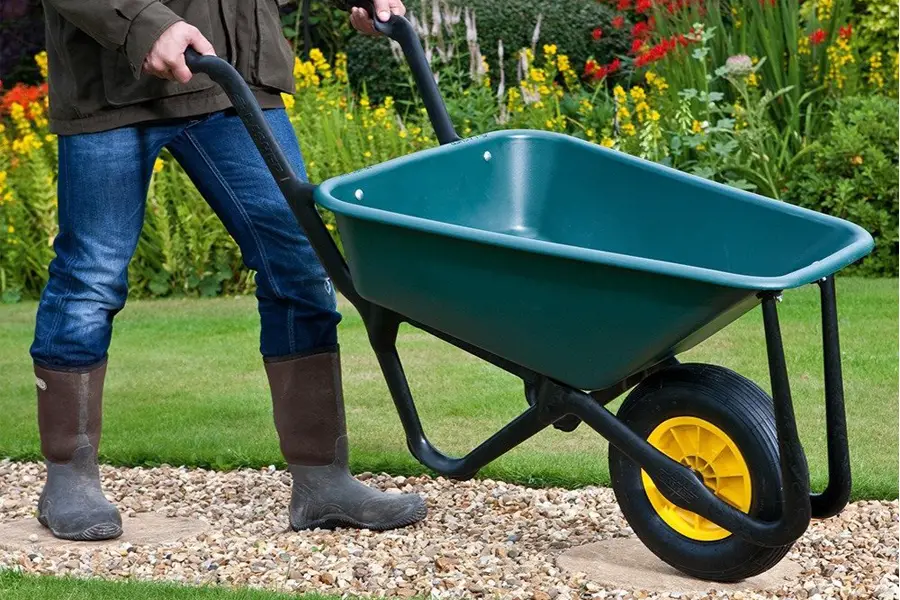 Wheelbarrow Reviews
Wheelbarrows are a classic fixture for any garden, landscape, or yard. They've been around for centuries and are still intrinsic to any work done in the outdoors. When choosing a wheelbarrow, begin by asking yourself what kind of material you'd like it to be made of. There are still some people out there that firmly believe in their vintage wood wheelbarrows, but for the most part all are now made of either steel or plastic. Steel construction is great for handling extra heavy loads. It's built incredibly tough but keep in mind that it is liable to rust so it must be stored indoors when not in use. A plastic model, on the other hand, is easier on your back, and ideal for light gardening. It will never rust, so it can be stored outside, but it is liable to crack if you put too much weight inside of it. You will also be able to choose between traditional or ergonomic handles on your wheelbarrow. The traditional two handle is great, but the ergonomic single-bar handle makes it easier to pull.
Most Popular Wheelbarrow
Gorilla Carts
This heavy-duty poly dump cart from Gorilla Carts is a tremendous tool that makes it easy to transport and unload supplies in a flash. Gardening and yard work are made much more simple and pleasurable, thanks to this wheelbarrow. The high-strength poly construction and black finish not only make it handsome to look at, but it's also built to be incredibly durable and dependable year-round. The rust-resistant finish means that maintaining this cart is a snap, and the ergonomic design reduces fatigue in the gardener, allowing them to carry up to 1,200 pounds of supplies comfortably. The quick-release dump is one of the best designs for making unloading as easy as possible. The patented D-shape handle is what allows you to hook the cart up and be towed by your lawn tractor or ATV. All in all, this is a simply wonderful cart that makes yard or orchard work so much easier and painless.
Built-to-last cart with patented quick-release dump feature
Rust-resistant poly bed and durable steel frame
Can easily be hooked up to your lawn tractor or ATV
200 lbs capacity
– Anthony Dawson
Best Overall Wheelbarrow
Lifetime
Not only is the Lifetime Wheelbarrow a tremendous choice for accomplishing all your yard and garden tasks with ease, it's also gentle on the environment and made from 100% post-consumer recycled material. With its ample load capacity of 550 pounds and 6.5 cubic feet of tub-space, you are getting a robust wheelbarrow that is still fairly lightweight. You also get to enjoy more stability than other wheelbarrows thanks to the extra-wide base and very low center of gravity. This means that 85% of the weight is being taken-on by the wheels, and the person maneuvering the cart only takes 15% of the weight. Lifetime is one of the best suppliers of wheelbarrows, because they believe in the power a great cart can have in helping you work to build a beautiful yard. Their supplies and tools are built to last, and built with integrity. For years now, gardening and landscapers have trusted the amazing products that Lifetime supplies.
Made of 100% post-consumer recycled material
Holds 550 lbs
Durable and heavy-duty tread wheels
Weather resistant steel frame, power coated
– Anthony Dawson
Best Budget Wheelbarrow
Marathon
This dual-wheel rover from Marathon Industries is built for dependable residential use. It comes in a lovely green color and has an ergonomic grip handle so it's easy to maneuver when carrying heavy loads. Its two-wheel design makes it much easier to balance and the 5 cubic foot poly tray gives you enough space to lug around a lot of supplies and materials. Because the wheelbarrow is so lightweight, you're going to find it very easy to move around, and the exterior of the wheelbarrow will never corrode. This is a great rover for a new gardener who wants a cart that is easy to use and durable. The lovely green color makes it fit into your garden decor with ease. A perfect alternative for those who want to stay away from flashy colors or designs. The pneumatic tires are just another fantastic feature that makes this wheelbarrow built to last.
Only 8 bolts required to assemble
Ultra lightweight and rust-proof
Look handle is cushioned and ergonomic
Power coated steel frame
– Anthony Dawson
Wheelbarrow Buying Guide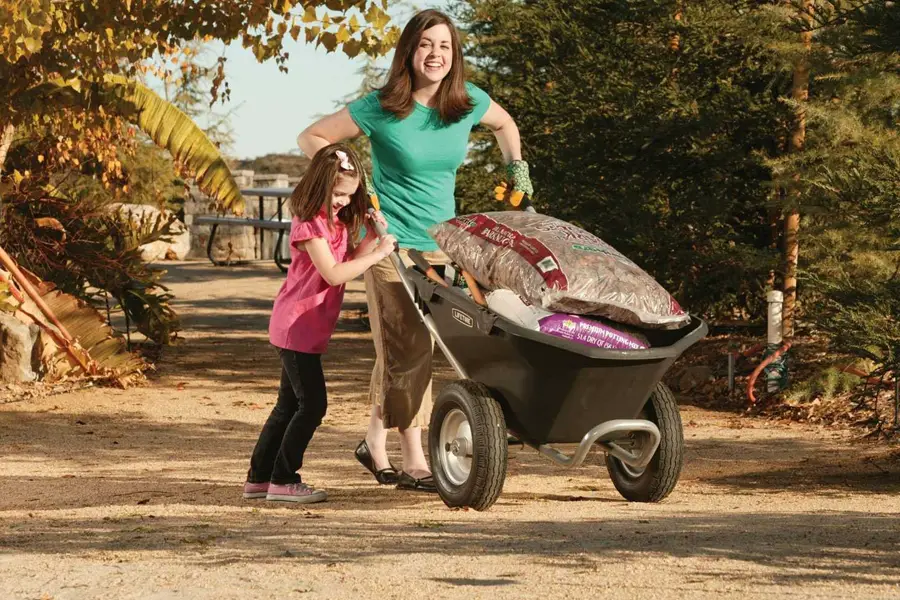 A wheelbarrow is an essential garden tool that everyone should have in their shed or garage. You can use it to carry soil, weeds, mulch, and anything else that you need to move around your yard. It's the most efficient transportation tool in the garden. Let's discuss the types of wheelbarrows and the things to keep in mind when buying one.
Types of Wheelbarrows
There are three types of wheelbarrows in the market today. They are:
Hybrid Wheelbarrows

Hybrid wheelbarrows are larger than traditional wheelbarrows. Some of them have more than one wheel.

Hill-Use Wheelbarrows

These wheelbarrows have a light frame and well-lubricated bearings in the wheels. The hands have grips to enable you to pull it uphill.

Electric Wheelbarrows

As the name suggests, this wheelbarrow uses an electric motor to move it easier than just using manpower. However, it's more expensive to buy and maintain.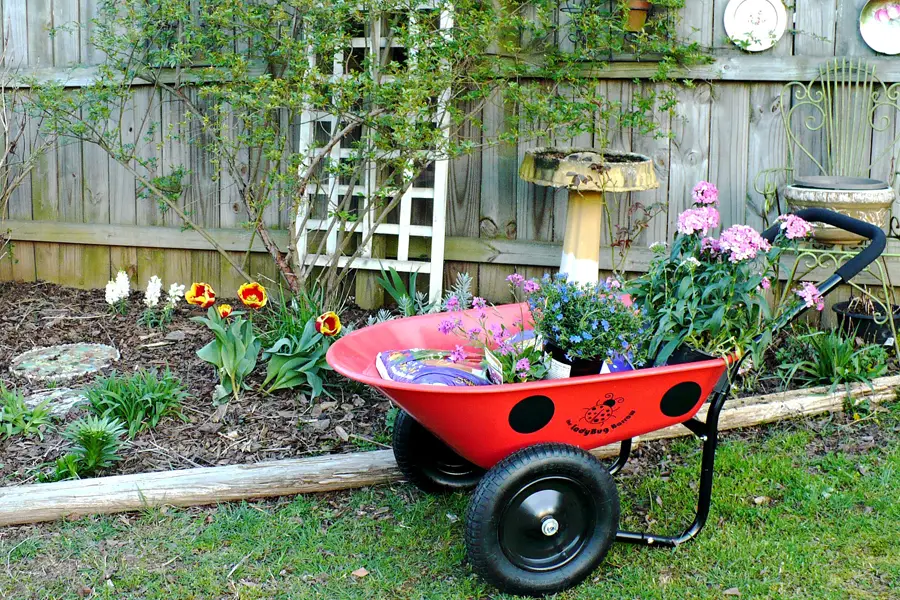 Things to Check When Buying a Wheelbarrow
Wheelbarrows come with different features, depending on the manufacturer. The following are some of the features that you should consider when purchasing a wheelbarrow.
• Load Tray Material
The load tub can be made from metal, wood, fabric, or plastic. If the load tray material is heavy, then it means the wheelbarrow can carry heavier loads. However, a heavy load tray increases the weight of the wheelbarrow, making it hard to operate.
You should pick a wheelbarrow that can carry everything that you wish to transport but also be light. Wheelbarrows made from hard plastic and light metals (stainless steel) are the best.
• Weight
The manufacturer normally lists the weight that every wheelbarrow can support. The construction of the wheelbarrow will dictate the weight that the wheelbarrow can support. A heavy and sturdy wheelbarrow can support more weight as compared to a lightweight wheelbarrow. Polyethylene load trays are light but can still hold heavy loads.
• Cargo Space
Cargo space is the volume of the load tray. You should consider the size of the material that your wheelbarrow can carry. Most people only consider the weight but forget about cargo space. The materials that you will be transporting will determine the size of the wheelbarrow that you will purchase
• Number of Tires
Wheelbarrows can have one, two, or four wheels. The most common wheelbarrows have one tire and are hard to pull uphill or when carrying a heavy load. However, they are easy to maneuver when turning or moving on a narrow path.
Wheelbarrows with two or four wheels (instead of only one wheel) are more stable and easier to pull. You can drag four-wheel wheelbarrows quite easily, just like a cart.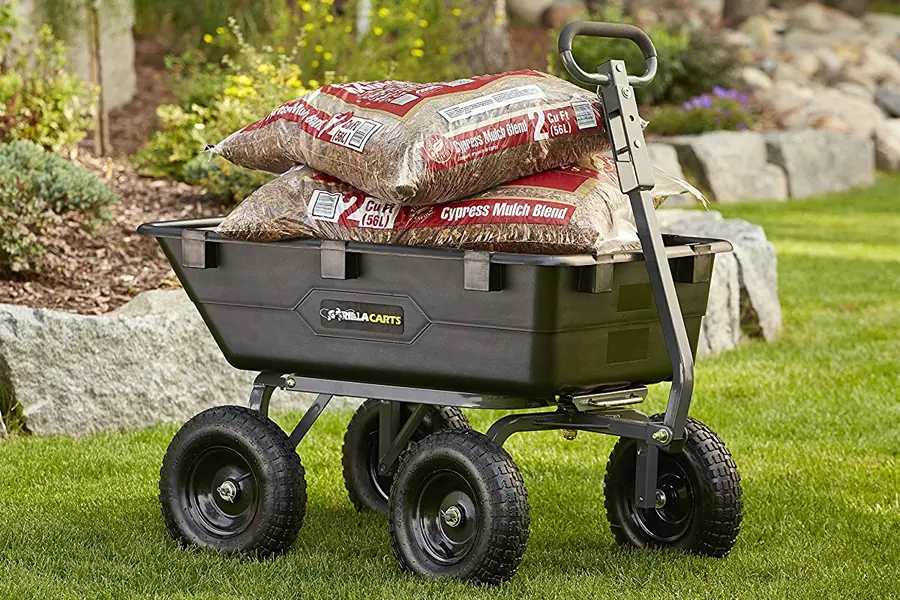 • Wheel Types
Pneumatic tires are the best wheels for a wheelbarrow. They are filled with air like the tires on a car and can move smoothly over difficult terrains.
Some tires are made of plastic while others don't have tread. These wheels can break down quickly, and because of this you should avoid them.
• Handles
Good wheelbarrow handles make it easy for you to turn the wheelbarrow around or dump your load. Standard wheelbarrows have wooden handles attached to the front for easy dumping. Other wheelbarrows have a dumping feature which simplifies the dumping process.
• Grips
The grips should be comfortable to hold and non-slippery. A nice gripping surface will make it easy for you to maneuver the wheelbarrow. Go for handles made from plastic or rubber.
• Rests
Wheelbarrows need some structures below the load tray to rest on when they are not moving. Only four-wheel wheelbarrows don't need rests. Go for wheelbarrows with rests that are made of stainless steel because they don't bend even when carrying heavy loads.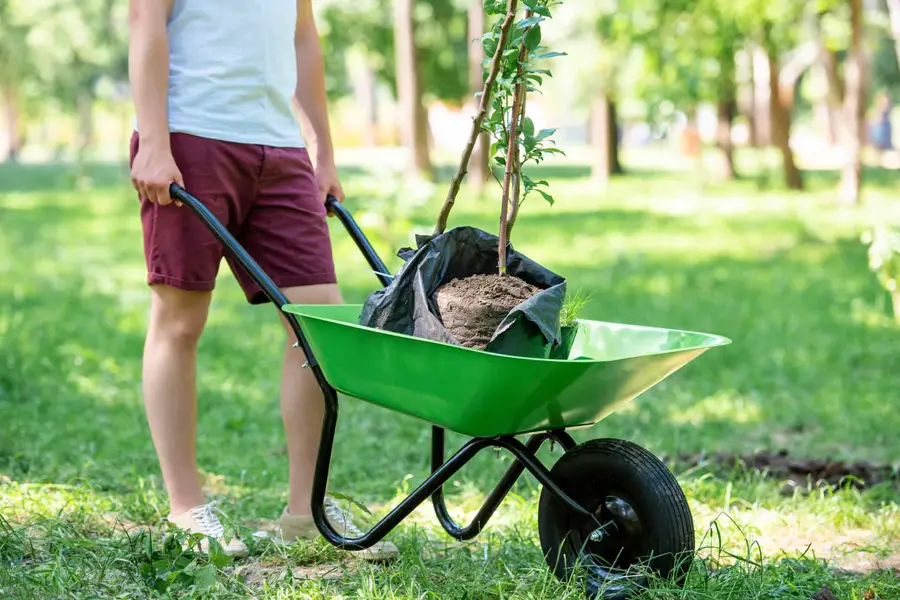 • Rust Resistance
Since wheelbarrows are mostly used outdoors, there is a high chance that they will be affected by rust. Plastic wheelbarrows are resistant to rust but can be damaged by the sun. Go for a wheelbarrow made of stainless steel instead.
• Warranty
Wheelbarrows carry heavy loads and can break anytime. It's necessary that you check the warranty to ensure you don't incur losses if it breaks down after a short time. A good warranty also shows that the company is confident about what they are selling. Note that wheelbarrows are expensive equipment.
Conclusion
A wheelbarrow is a crucial investment, and you must be careful when purchasing one. Check out all the features above before you settle on your choice. Ensure that it's light but also sturdy to carry heavy loads. The wheelbarrow should come with a favorable warranty. Lastly, be sure to buy your wheelbarrow from a reputable brand.