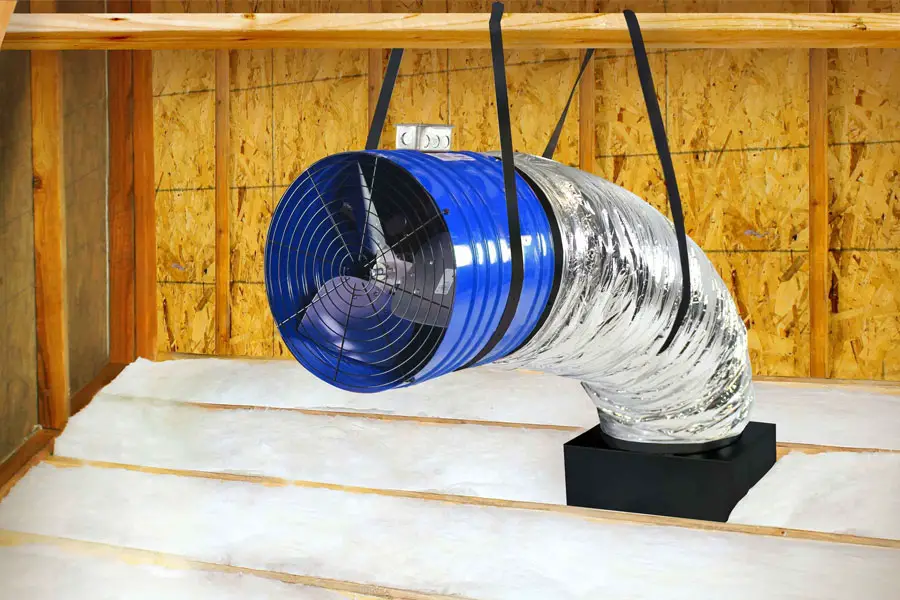 Whole House Fan Reviews
Whole house fans can be mounted in the attic of your home and will exhaust air from the home reducing the temperature of the attic and thus reducing your cooling bills. By purchasing a whole house fan you will be able to maintain more comfortable temperatures by circulating the attic air. The following whole house fans are easy to install and will provide you with a cooler residence during the hotter months of the year.
Most Popular Whole House Fan
Quietcool
The QC Manufacturing QC 3100 D QuietCool Fan "CLASSIC" 3190 CFM Whole House Fan has a grill that is white in color. The opening is roughly 14 ¼ x 22 ¼ inches in size. This whole house fan does not have a remote. It is a traditional style fan and is 37 x 25 x 19 inches in size weighing 53 pounds. The device has a voltage of 120 and 320 watts. The QC Manufacturing QC 3100 D QuietCool Fan "CLASSIC" 3190 CFM Whole House Fan will help you save money on the Air Conditioning bill due to its ability to circulate air at a rate of 3190 CFM. This whole house fan can be installed in your attic and will help you ventilate and cool a home quickly and efficiently. It comes with a 10 year warranty.
White Grill
Opening is roughly 14 ¼ x 22 ¼ inches in size
Uses 120 Volts and 320 watts
Comes with a 10 year warranty
Will reduce energy costs in the summer months
– Anthony Dawson
Best Overall Whole House Fan
Quietcool
The Quiet Cool 2250 Classic Whole House Fan is made in the US. The installation is simple and when in use, the product will operate quietly with a sound level of only 45 decibels. By increasing the flow of air in the attic the home cost of cooling your home will be reduced significantly due to an increased air flow of 2463 CFM. The whole house fan will allow proper ventilation within residencies and commercial locations. This whole house fan is UL listed. The whole house fan is 20 x 37 x 21 inches in size and weighs 40 pounds. The product uses a voltage of 120 and 249 watts of energy to operate. The device can be installed in the attic and adjourned from the rafters. It comes with a 10 year warranty.
Made in the United States
Simple Installation
Operates quietly with a sound level of 45 dB
Air flow of 2463 CFM using 249 watts
Comes with a 10 year warranty
– Anthony Dawson
Best Budget Whole House Fan
Cool Attic
The Cool Attic CX30BD2SPD Belt Drive 2-Speed Whole House Fan with Shutter, 30-Inch, White is 37 x 36 x 14 inches in size and weighs 52.2 pounds. The PSC motor running this whole house fan has two speeds and is protected thermally for an area ranging from 2,000 to 3,000 square feet making this whole house fan ideal for one story homes or commercial locations. There are four fan blades made out of aluminum with a CFM of 7800/5400. Installation allows the joints to be in and out and is constructed with a steel venture. The Cool Attic CX30BD2SPD is made of steel construction provides a durable unit that will last. The shutter on this whole house fan is automatic and a closure for air circulation at 95 percent. There are several features included with the unit including the low/high and off switch that can be attached to the wall. It comes with a 10 year warranty.
37 x 36 x 14 inches in size
PSC motor has two speeds
Motor is protected thermally
Made out of aluminum with a CFM of 7800/5400
Automatic and closure of air circulation at 95 percent
– Anthony Dawson
Whole House Fan Buying Guide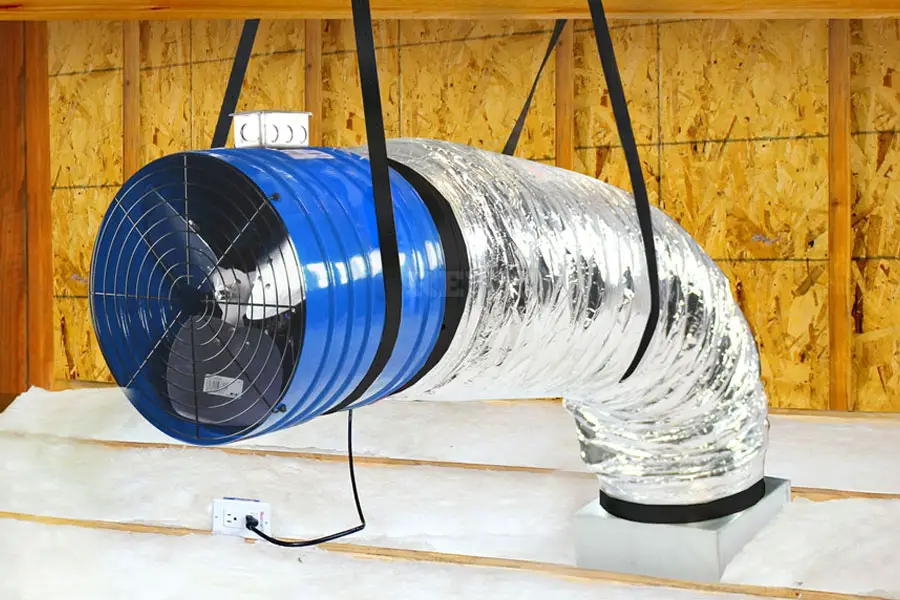 Why keep paying high power bills and having to run your air conditioner day and night during the hot summer months? Some people have reported children developing allergies because of poor or non-ventilated rooms? If your answer is yes, consider installing a whole house fan in your home. This installation can provide the ventilation and cool your home with  less energy than that used by air conditioners. Whole house fans lower indoor temperatures and improve evaporative cooling. This equipment cool the house using outside air instead of conditioning the inside air.
How Do Whole House Fans Work?
Whole house fans are installed in the ceiling, in an opening cut into the attic. This enables the equipment to flush out the indoor air through the attic, replacing it with fresh air from the outside. This outside air is drawn in through the open windows. Homeowners turn on the fan and open windows when temperatures outside the house drop below the room temperatures. Some leave the fan running for several hours to achieve the best results. This cools the house temperatures and flushes the built-up heat out of the attic. This equipment can perfectly replace air conditioners in areas that experience wide swings between day and night temperatures.
Installing a Whole House Fan
Many whole house fans are too large to fit in between ceiling joists. Thus contractors are forced to use wooden H brackets to avoid cutting joists. These brackets create a framed box that raises the fan above the joists. The joists below the fan could create resistance, lowering the efficiency of the fan. Whole house fans are easy to install. Direct-drive models are the easiest to install while belt-drive models take much time and require more expertise to install.
How to Use a Whole House Fan
The following tips will help you to use your equipment effectively.
Open doors and windows. If you run your fan in closed windows, the fan may cause gas-burning appliances, water heater or furnaces to back draft exhaust fumes and carbon monoxide into the house.
Turn off the central air conditioning system when using whole house fan. This is done to avoid expelling all the cooled air from your room.
Do not have fire going in the fire-place. The change of air pressure that a whole house fan creates may cause problems to the fire.
What to Consider When Buying Whole House Fans
There are a few things that you need to look at before buying a whole house fan. First, you need to go to your attic to see where you should start. In the summer a hot attic could signify poor ventilation. You also need to look for moisture which is shown by rusted nail heads, wood rot, mildew and mold, damp and compressed insulation.
The other thing that you should look for is vents. There are roof louvers, gable vents, soffit, eave vents and intake vents. Know the size and location of all vents. You also need to estimate the square footage of the attic. Most building codes state that for every 150 sqft of floor space in the attic, 1 square foot of vent area is needed. However, the codes only specify the minimums; you may increase the measurements to achieve better ventilation.
Call your utility company and ask for quotation. Study the features of the equipment and their prices. This will allow you to choose the equipment that is best suited for your house. Some companies will offer to install your fan after purchase. You also need to look at the warranty period of the fan. Most companies offer 10 year warranty period.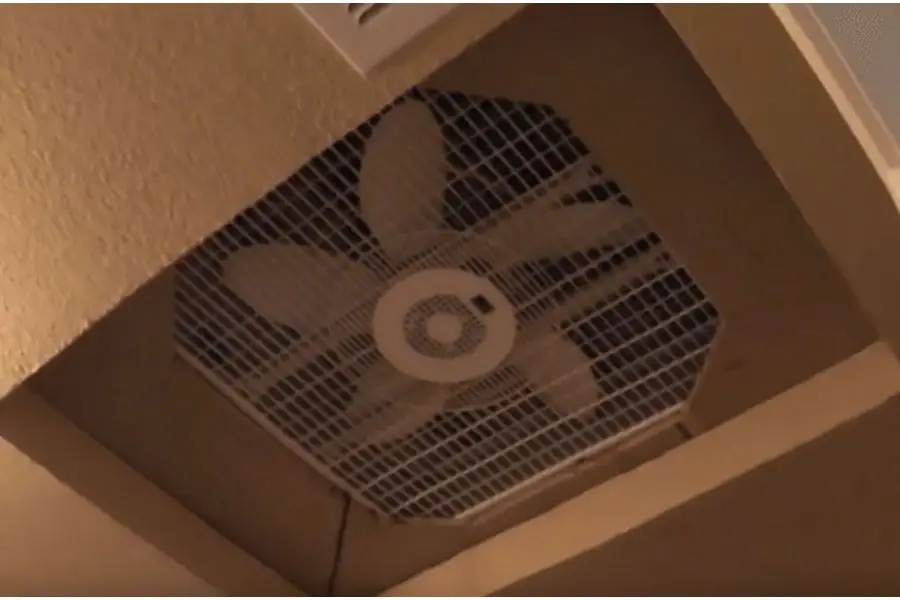 Here Are the Features That You Should Look For
The number of blades – Choose a fan with more blades. This is because fans with more blades are quieter. Fewer blades mean that each blade has to do a lot of work, making them to produce more noise. Isolate your fan from your homes framing with rubber mountings or foam strips. This will prevent the fan from resounding through the drywall and framing. You should also make sure that your fan is well fixed to avoid squeaking.
Quality Shutter – Look for whole house fans with self-sealing insulated shutters. These shutters close when the fan is off. This prevents the heat from leaving the fan when not in use. Quality shutters also produce less noise.
A timer – This is a good idea to go with a thermostat, which could automatically power on the fan when the home is vacant.
Larger fan – Go for a larger fan because such fans run well at slow speed, thereby reducing energy consumption. A large fan will perfectly rest on its weight.
Metallic fan – Do not go for a plastic made fan.
A fire stat – This shuts down the unit when temperatures are extremely high. This can happen when your house is on fire.
How to Choose Whole House Fans
The summer is often the time utility bills increase as a home is being cooled by air conditioning. Using an air conditioner throughout the day and at night can often lead to allergies. The reason is often due to stale air in a home as there is little to no ventilation. Installing a whole house fan is a good option for a standard residential home. Whole house fans can easily provide needed ventilation and cooling that is needed in the summer. Another aspect to keep in mind is these units use less energy than air conditioners.
Basic Information on Whole House Fans
The U.S. Department of Energy states that a whole house fan is an inexpensive and simple way to cool a residential home. These units are able to lower indoor temperatures, improve moisture removal, will offer excellent ventilation, and various other benefits. One interesting aspect about a whole house fan is units cost between $150 and $300. Central air conditioning units will often cost between $2,000 and $4,000 or more. Whole house fans are also more energy-efficient as they typically only use one-quarter the amount of energy as central air conditioning.
Placement of Whole House Fans
The most common area to install a whole house fan is in the attic. However, fans can also be placed in the ceiling in homes that do not have any attic area available. One reason to have a whole house fan in an attic is due to the way hot air rises. The fan will pull colder air in through open windows and hot air will rise up into the attic or crawlspace of the house and be pushed out through the roof vents. Pushing air with a fan is much more effective than having hot air pass through vents on its own.
Whole house fans are able to cool the entire house instead of cooling the inside air. The result is better circulation of air through the house. Moving air will generally feel cooler when being inside without any type of air movement.
Many people often confuse whole house fans with attic fans. Attic fans will typically move air from an attic and not the whole house. There is some cooling as warm air is being pushed out. However, adding a whole house fan will be a better option to achieve optimum results.
Different Options with Whole House Fans
Homeowners have many options for whole house fans. The first thing to do is determine if there is any need or preference that needs to be met. This means following a few guidelines before looking at items that are available.
Good ventilation in the attic of a home is necessary before installing a whole house fan. If the attic has any moisture, rusty nails in the sheeting, damp insulation, or is unbearably hot in the summer, then you need to add a few vents. The reason attic may be hot is that the vents that are not working properly, are closed, are too small, or there is not enough for the area.
A typical attic will require a vent to be added for every 150 square feet of attic space. One thing which is crucial is to not underestimate the ventilation needs of your home. Adding too many vents will be a better option than not having enough.
Things to Know About Whole House Fans
A home will need to have a balance of exhaust vents and intake vents. Exhaust vents are not much of a benefit if there are too few intake vents. The flow of air in a home is dependent on the intake vents that are available. Proper balance is necessary for whole house fans to be effective.
The number of blades on whole house fans will dictate the amount of noise that is heard. You will need to look for fans with many blades. Another aspect to keep in mind is to add insulation and materials for sound deadening in the framing. Quality shutters are also important. The shutters on a whole house fan need to open and close easily. A timer can also be added to turn the fan on and off when needed.
Heavier fans are a better option when they can run at lower speeds as they use less energy. Obtaining a unit that is heavier means it can rest on foam weatherstripping under its own weight.