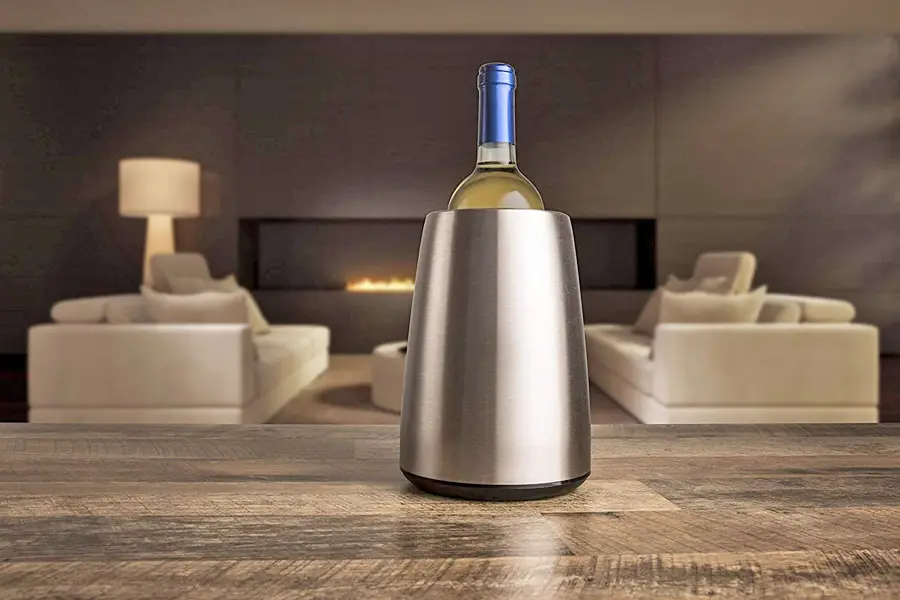 Wine Chiller Reviews
No matter what explanation you have for it, it's a fact that Americans are drinking more wine. Because of this, there are a whole host of different wine chillers that are appearing on the market. Everything from individual bottle chillers, wine refrigerators, cellars, and coolers. The genius behind a device that will quickly chill a bottle of white cannot be argued. We all know how often you can end up at the wine store trying to find your favorite bottle before guests come over for dinner, and they don't have a chilled one. Of course, you can always throw it in the freezer, but to ensure the perfect temperature, a wine chiller is ideal. Buying high quality white wine without storing or chilling it probably will just be a waste of your money. Reaching and maintaining the proper temperature of your wine is necessary to sustain its quality and taste.
Most Popular Wine Chiller
Cuisinart Electric Wine Opener
It's undeniable and unavoidable: wine is going electric. Electric wine openers and electric wine chillers are the best modern tools we have for making wine pleasurable, easy, and sophisticated. This package from Cuisinart comes with not only an efficient electronic wine opener, but a chiller as well. Here, you have everything you need to enjoy wine at the perfect temperature without the hassle of using a traditional wine opener. Open and chills wines effortlessly and with class. There's no longer any waiting for the bottle to be at the right temperature, and the cork to be pulled. Everything can happen instantly. It's possible to open up to 50 bottles on one single charge, and the whole process happens at the touch of a button. As an added benefit to this convenient pair of wine tools is the easy hassle-free packaging that Cuisinart takes much pride in. Experience simplicity and pleasure that will help you to experience wine in a whole new way.
Remove corks at the touch of a button
Open up to 50 bottles on one charge
Comes with stainless steel wine chiller
Arrives in hassle-free packaging
Keep wine at the perfect temperatures for hours on-end
– Anthony Dawson
Best Overall Wine Chiller
Vacu Vin Prestige Stainless-Steel
So, you've chilled your white to the perfect temperature in anticipation of your outdoor dinner. It's a warm summer night, and you find that by the time you go to re-pour, the wine is too warm, or it's been sitting in a tub of ice, and it's positively too cold. The answer to such a conundrum is an outdoor wine cooler. It's also a great tool for bringing whites down to a perfect 72 degrees, since room temperature is always about 78. Please keep in mind, this is not meant to bring a warm bottle of white down to a chilled temperature, but is designed to keep the white at the perfect temperature for hours on end. It's attractive enough to sit on your tabletop without causing too much distraction. Its stainless steel construction is modern and handsome to look at. Its speedy cooling element chills wine in just about 5 minutes. There's no ice involved in this device, and that means no mess.
Stainless-steel construction is attractive and modern
Rapidly cools without ice or water
8″ x 6″
Will keep wine cold for up to 4 hours
– Anthony Dawson
Best Budget Wine Chiller
Oggi Wine Cooler with Freezer Inserts
Oggi is quickly becoming one of the leaders in kitchen and bath wares that have innovative designs and elegant, contemporary appearances. This Wine Cooler with freezer inserts is a classy and efficient way to chill your wine to just the perfect temperature that you crave. There's nothing more frustrating than chilling a bottle in a cooler and getting that messy condensation running down the side later. This attractive cooler keeps wine cold and also keeps the condensation at bay. To use it, you simply remove the back centerpiece and freezer inserts, place inserts in the refrigerator until they reach the desired temperature, and then put back into the wine chiller. Then simply replace the centerpiece and put your wine bottles inside of the cooler. The whole device is made of durable stainless steel and is easy to wash by hand. The 2-tone satin and mirror finish is simply divine, and this device looks handsome in any decor.
Stainless steel cooler keeps wine cold without condensation
Elegant 2-tone satin and mirror finish
Freezer inserts quickly and effectively chill your wine
– Anthony Dawson
Wine Chiller Buying Guide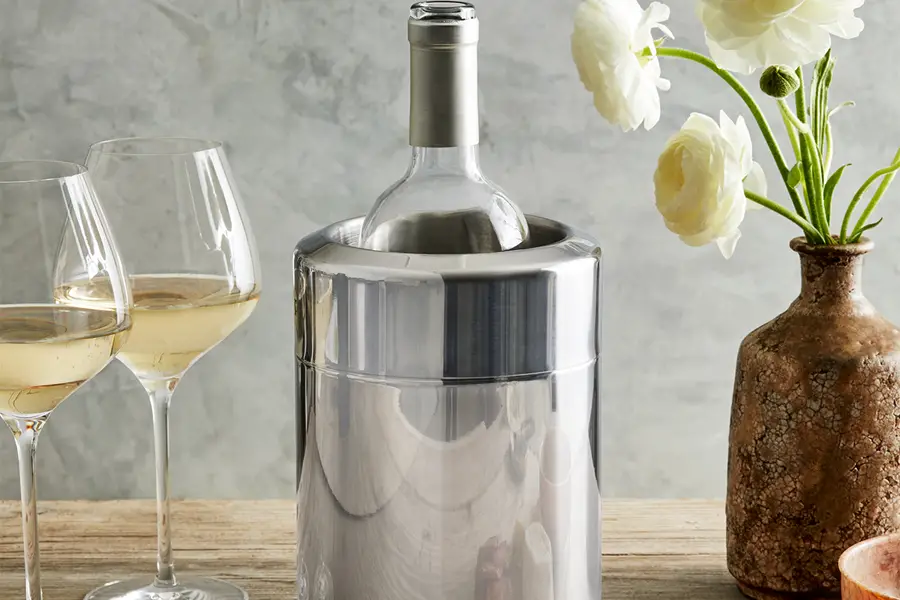 If you want your wine to stay fresh and in its best condition, it is not always enough to store it at room temperature or keep it inside a refrigerator.  A wine chiller is the best way to keep your wine chilled perfectly.  If it will be your first time buying one, this guide has all the essential tips and information you need to know.
What Sets It Apart from Your Home Refrigerator
Although the refrigerator have changed the way people keep beverages chilled and food preserved, it still won't be enough if you want your wine to stay in its best condition as possible.
A refrigerator is built to house more than one type of item inside.  Keeping food and other substances inside an enclosed space with your wine may cause it to become contaminated.  Plus, there's also the fact that the temperature level inside the refrigerator does not stay constant because the door is always being opened.  This happens often especially in a household with children.
Now most would just store wines vertically in refrigerators to save space.  However, this method doesn't really help.  The reason why wine bottles should be stored on their sides is because (1) it preserves the wine by allowing the wine's sediment to settle equally inside the bottle, and (2) it helps retain the cork's moisture.  Corks that dry out have a tendency to shrink, therefore allowing air inside the bottle which causes the good wine to spoil.
Wine chillers have features that are especially made for storing wine bottles.  First, the temperature settings are higher compared to a regular refrigerator.  Second, the shelves are adjustable; making it easier for you to fit your wine bottles inside.  Lastly, the doors are made of glass so you can easily look into the contents.
Why Should You Get A Wine Chiller
Knowing the differences between a wine chiller and a refrigerator is a good start.  Below are the benefits of why wine chillers are considered a good investment.
Wine chillers are far more portable depending on which size you purchase.
Humidity and temperature levels can easily be controlled depending on your wine's needs.
Vibrations are seldom present in wine chillers, which means the sediment in your wine will remain undisturbed.  Therefore, the chances of your wine spoiling are lessened.
If you want the best for your wines, you may want to look into the features mentioned above to convince you that investing in wine chillers can be a great thing.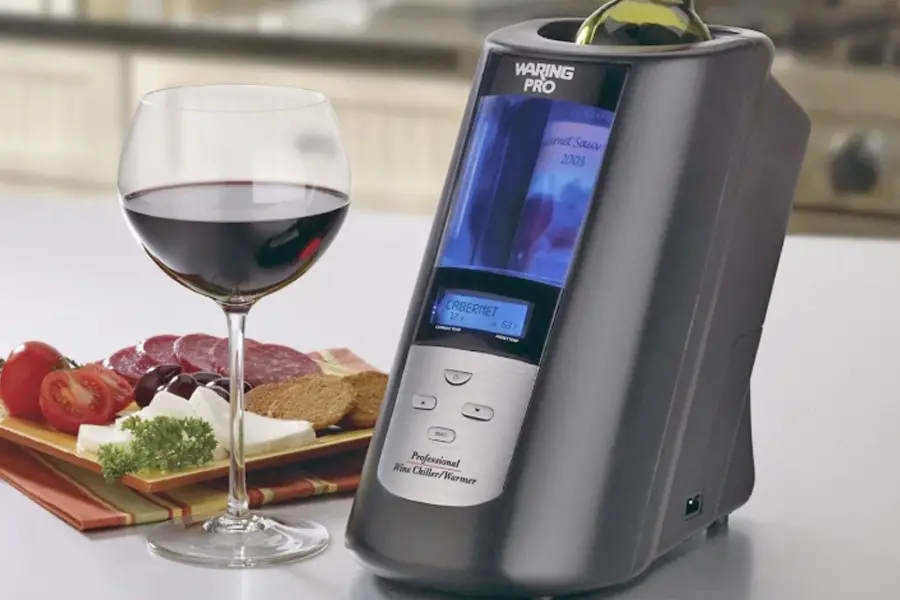 Factors to Consider When Looking to Buy a Wine Chiller
Buying wine chillers for the first time can be a bit tricky, especially if you don't know what you are supposed to be looking for.  This section will be all about the factors you need to consider before buying.
1. Size
If you have a large space, consider choosing a bigger chiller which runs to about 100 – 150 cubic feet.  For spaces that are limited, there are compact versions that are perfect for storing those few bottles you'd like to keep chilled in case guests arrive.
When choosing a size, get one that can store five more compared to the usual number of bottles you keep.  The ideal size can store around 15 – 18 bottles.  When you become well-acquainted with size, it'll be easier for you to determine a budget.
2. Budget
Different wine chillers entail different ranges in price.  For example, a wine chiller that stores one bottle of wine costs $100, while one that can store up to 50 wine bottles ranges from $100 – $300.
Serious wine lovers, on the other hand, might need to spend more since high-end wine chillers are not cheap.  There are those that are elegantly styled and has advanced features such as dual temperatures — a feature which is ideal for both red and white wine.  Judging from this feature, it can be assumed that this type of chiller costs more than the average 50-bottle version.
3. Temperature
White wine should be stored at an average temperature of 49 – 56°F.  Red wine, on the other hand, is best stored at 55 – 60°F.  For this reason, thermo electric wine chillers with dual settings are a good investment.  Red and white wine bottles can be stored separately in two independent compartments with differing temperature settings.
While most wine chillers are equipped with glass doors, look for one that have double pane glass doors which allows efficient energy operation and equal thermal insulation.  Other materials that are ideal for temperature control include chrome or steel.
4. Ultraviolet (UV) Rays
The problem with wine chillers that have glass doors is that ultraviolet (UV) rays might make their way inside.  This affects wine and might develop faulty flavors and decrease the overall quality.
Wine chillers with solid doors have the ability to block off UV rays.  However, if you want your wines visible on the outside, solid doors aren't really for you.  An alternative is to get a wine chiller with tinted glass doors especially made for warding off UV rays.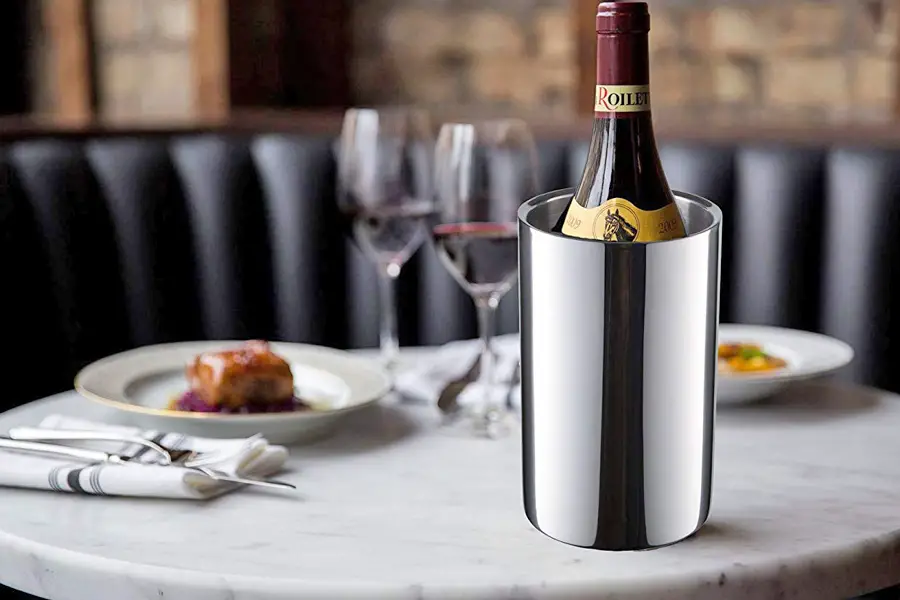 5. Anti-Vibration System
Premature aging causes wine to spoil.  This is what happens when wine gets shaken even just a little.  Good wine chillers are built with anti-vibration systems.
Other Important Details
In making your selection, other factors that you would probably take into consideration are color, style, and finish.  This is important especially if you are trying to match the unit with the rest of your kitchen.  If your kitchen is predominantly composed of stainless steel, then avoid purchasing a wooden chiller because it is highly mismatched.
If you plan to purchase one for your home, choose a unit that's smaller – one that can easily be displayed on your kitchen counter top. Commercial units are more ideal for restaurants and other commercial establishments that store a number of wine bottles for business.  You also have to allot enough space for the wine chiller you are about to purchase; make sure to choose a spot that is away from direct sunlight and one that has a stable temperature.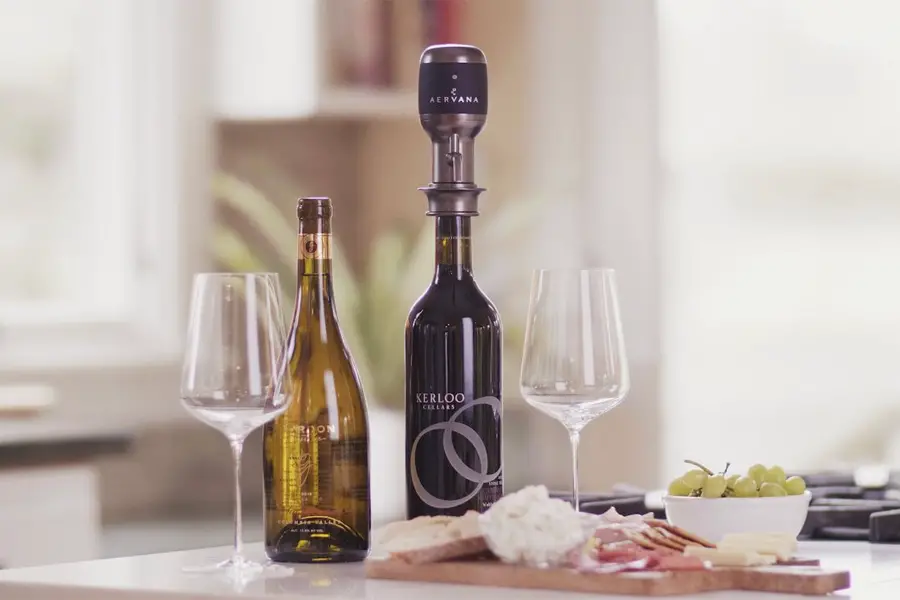 Breathing with a Wine Aerator
The serious wine lover is known to make use of wine aerators. These are specially-crafted devices intended to help wines develop into their full aromatic potential.  A Wine Aerator can come in a wide variety of styles, and each one of these is usually designed for a particular type of wine.
Process of Wine Aeration
The process of aeration simply means allowing wine to breathe. This offers a number of benefits to most wines, chief of which is that this will enable the wine aroma to open up. Eventually, a softening and mellowing process will follow until the overall flavor of the wine improves.
Aeration is a normal and natural process. The mere act of opening a bottle of wine and pouring the contents onto a glass already constitutes some form of aeration. However, completing the aeration process takes time and can last for many hours long after the wine has been poured out from its bottle.
A Wine Aerator is designed to accelerate the process. This normally happens owing to the basic design of the typical aerator where the top portion is wider as compared to the bottom area where space is significantly narrower.
Needless to say, when wine is poured into an aerator, the flow of the liquid changes as the wine makes its way to the bottom of the glass. During this period, air is able to come in and affects the constitution of the wine.
Undoubtedly, chemical processes are at work whenever wine aerators are used. Still, this does not mean that any type of wine aerator can effectively improve the quality of a given wine. Some wine aerator models are best used under specific conditions. Given this, it is recommended that the type of wine available is determined initially before settling for a particular wine aerator.
Types of Wine Aerator
Stand Wine Aerator
For example, stand wine aerators are suited for all wine types. This particular aerator is easy to use as this can be placed atop the wine glass. Once set, wine can be poured with ease.
The main problem, however, with the stand wine aerator is that this is unable to handle multiple glasses. Nevertheless, the stand type has an option that allows for the use of a strainer. This should be good news for those concerned with wine sediments.
Strainers are fine screens or filters meant to collect wine sediments. These are minute particles that are produced naturally in wine and can affect its overall taste when allowed to remain. Strainers work on getting these particles removed to allow for the full aroma development of wines.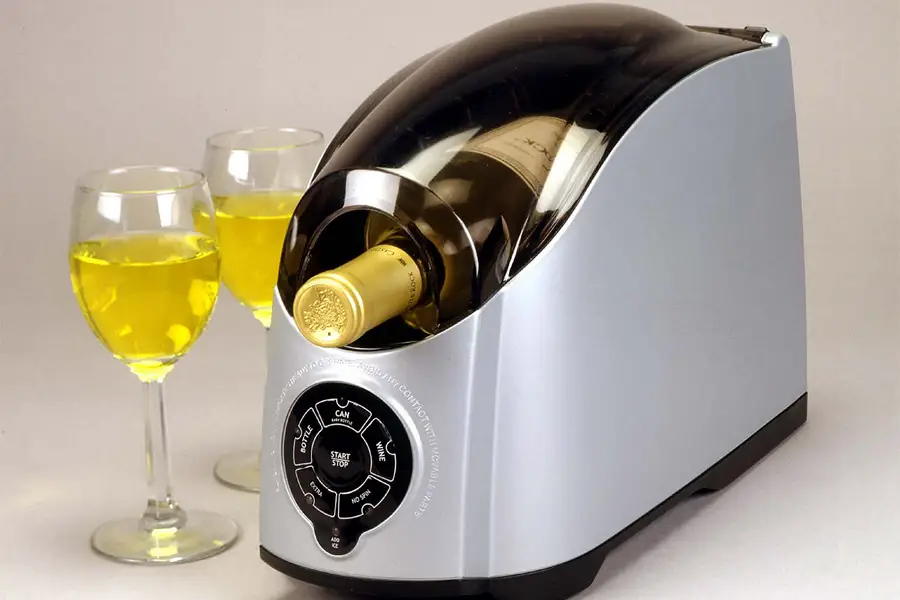 Funnel and Strainer Type of Wine Aerator
In this regard, the funnel and strainer type of wine aerator may be more suitable. This can effectively remove sediments without necessarily using a decanter. A Wine Aerator of this type is typically sediment-oriented, and is used more frequently when red wines of the older varieties are involved.
Funnels and strainers are considered classic wine aerators. The way they work is very traditional and yet very effective. Even their structure is very traditional as many existing models are fashioned from stainless steel.
Given this, funnels and strainers are often known to last for many years. Many wine enthusiasts even see them as virtually indestructible. As such, they should be good additions for people who collect wine and wine accessories.
Ventilator Bottle Wine Aerators
Meanwhile, for those who have the taste for both red and white wines, the ventilator bottle wine aerators should be able to produce wonders. This can be easily placed into the neck bottle and has a spill-proof feature. As such, the ventilator can be a good partner for those who value every little wine drop.
Since ventilators are known to fit tightly onto wine bottles, they are sometimes called cork wine aerators. It is often recommended that ventilators are purchased in bulk form as they should be able to handle multiple bottles.
Additionally, when using ventilators, there is no need to place the bottles in a wine cellar or in other similar storage places. These can be left in a corner and simply allow the wine aerator to perform its job.
In the case of white wines, ventilators are ideal in helping these become perfectly chilled before consuming them. For this reason, it is not uncommon to consider ventilators when planning to stage a grand party where numerous bottles of wine are expected to be served.
Bowl Ventilator Wine Aerator
A ventilator sub-type is the bowl ventilator wine aerator which is recommended for drinkers requiring more aggression from their wines. Manual intervention though is needed in order for a bowl ventilator to be an effective aerator. For example, after placing the bowl ventilator onto the bottle, this should initially be held perpendicularly. The wine should eventually be poured out from the same perpendicular position if maximum aeration is to be achieved.
For minimum aeration results, the trick is to place the bowl ventilator onto the bottle and consequently pour out the liquid at an angle of about 45 degrees. This should result in less wine agitation as the liquid moves out from the bottle into the glass.
Hand-held Wine Aerators
One other type of wine aerator is the hand-held variety. This is usually used to aerate white and red wines, but has also been found to be effective even if other wine types are involved.
Hand-held wine aerators are known to handle wine bottles of varying sizes. They are found to be most effective though with wines that require aeration for a minimum of one hour. In order to achieve this, wine rinsing may be required in between every pour into the aerator.
Compact Type of Wine Aerator
A Wine Aerator of the compact type, on the other hand, is perfect for travellers. As its name implies, this wine aerator type is quite small and when placed on the bottle neck, will not produce a bulky appearance.
Since the compact type of wine aerator is often used as a travelling companion, wines being aerated through this particular device may need to be consumed immediately. Anyway, there is the option of bringing along a second bottle just in case. Still, caution should be taken especially when the trip will involve driving on land.
Aerating wine has long been known to be a time-consuming process. A Wine Aerator seeks to introduce the needed change.