Best Wireless Dog Fences
Wireless, electronic fences are a great alternative to building fences around the perimeter of your home or installing underground wires to control your dog. Most of these fences use radio signals that make a sound when your dog approaches too near the border, and if the dog proceeds further there's a minor static correction. Dogs begin to learn when this charge is coming and so just the sound becomes sufficient to keep them from straying too far. This is an excellent way to train your dog without unnecessary discomfort. These systems are incredibly easy to use. You will receive a radio transmitter, as well as the receiving collar that your dog will wear. These electronic boundaries were invented in the 70's and have grown in popularity since then, thanks to lower cost models that make it easy to do it yourself. Fences can diminish the appearance of your lawn, and that's why this wireless system is ideal for most home owners who don't want to dig to implant wires.
Petsafe PIF-300 Wireless 2-Dog Fence Containment System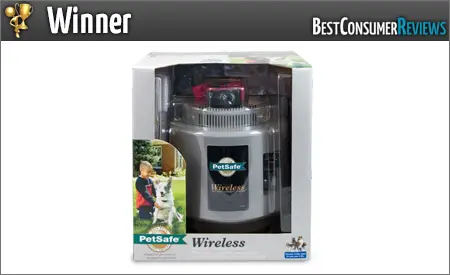 Product Highlights
Wireless radio fence for pets of 8 lbs and up
Covers a circular area up to 1/2 an acre
Waterproof collar uses 6-volt battery
Accommodates 2 pets
Petsafe PIF-300 Wireless 2-Dog Fence Containment System
The PetSafe Wireless Fence is a great way to train and contain your dog without all the wires and complicated set-up. Thanks to the revolutionary transmitter system, you simply plug in the device anywhere in your home, and a radio signal is picked up by a receiver that your dog wears on a lightweight collar. When the dog goes out to play in the yard and approaches the end of the signal there is a warning beep. A static correction is emitted if the dog continues to wander too far. This correction is startling for the dog but it is not harmful or uncomfortable. It simply trains the pet to know what its boundaries are. Once the dog learns, they'll cease to reach this point of correction, and learn from the beeping sound when to stop. This is a safe and effective way to keep your dog within the boundaries that you set.
PetSafe Wireless Pet Containment System, PIF-300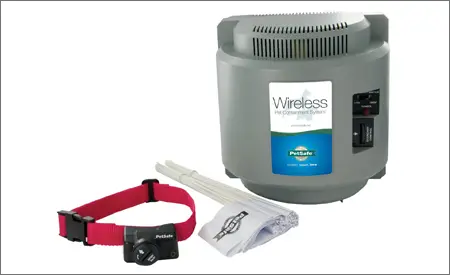 Product Highlights
Portable and great for taking on vacation
Wireless radio system for pets 8 lbs and larger
Covers up to 1/2 an acre
Waterproof receiver collar
Instruction manual included
PetSafe Wireless Pet Containment System, PIF-300
Gone are the days when you went through spools of boundary wire, having to dig up your yard at the points where you want your dog to be contained. Thanks to the PetSafe Wireless containment system, you simply set up the transmitter and the radio frequency will keep your pet within the confines that you set. The system is incredibly portable and easy to use, and its even great for traveling because of its lightweight design. This works for pets that are over 8 lbs, and the adjustable setting allows you to create a boundary up to 90 feet in diameter. It takes less than an hour to get the system all set-up, and you need not hassle with wires, stakes, or installation. You start by setting up boundary flags as a visual cue for the dog, then plug in the transmitter and set the distance. The dog receives first a beep when straying too far, and then there's a safe static correction that teaches the dog gently and effectively.
PetSafe PIF00-12917 Stay and Play Wireless Fence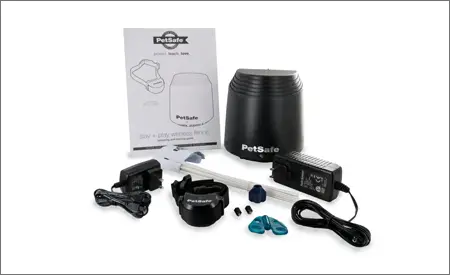 Product Highlights
Portable and lightweight transmitter for easy traveling
No wires, cables, or installation
Ergonomic collar recharges in 2-3 hours
5 levels of static correction to choose from
PetSafe PIF00-12917 Stay and Play Wireless Fence
PetSafe is one of the leading manufacturers of wireless fence systems to safely train and contain your dog. This particular model allows for greater distance of up to 3/4 of an acre. The transmitter is lightweight and easy to travel with, which is a great feature for those who love to take their dogs camping or on RV trips. The collar is ergonomically designed for your dog's comfort, and the subtle static correction is safe and effective at training your dog to know its limits. You can also set the correction at one of 5 levels, and therefore choose how much warning your dog will receive. The system is incredibly easy to set up, and there are absolutely no wires or cables to fuss with. Simply plug the transmitter in and set it to your chosen boundaries, and the system works on its own. There are also flags to help visually train your dog where the boundaries are.