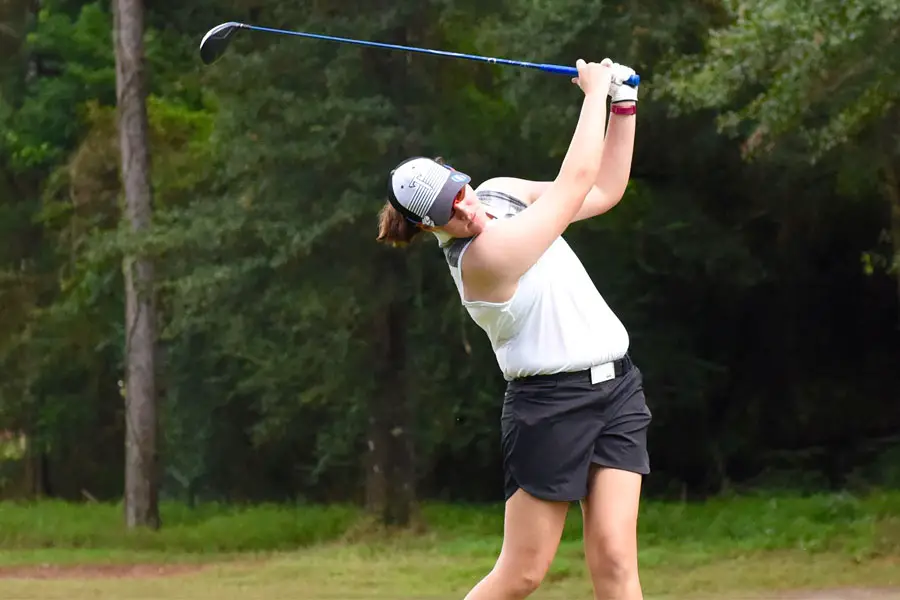 Women's Iron Set Reviews
A standard set of women's golf clubs typically includes a driver, a 3-wood and 5-wood, seven irons, two wedges, and a putter. Iron usually come numbered 2 through 9 in matching sets where each club is designated to hit the ball a certain distance. With the advent of hybrid golf clubs, many men and ladies golfers alike have opted to replace some of their lower numbered irons for a single hybrid club. As these low numbered irons are meant to get the most distance, though usually not as much as the woods, a hybrid club can take their place and make it much easier for women in particular to find an effective and long-range shot with every stroke. Regardless of whether or not you're a user of hybrid clubs, many iron sets now include one or more hybrids alongside the traditional irons as a combination package.
Most Popular Women's Iron Set
TaylorMade
With the individual success of their RocketBallz iron and hybrid lineups, TaylorMade now offers the RBZ Iron and Rescue Combo Set, available for ladies. The clubs are engineered not only to achieve more distance, but also to improve overall accuracy and enhance the way the club feels. The ladies RocketBallz Iron and Rescue combo set includes 6, 7, 8, and 9 irons, sand wedge, pitching wedge, and 4 and 5 hybrids. Each of the clubs features a super thin clubface that flexes to provide COR that reaches the USGA limit for increasing ball speed. The clubface on the RBZ clubs has also been redesigned with a Toe-Bar control face-flexion that helps the sweet spot find the ball and direct each shot as straight as possible–thought its largely up to your swing. The clubs also incorporate new vibration and sound control elements that give a satisfying clack and/or ping when the club makes contact with the ball. The RBZ wedges have a new ATV sole and all the clubs have a speed pocket that help improve ball speed.
Oversized, deep club faces with high-MOI heads help improve launch and trajectory
White crown and black face profile allows for straightforward and glare-free ball alignment
New Toe-Bar control helps direct straighter shots
– Anthony Dawson
Best Overall Women's Iron Set
Callaway
The Callaway RAZR X Black Iron Set are lean, mean, green-seeking golf machines. The ladies set includes irons 4-9, along with a sand wedge and pitching wedge, all in a matted black finish. The clubs employ the use of Callaway RAZR technology that shifts the CG of the club lower and deeper. The clubface is large enough to play like a wide-sole iron but, as the RAZR name implies, offers the precision of a thin-sole iron. The clubs are finished in a high-tech black Physical Vapor Deposition (PVD) layer that helps reduce glare throughout the length of the club while giving the iron set their unique, almost menacing appeal. The body of the club is constructed of aluminum and thermoplastic polyurethane that, combined, improves the overall feel of the club and radiates a fine-tuned sound.
Available in customized sets with RAZR X HL hybrids for ladies who struggle with long irons
PVD finish reduces glare and gives clubs their distinctive look
Set includes 4, 5, 6, 7, 8, and 9 irons and SW and PW
– Anthony Dawson
Best Budget Women's Iron Set
Cobra Golf
From Cobra Golf comes the Amp Cell Women's Iron Set in right-handed orientation with irons 5-9 and a sand wedge. The clubs use E9 Face technology to generate a high COR zone that controls weight distribution by offering an ultra-light, high strength clubface that's plenty forgiving and helps maximize ball distance. The club's AMP Cell technology also helps re-distribute the weight of the club from the face to the perimeter of the body and puts the center of gravity behind the sweet spot. The combination of these technologies makes for a lightweight club that has the swinging power of a sledgehammer. Fortunately, the V-skid sole design reduces the friction between the bottom of the club and the turf no matter the lie, allowing for a stroke that's like sweeping a broom, whether from the fairway, rough, or sand trap. The graphite-shaft iron set have a shined silver club with an eye-catching burst of color in the back of the club.
E9 Face technology creates a maxed-out COR zone for an extremely thin clubface
AMP Cell technology re-distributes weight to put all the power behind the sweet spot
V-skid sole reduces club interaction with turf to get the ball out of any lie
– Anthony Dawson
Women's Iron Set Buying Guide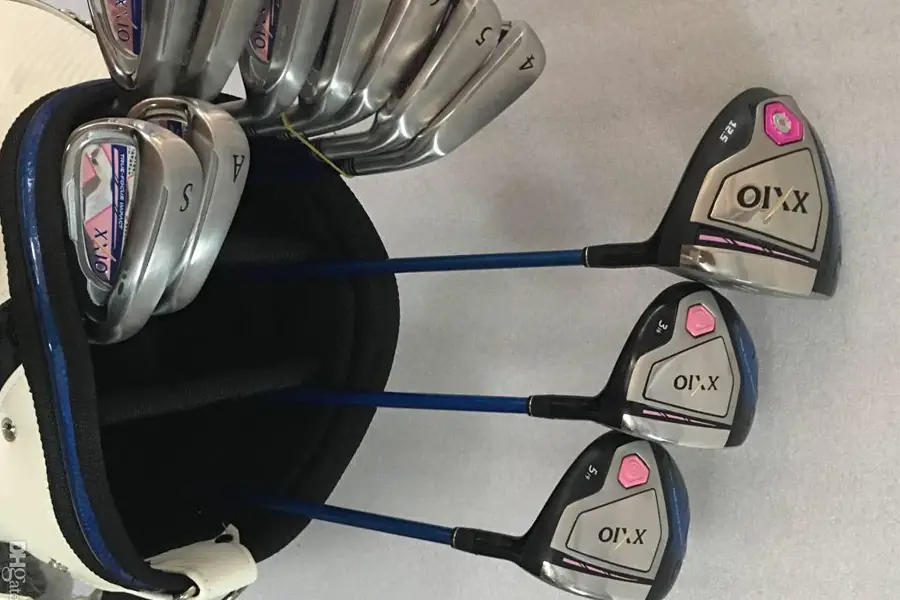 Many women are getting into the game, and there are many options for iron sets. You might find it challenging to choose the best iron set that suits your needs, especially if you are new to the sport. Everyone wants to improve our performance in the game, and you should look for iron sets that help you to do so.
Types of Iron Clubs
There are two types of iron sets.
Cavity-Back

The club head is hollowed out, giving room for errors. These irons are suitable for ladies, especially novices.
Muscle-Back

These have a full back on the rear and are mostly used by pros because they are difficult to use.
Things To Consider When Buying Ladies Iron Sets
1. Budget
There are iron sets that are more expensive and some that are cheap. You should decide the one to buy depending on the amount of money that you can comfortably spend. It is advisable that you go for the more affordable set if you are new to the game.
2. Know Your Objectives.
You need to know your goals before you head into a golf shop. This will help you be decisive while shopping. You don't need to spend a lot of time for a perfect iron set if you are not planning to play consistently. If you are planning to play more often, then you should be very keen on the set to buy.
3. The Shafts.
The shafts are composed of different materials. Some are made steel while others are made of graphite. Steel is much cheaper and lasts longer while graphite is light and can help you achieve high swing speeds. Graphite iron sets usually have a soft flex and therefore suitable for women. Your swing speed will dictate the shaft composition that you will buy.
Prolific golfers may use steel shafts because their weight improves accuracy and helps them achieve fast and powerful swings. Graphite shafts are flexible and lightweight. They are suitable for ladies with slow oscillations because they improve accuracy and distance.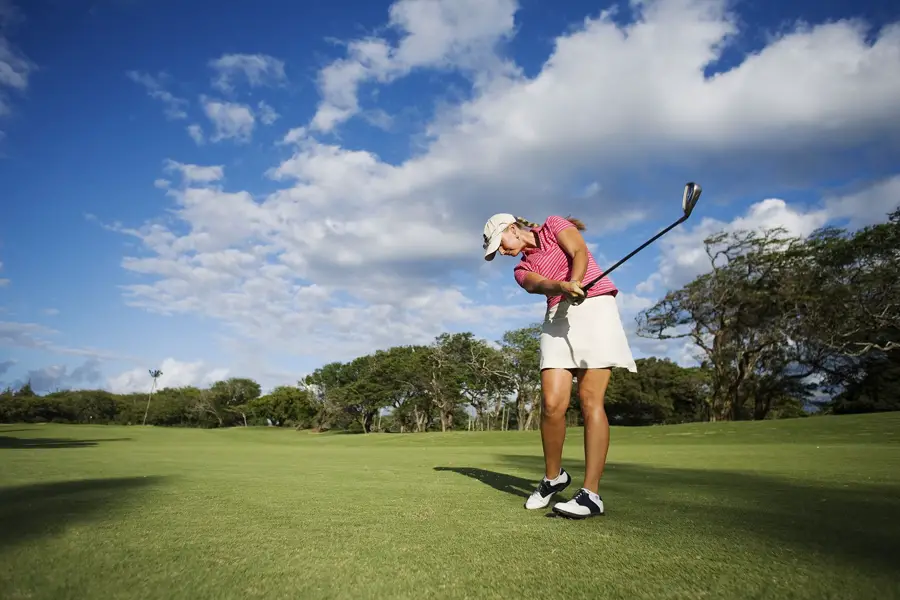 4. Sole
Some irons have wider soles than others. You should look for irons a rounded and wide sole because they improve the turf interaction. Also, don't pick irons that have a large head size because they lower turf interaction.
5. Long Irons
Your swing speed will determine what your long irons will be. Ladies with low swing speeds should choose the 6 and seven irons as their long irons. However, women who can hit the ball consistently and confidently can go for the five iron.
6. Hybrids
It's a good idea to use hybrids instead of long irons because they are easy to play and forgiving. Hybrid irons have large club heads, giving some room for errors and also increasing the contact.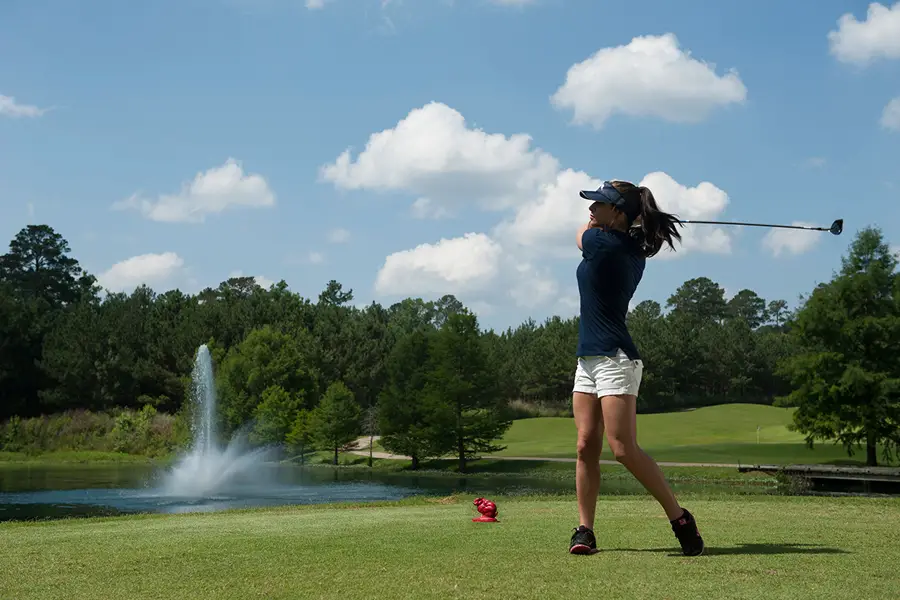 Visit A Golf Pro Shop
It's a good idea to visit a Golf Pro Shop because it gives you the chance of interacting with the staff. This will help you explain what you need from them. You should tell them the reasons for buying iron sets, how often and how long you've played the game. You should also taste different irons and to see how they feel in your hands.
Is Iron Fitting Necessary?
Sometimes, you may find that the irons are either too short or too long for you. You need perfect irons for you to increase your chances of scoring. Iron fitting will help you adjust the clubs to a natural wing. This will help you strike the ball at the right spot and also correct flaws in ball flight. However, you should not fit your irons if you don't have consistent swings. This is because you may end up fitting your swing and not the iron.
Conclusion
Ladies should choose irons that will help them improve their game. Ensure that you buy irons that offer maximum flexibility and accuracy. Also, ensure that you visit a reputable dealer to try out the irons before you buy them. You can always fit your irons if you can't find perfect irons.