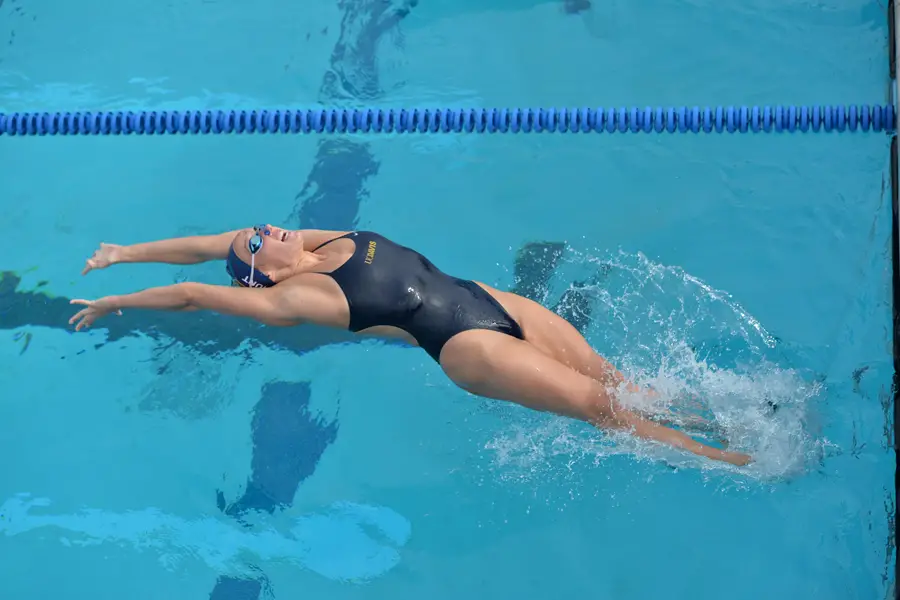 Women's Swimsuit Reviews
Choosing the right swim wear for a girl comes with an array of problems. While some of them might have a "bikini body", the ugly truth is that most of us are still struggling with trouble spots, tummy pouches, flappy thighs, sagging breasts, and many other problems that we do not want to disclose. Regardless of the different shapes and sizes a woman she can still manage to look hot in a swimsuit if she chooses the right kind. If you are looking to a one-piece swimsuit and want to hide the extra fat then go for a higher cut leg. You can opt for a swimsuit that comes with a built-in tummy control panels top. These are extremely comfortable and manage to give you the hourglass look. Swimsuits are not only used for water activities but can also be used for running and exercising. It is utmost important for a swimwear to be comfortable so that your movement does not get impaired.
Most Popular Women's Swimsuit
Speedo Women's Race Quantum Splice Super
Speedo lives up to its name and this product has a great fit and impeccable quality. The swimsuit is not only great for swimming but also other activities on the beach.Speedo Women's Race Quantum Splice Superpro Swimsuit is designed in such a manner that it offers high resistance to the harmful effects of sunlight and chlorine. It helps in providing a sporty look for your swims. The costume comes with a back styling and wide straps, which in turn enhances support and provides extra comfort. Is best for water aerobics, swimming, surfing and other water activity. Speedo Women's Race Quantum Splice Superpro Swimsuit is one of the most successful sellers for a lot of seasons. The swimsuit is great and is Available in lot of each catching colors.
Made of Lycra
Made to resist the harmful effects of sunlight and chlorine
Wide straps provide great comfort and support
9 thread flat lock stitching
Clean it using hands and leave it for drying
– Anthony Dawson
Best Overall Women's Swimsuit
TYR Sport Women's Solid Durafast Maxback
If you are looking for a swimsuit that keeps everything covered then TYR Sport Women's Solid Durafast Maxback Swim Suit is a great buy. The swimsuit not only offers great looks but also is also very comfortable to wear. It has a high neckline and does not leave any kind of strap marks. Even though the swimsuit comes with a snug fit you can easily fit into it, regardless of your body weight and body size. The quality of the swimsuit is sturdy and can withstand chlorine for a very long time. It is extremely durable and can last 20 times more than any other traditional swimwear.
Offers full coverage and wide straps
Offers supportive back
Hand wash with cold water
Chlorine resistant and provides 72 hours of exposure
Made using 4 way stretch technologies.
– Anthony Dawson
Best Budget Women's Swimsuit
TYR Sport Women's Solid Durafast Diamondback Workout
TYR Sport Women's Solid Durafast Diamondback Workout Bikiniis a classy and elegant two-piece swim wear by Speedo. It is a very well madeswimsuit and provides nothing but the right fit. Apart from swimming it is ideal for workout sessions. It is breathable, comfortable, and supportable and is different from the traditional workout swimwear. The brilliant suit can hold up for a really long time providing your body with the perfect shape. Not only this, the drawstring is great as you can tighten the bottom so that they do not slide during swimming. The drawstrings also help if your bottoms are too big and the swimsuit is actually great for pool use.
Provides great chlorine resistance
Made up of 53% polyester
It should be preferably hand washed in cold water
Comes with a diamond back cut
Provides minimal coverage and has thinner straps but is very comfortable and supportive
– Anthony Dawson
Women's Swimsuit Buying Guide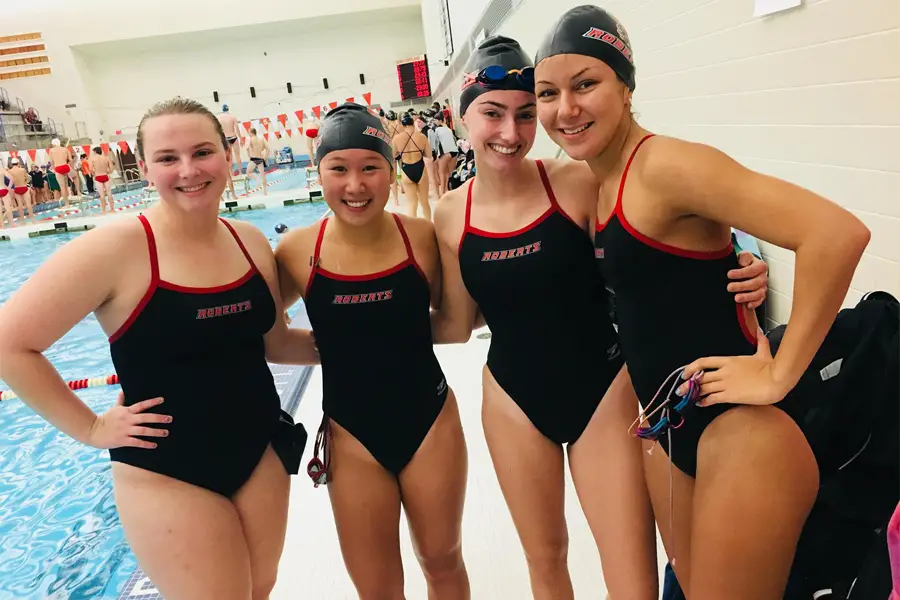 When buying a swimsuit for summer, there are so many things that you can consider. Unfortunately it's not as simple as whether to get a one piece or two piece – there are so many different styles of swimwear depending on their purpose and it's best to keep in mind what styles and colors suits your body type so that you can look your best on the beach this summer.
Keep reading this helpful guide to make buying a swimsuit this year as easy as it can be.
Types of Swimwear
Before you set foot into a store for a new store for a new swimsuit, you will find that there are many different types available. Please see below for a breakdown of the most common styles that you will find in stores:
One Piece Swimsuit
One piece swimsuits are a traditional option that is made from a single piece of fabric, hence the name. One piece swimsuits are probably the most modest option that provides a minimum amount of skin to be shown, but at the same not hindering movement. While it may seem like a simple choice, there are a number of different styles:
Fitness – As the name suggests, this type of one piece swimsuit is suited best for those who participate in water exercise and water aerobics. The sleek racerback fit helps women move through the water easily. These suits are designed for people who are active rather than those who are laying on the beach.
Maillot – – It is pronounced as my-oh, Otherwise known a tank suit, this is a traditional one-piece bathing suit that provides maximum coverage for those who are more modest. They can be dressed up with halter tops or bandeau tops (which wrap around) but the body of the swimsuit remains the same.
Keyhole – – This refers to a traditional one piece swimsuit that has a hole missing from the stomach area, for those who want to show a little more skin than a one piece usually offers. This is perfect for those who was a non-tradition one piece swimsuit.
Skirted – A skirted one piece swimsuit offers a classic vintage 1960s look where the bottom half has a mini frilly skirt attached. This also adds a little more coverage to the legs.
Slingshot – This style of swimsuit has two pieces of fabric that run over the shoulder and then meet at the bottom that looks much like a "V" shape. It looks similar to a bikini bottom with suspenders and can be very revealing.
Monokini – This style is probably a little bit more of a daring style of a one piece swimsuit. It features fabric running down the middle of the front of the swimsuit connecting to the bust and bottom. The level of the side cut outs of the suit can vary meaning that some are more revealing than others.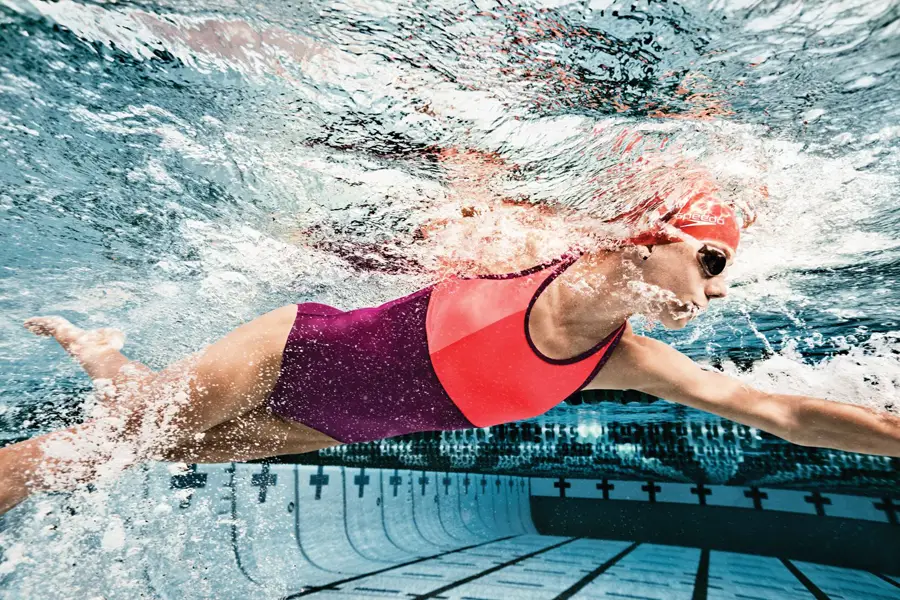 Two Piece
Most commonly known as a bikini, the two piece swimsuit consists of an independent top and bottom. There is a lot more freedom in your own creativity and more options with a two piece as they can be purchased separately as as a matching pair. However simple it may sound there are a number of styles available.
Bandeau Top – This style of two piece swimsuit is categorized by the fact that the top is usually a single piece of fabric that goes around the chest, otherwise known as strapless.
Butterfly Top – This top is similar to the bandeau top but is different due to the fact that it is held together by a piece of string, usually at the back.
Halter Top – This top of a two piece swimsuit is made out of a single piece of that fabric that is held on the body by strings that tie around the back and over the neck, hence not having traditional "straps".
Tankini – This style of two piece is more modest than the others that consists of what looks like a tank top with a bikini bottom providing maximum skin coverage. This style is ideal for those who still want to wear a two piece but don't want to show too much skin.
Brazilian Bottom – This bottom piece of a two piece is designed for those who are more daring. It is low cut in the front and can be quite revealing – probably not appropriate in front of kids on the beach!
Hipster Bottom – This bottom has a low rise waistband but still covers the hips and rear while being fitted.
Skirt Bottom – Similar to the skirted one-piece, this two piece bottom has a mini frilly skirt attached as an added feature for extra modesty.
Thong Bottom – This is the most daring two piece swimsuit bottom, it's extremely revealing and not for the faint of heart! Even though it is completely inappropriate for any kind of swimming or activity, it can be helpful to get a more overall tan.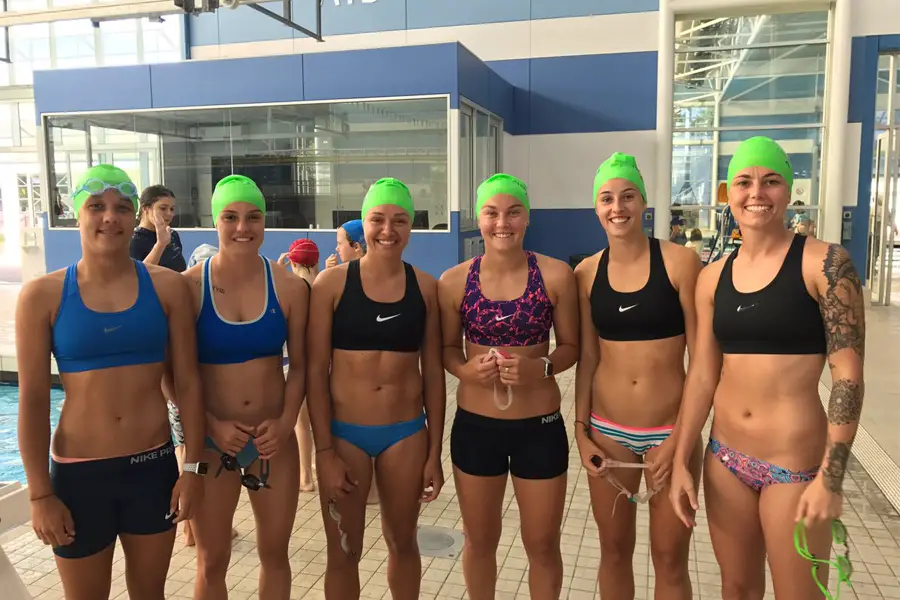 Body Type
When considering what type of swimsuit you will ultimately buy, you should also consider what flatters your body type the most.
Athletic
Those who have a straight, toned athletic build will find that either swimsuits that are made specifically for it such as fitness one pieces may be flattering but if you're trying to add some softness and curves you might find that padded tips and tie sides will suit you better.
Apple
An apple body type is more square on top with thinner legs and wearing a one piece will create curves that might make you feel more confident. Vertical prints will make your body appear longer and be more flattering.
Pear
If your body is a bit larger at the bottom than it is the top, be sure to look out for detail on the top and perhaps consider padding as well for extra cleavage.
Hourglass
A traditional hourglass figure is when your shoulders and bust is completely in line with your hips. If you have a hourglass figure a halter neck style may help you appear less top heavy and by more flattering to your natural curves.
Full Figure
If you have a fuller figure, there are a few things that you can do to not only appear slimmer but to appear more flattering overall. A high rise and panel waist can make it look narrow and help you with your self confidence as well. If you have a larger bust, consider tops with added support and even tops with an under wire can help.
In conclusion, what style of swimsuit that you want will depend not only on your taste, but what suits you and what makes you feel most confident pool side or at the beach. Don't be afraid to try on as many styles as you like when you get to the store to make sure you make the right decision on the swimsuit that makes you feel the most comfortable.