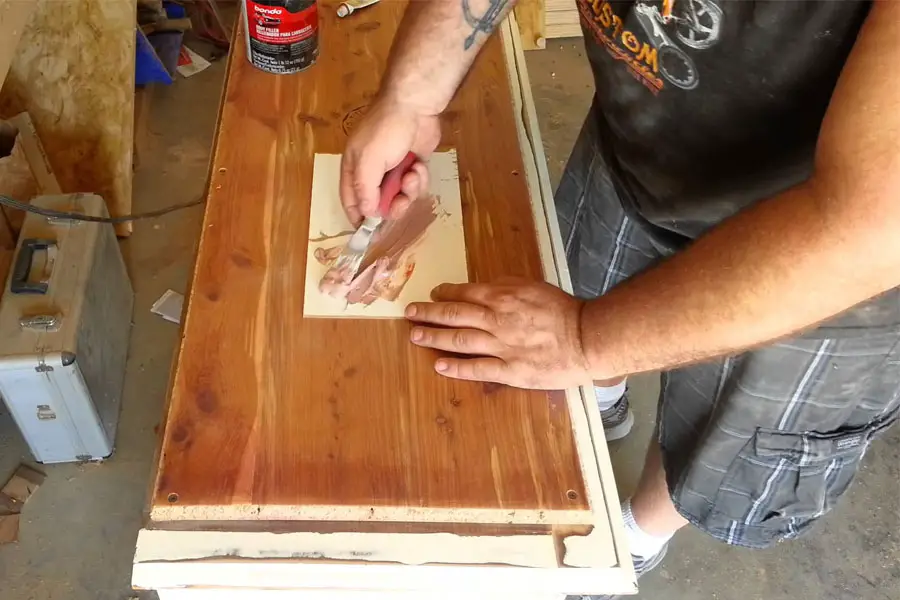 Wood Filler Reviews
In your home wood gets damaged and needs to be repaired or replaced. When the dog scratches the frame of the door, instead of replacing the frame, select a wood filler that will get the job done quickly and at a lower expense than replacing the wood. We have selected the best wood fillers that will provide strength in a repair that will look like the natural wood you are repairing. These fillers will save you both time and money, when it comes to maintaining your home.
Most Popular Wood Filler
ZAR
The Zar-30912-Neutral-Wood-Patch creates a uniformed look to reduce the halo affect that can occur with wood repairs. The wood filler can be stained or painted when the product has completely cured. It can be used with indoor and outdoor applications. Once the filler has been applied it can be drilled, sanded and sawed, just like real wood. The wood filler can also be tinted to match the wood being repaired. This is particularly useful if the wood will be stained. Clean up is easy and can be completed with soap and water as soon as the job is finished and before the wood filler has cured. The Zar-30912-Neutral-Wood-Patch is made of a latex compound material. It will fill nail and screw holes, repair broken or damaged wood like chipped edges and fill in gouges or wood rot. For filling large gouges or areas it is best to fill in thin layers allows the filler to cure between applications.
Hold stain better than most fillers reducing the halo effect
Latex compound can be used with interior and exterior applications
Can be sanded, drilled or sawed once the product has completely cured
Can be tinted to match the wood being repaired
Fills holes, gouges and damaged edges to a professional looking repair
– Anthony Dawson
Best Overall Wood Filler
Bondo Home Solutions
The Bondo-Home-Solutions-Wood-Filler is able to repair and restore wood damage when it occurs in your home. The wood filler can fill places where the wood has rotted or become damaged. It is good for doors, window frames, furniture, shutters, fences and more. When wood becomes damaged, the Bondo-Home-Solutions-Wood-Filler can be used to restore the wood to its original strength. Once the filler has become dry the wood can be sanded, drilled, painted or stained. The Bondo-Home-Solutions-Wood-Filler comes in a 1 quart can and will not shrink. It also has a fast curing time so it can be worked with quickly. It is completely cured in less than 30 minutes. The Bondo wood filler is created with a two part technology. The first is a cream hardener, which when mixed with the filler reduces the curing time from days or hours to under 30 minutes. It is also water resistant providing long lasting repairs.
2 part technology for a fast curing solution
Repairs and replaces damaged wood
Can be drilled, planed, sanded and worked with like all other wood
Repaired wood can be stained or painted
Will not shrink and is water resistant
– Anthony Dawson
Best Budget Wood Filler
J-B Weld
The J-B-Weld-8257-KwikWood-Repair kit can repair damaged wood quickly. The KwikWood product will set in about 20 minutes and can be painted within an hour. Once it is dried it can be sanded and drilled. The J-B-Weld-8257-KwikWood-Repair will provide a long term solution and will not shrink or crack even when dried. It can repair doors and frames from insect damage, wood rot, previous drilling and more. The J-B-Weld-8257-KwikWood-Repair is a hand mixed epoxy that creates a putty like substance that is easy to handle. After the product is mixed it will cure with the same density of the wood and therefore it becomes a part of the frame or repaired area leaving no signs of the pervious damage. It can be used in both indoor and outdoor applications.
Cures in 1 hour
Can be painted or stained and looks like the original wood
Can be drilled or sanded after it has completely cured
Same density of the wood providing a long term solution
Can be used in indoor and outdoor applications
– Anthony Dawson
Wood Filler Buying Guide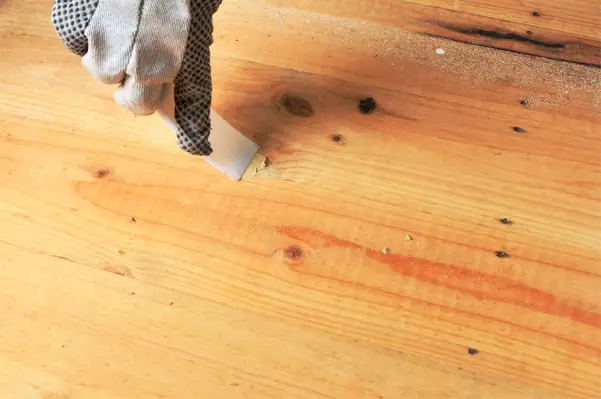 If you are a person that likes to handle DIY projects around the house, you will eventually become acquainted with the need to use wood filler. Wood fillers are commonly used stuff that can be used for numerous wood repair tasks that you may take on around the house or in your shop. Because there are different projects that will present themselves, there are wood fillers designed to accommodate the distinct needs of various tasks.
There are some wood fillers that have a consistency that is ideal for wide gaps, and then there are those that are more suitable for smaller and more detailed areas. It will be important to have an idea of what the filler will be used for before beginning the search. Following is information and particular tips that will help a user find the wood filler that will be right for their specific project. This can have an immense bearing on the ability of the user to successfully complete specific tasks in which wood filler is needed.
Various Types of Wood Fillers
Generally speaking, you'll find four types of wood fillers available for consumers to purchase. Each of these wood fillers has unique features that make them ideal for specific uses. Reviewing these types of wood filler and how they are used can help a user determine which wood filler will be best suited for the project that they are working on.
Gypsum-Based Wood Filler
A gypsum-based wood filler is composed of a formula comprised of a mixture of different mineral powders and water, forming a crystalline substance that will not pull away or shrink from the edges of the space that is filled. The use of this type of filler should be restricted to spaces that will be painted after the repair has been completed. This is because this type of filler is almost guaranteed to cause staining. It is also important to note that gypsum-based fillers used on indoor projects one, due to the fact that they aren't water-resistant.
Cellulose-Based Wood Filler
This type of filler is comprised of a formula that includes a combination of binders and wood fibers. They can be purchased in either, dry-mix, pre-mix or water soluble pre-mixed formulas. Many people prefer the dry mix formula because it has the longest shelf life and it is inexpensive. Another benefit of the dry-mix formula is the fact that the user will be able to use as much as they need at any particular time. The benefit of a pre-mixed wood filler is that it has a shorter dry time. Cellulose-based fillers of good for indoor or outdoor use, as they are waterproof.
Vinyl-Based Wood Filler
The vast majority of vinyl-based filler consist of a polyvinyl acetate or emulsion — which serves as a binder — and calcium carbonate. This results in a very lightweight substance. Vinyl-based fillers are also easy to clean with water. This substance dries very quickly, but its rapid drying formula necessitates the use thin layer applications. Thick layers could crack once they are dry. This type of wood filler is best for those small repairs around the house, such as plasterboard and wood that will be painted after the repair. Although this type of wood filler does not stain, it could leave white residue.
Epoxies
Epoxies are formulas that come in a two-part compound that is petroleum based. This type of filler works as a wood or adhesive consolidate. When this filler is combined with other materials, a powerful wood filler is formed. The challenge with this type of filler is that it does not tolerate wood stains; however, the user will be able to sand, nail or saw over the material  prior to it drying. This filler also bonds with wood very well, and it is moisture resistant, making it ideal for outdoor use.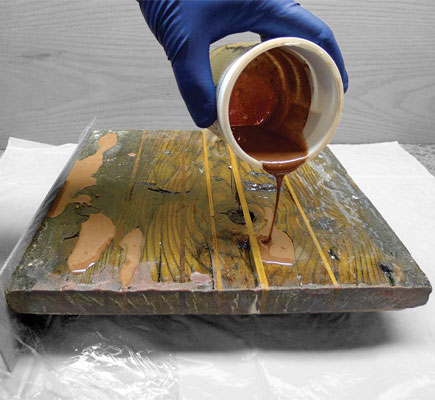 | | | |
| --- | --- | --- |
| Wood Filler | Type | Features |
| Durham's Water Putty | Gypsum-Based | Water friendly so mixes well to find the desired consistency. The drying time will vary based on the consistency, and it can be used for indoor and outdoor use. |
| WoodEpox | Epoxy | Has the capacity to bond to wood permanently, and it is able to fill holes, voids and cracks without cracking. It does not have any noxious odors. |
| Dap Plastic Wood Filler | Cellulose-Based | This formula is designed to look like wood and feel like it also once it hardens. It has a dry time of two hours, and it is anti-shrinking |
| Red Devil Spackle | Vinyl-based | This filler highly versatile, making ideal for both indoor or outdoor usage. The user will be able to sand and paint over the substance without complications. It is non-toxic, meaning that it is safe to use and is children and pet friendly. |
Basic Wood Filling Tips
As a general rule, most fillers are very pliable, meaning that the user can use whatever type of tool they are most comfortable with, including cotton swabs, craft sticks, putty knives, or even their fingers. It is important to respect the recommended drying time to prevent damage. Taking the time to remove the excess from the around the edges will create a neat and professional appearance. In order to determine if the wood filler has dried and set, the user can make an indention with their thumbnail. If they are able to get the indention to give in, it means that the filler would need to dry a little longer.
Where to Buy Wood Fillers
Although wood fillers can be purchased in traditional brick and mortar stores, it is not necessarily a good idea. The process of locating the right location can be time consuming, and the prices are usually considerably more expensive than online.
Going through an online retailer will allow the user to conduct a more efficient product search, and the price will be less expensive than going through a brick and mortar store. It is important to conduct some pre-purchase research to make sure you know the type of filler that will work best for your specific situation. Use specific keywords to narrow down the search for the best results.
These guidelines and tips should make the process of finding the wood filler that is right for you much easier.