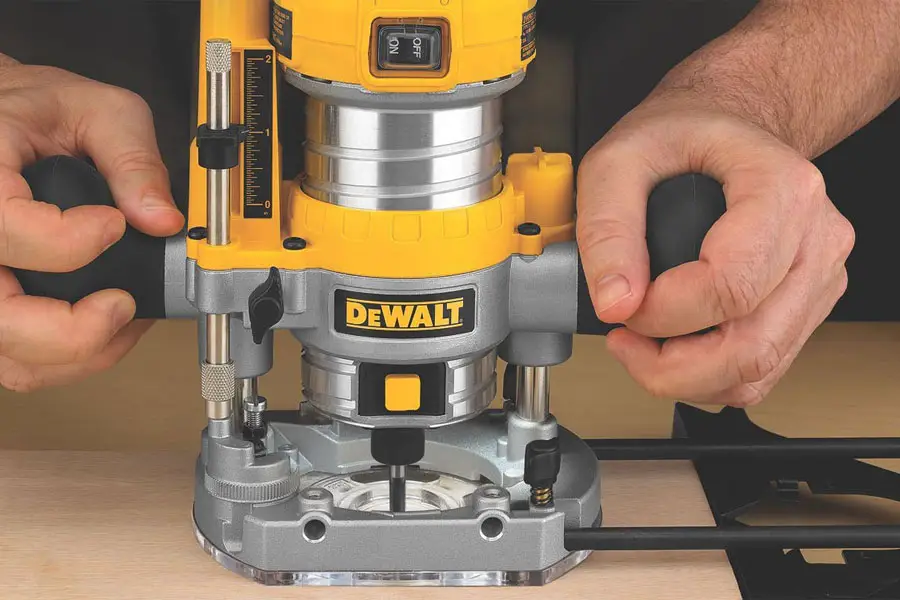 Wood Router Reviews
Wood routers are a great tool to have when creating masterpieces out of wood. The router is used for making different kinds of furniture and woodworking projects. The challenge is that the quality of routers varies widely between both brands and models. We have selected top quality brands and reliable models that will consistently get the job done with precision and speed.
Most Popular Wood Router
PORTER-CABLE 892
The PORTER-CABLE-892-2-1/4-Horsepower-Router has 12 amps of power in the fixed base model. The variable speed control enables you to have precise cuts and optimizes the bit speed for different applications. It has a soft start and a full time electronic feedback to create a constant speed allowing for better and cleaner cuts. With a hex socket you can release the motor, adjust the bit height, lock the spindle and clamp the motor from above the table. The spindle lock feature allows for fast bit changes. The PORTER-CABLE-892-2-1-4-Horsepower-Router comes with a dual position switch. This allows the power to be cut while still maintaining control of the router. The handles have comfort grips for better comfort during use. Weighing only 9 pounds the router is lightweight and easy to move from job to job. The router comes with a carrying case, ¼" and ½" collets, and a collet wrench. The PORTER-CABLE-892-2-1-4-Horsepower-Router has a 3 year warranty.
2 ¼ HP motor with 12 Amps
Soft start and full time electronic feedback for constant speed
Can make adjustments from above the table with a Hex socket
Comfort grip handles for extended comfort
3 Year warranty
– Anthony Dawson
Best Overall Wood Router
Bosch 12 Amp
The Bosch-1617EVSPK-4-Horsepower-Variable-Collets router comes with both a plunge base and a fixed base to cover all your router needs. The 2 ¼ HP motor provides 12 Amps of power and produces precision cuts. It has a soft start motor which reduces the start speed and amps up steadily to full speed for clean cuts. It has constant response circuitry which creates a constant speed throughout the cut. The micro fine depth adjustments allows for exactness and consistency with cuts and measurements. The Bosch-1617EVSPK-4-Horsepower-Variable-Collets router is built with aluminum construction. The fixed base has wooden handles and the plunge base comes with soft grip handles. Both provide the support needed to get the job done. Also included with the router are collet chucks, wrenches, chip shield and a case to keep all the parts together for convenient storage. The router comes with a 1 year warranty and a 30 day money back guarantee.
1 Year warranty and 30 day money back guarantee
2 ¼ HP motor
Includes fixed base and plunge base
Constant response circuitry for consistent speed and soft start
Aluminum construction to withstand rugged use
– Anthony Dawson
Best Budget Wood Router
DEWALT DWP611PK
The DEWALT-DWP611PK-Torque-Variable-Compact wood router has a powerful 1 ¼ HP motor. It is built to handle many applications from small beveled cuts to heavy flush trimming and large edge profiles. The variable speed router has a soft start and an electronic feedback to maintain the motor speed throughout the cut. It has a dual LED light and a clear sub base providing good light for maximum visibility. The DEWALT-DWP611PK-Torque-Variable-Compact router has an adjustable ring to control bit depth. The low contoured grip provides more control close to the work surface for more accurate cutting. The router will cut up to 1 1/5 inches in depth with the fixed base. The DEWALT-DWP611PK-Torque-Variable-Compact router includes the fixed and the plunge bases with the router kit. The plunge base has a clear and concise depth scale, a release to lock lever to maintain the depth, and rubber handles for a non-slip grip. The DEWALT-DWP611PK-Torque-Variable-Compact router comes with a 3 year warranty.
1.25 HP Motor
Cuts up to 1 1/5″ on the fixed base
Includes both fixed base and plunge base
Dual LED lights and clear sub base for good visibility
3 Year warranty
– Anthony Dawson
Wood Router Buying Guide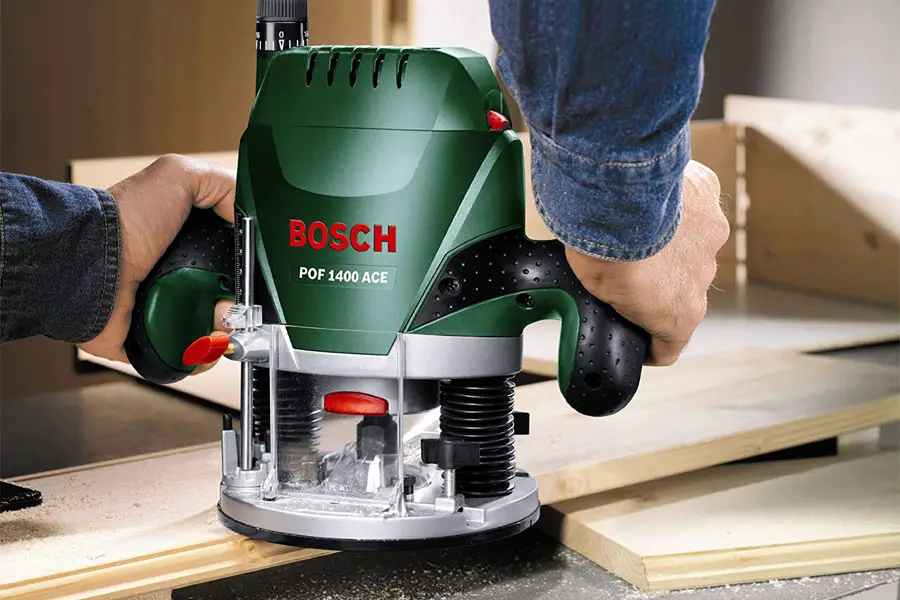 Wood routers are an indispensable tool for serious woodwork. They do not come cheap. They can perform more complex wood cuttings than the typical saw. They can shape would edges, carve out intricate designs and create joints to name a few. However there are many types of router and there is no one absolute router that can do it all. Each type is suited for a specific task. Read the following guidelines on how to choose a wood router.
What is a Wood Router?
A wood router is an electric appliance that can cut or hollow out any area on the wooden plank. Although it can also cut through plastic, stone and metal (usually aluminum because it's relatively soft), its use is particularly popular on woodworking. Using a router would spare the user from manual chiseling that can usually take a long time. Router machines use high speed processes to cut, shape or trim wood. They are especially helpful in producing finished edges in wood.
The Essentials: Router Table, Fences, Clamps, Jigs and Bits
Wood routers do not do their task without the appropriate tools and accessories. In addition to a wood router, you would need a router table. Routers can be mounted on router tables and router tables can be mounted on workbenches. They are available as portable and can also be built at home. Next there is the router fence which serves as a guide so that the wood won't fall off or be out of alignment. Then the router must have bits jigs and clamps. Bits are the actual part of the router that cuts and shapes the wood. Each kind of bit makes a different indention or cut designs. There are more than 10 bits available and they are made out of premium quality steel with carbide tips so they won't wear off easily. Without the bit, the router can't cut. The bit is held by a collet. Bits are available at ½", 1/4″ and 3/8″. A collet with a diameter of ½" is the most versatile since it can be fit with adapters to accommodate ¼" and 3/8″ bits. If you'll be working with large bits, find a router that can be adjusted to slow speeds. The larger the bit diameter, the slower the routing speed; find a wood router that has a wide speed range by looking for routers with Electronic Variable Speed (EVS).
Jigs and clamps come in tandem. Clamps hold the wood in place and jigs serve as a template to guide the bit. Jigs are useful for repetitive and accurate designs or holes.
Wood routers have become more complex since their invention. Besides an on and off switch, they have speed controls that are foot activated similar to a sewing machine's pedal and an electronic motor feedback, so wood routers can maintain the same speed regardless of the load or wood thickness.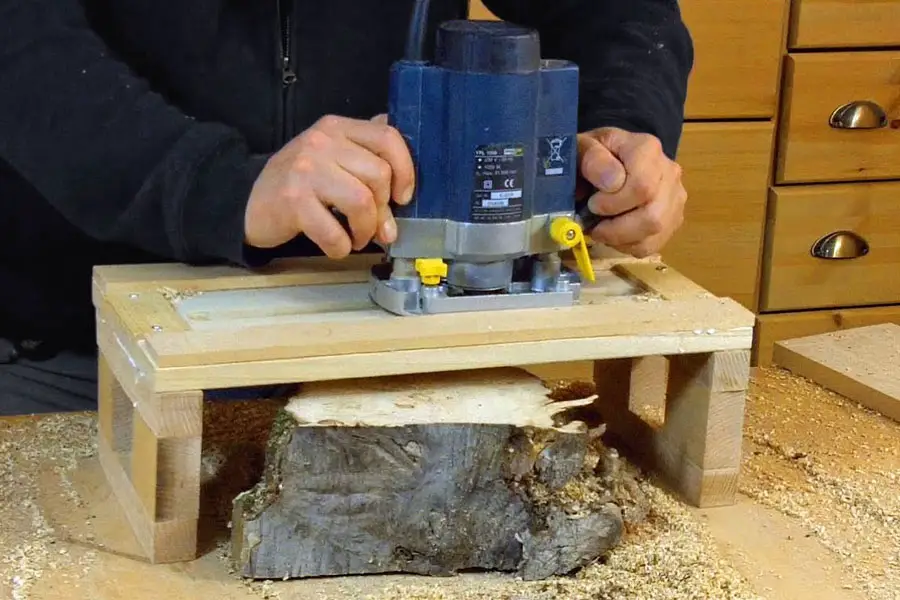 Types of Router and Task at Hand
There are 3 kinds of router for heavy woodwork and 2 for detailed work and crafters. The first 2 are the Fixed, Plunged and Interchangeable base routers. Fixed base routers are good for edge shaping and general routing. A plunge router allows the user to move the device vertically during routing, making it possible to plunge the bit into the wood's surface. It is used when the cut begins in the middle of the wood. Plunge routers are however more expensive than fixed base routers. Most wood workers own both fixed and plunge routers for convenience but there are now wood routers with interchangeable bases, allowing the user to switch between fixed to plunge bases. With interchangeable base routers, the motor can be removed from the base (which can be attached on the router table) and can be transferred to another base. Having an interchangeable base router could save the cost of buying another router.
Laminate trimmers and rotary tools are best suited for detailed woodwork. Laminate trimmer can smooth and bevel wood and laminates. They are lighter, easier to manipulate and can make one-handed cuts. They use collets at ¼ inch in diameter. They suit crafters and people with light and specific woodwork needs without the bulk and complication of standard wood routers. Rotary tools can be used with one hand and can be used for cutting, engraving and polishing. They are very versatile and compact. They are fitted with collets from 1/8-1/4 inch. If you would do just minor woodworks, consider browsing laminate trimmers and rotary tools first.
The housing of wood routers can be metal or plastic. Metal housings are more durable but heavier. Standard routers weigh around 10 lbs while laminate trimmers and rotary tools weigh 4 lbs. Due to their weight, it is helpful to choose a router with a comfortable handle. Some models offer interchangeable handles.
When routing, always wear safety goggles and if possible, masks to protect you from constantly inhaling dusts.
Power
For medium to heavy usage, look for routers with at least 1¾  hp. Harder woods and larger bit diameters require more horsepower. Fixed, plunged and interchangeable base routers have 1 ½ to 3 ½ hp.
Customer and Aftersales Service
A wood router is a serious investment. Good customer service should back up every purchase. Make sure that it has a physical store and a warranty. If you decide to buy online, make sure it's a trusted brand. Some tested and famous brands of wood routers are DeWalt, Makita, Ryobi and Bosch. Most seller offer free shipping. Check the seller or website's ratings and credentials.
Ratings and Reviews
If you have a particular model in mind, do not hesitate to look online for reviews. Amazon and Ebay provide a 1-5 star rating basis for their merchandises. Also there are many websites and blogs dedicated to help beginners and advanced woodworkers. You'd be surprised that these come just for free. There are even charts comparing popular wood routers and video tutorials. Feel free to look deeper online before deciding to buy.