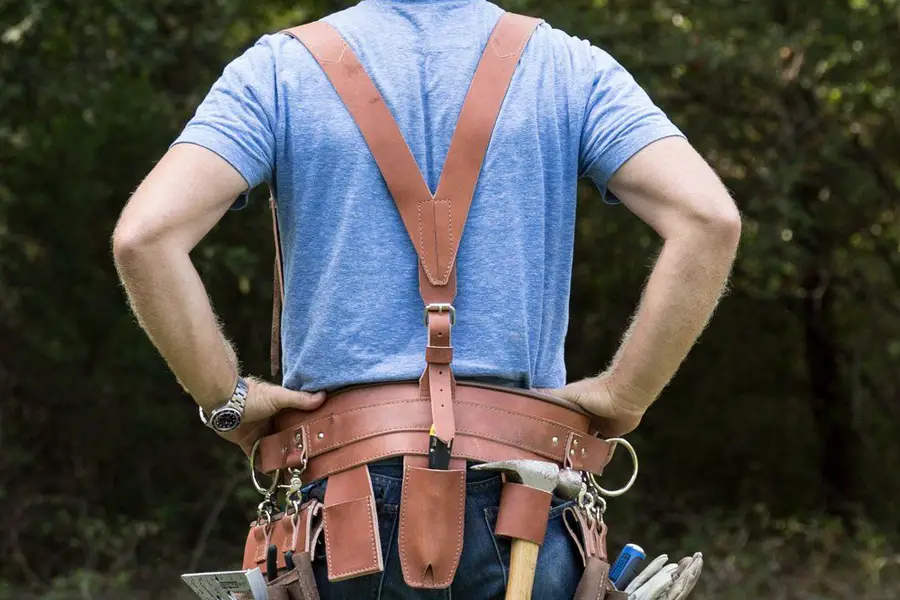 Work Belt Suspender Reviews
If you know what it's like to labor all day long, with multiple tools at your side at all times, all while feeling an achy back and shoulders, then you understand the need for good work belt suspenders that add comfort, support, and convenience. Suspenders are a handy tool that aren't just for holding up your pants anymore. Today's worker needs multi-tasking tools and apparel that help them in an incredibly demanding work environment. When looking for the right work belt suspenders for you, one thing you probably won't have to worry about is finding the right size. Most suspenders on the market are one size fits all, which means that they're highly adjustable and versatile to suit your needs. There are different materials to choose from, such as leather, polyester, and nylon, as well as a variety of colors to choose from. Look for a product that is durable and resistant to water and sweat. It's also a good idea to find a handy design that has enough clips to help you carry along everything you need without hands.
Most Popular Work Belt Suspender
Occidental Leather
If you ever thought that fine leather suspenders were just for the office, then you're mistaken. The large shoulder pads and heavy-duty spring clips make for easy snapping-on and off of accessories, and they come with a direct connection kit. One size will fit every body type thanks to the fully adjustable straps. The hand-crafted Bridle leather is incredibly durable, so you can bet that these suspenders will last you for years to come. This adds a whole new level of comfort and convenience to your work day, with everything you need secured nicely on your person. Not only are these suspenders helpful while you work, but they also look very nice and add a professional touch to your appearance. Extra thick leather straps make it easy to carry even very heavy objects with ease. These are some of the best looking work suspenders on the market, and they also are quite versatile and strong.
Easy on/off design
Extra thick leather straps
The most comfortable work suspenders
Comes with out stronghold suspension
Shoulder pads add comfort and more support
– Anthony Dawson
Best Overall Work Belt Suspender
Ergodyne
ProFlex not only has the advantage of 25 years of experience, they have also undergone many epidemiological studies that have produced a lot of positive feedback over the years. Their Elastic back support belt brings a whole new meaning to superior lock and load support for the spine. The key to preventing injuries to your back is truncal support, as well as a belt that will limit the range of motion that is associated with the majority of back injuries. Workers will now feel the amazing freedom of being able to pick up packages and keep a good pace without having to worry about injuries of the past or future. Made of fine polyester, the belt is durable and can withstand a lot of pressure. The elastic has a 9″ body for extra firm support when you need it most. Rubber track webbing only adds to the durability and strength of this product.
Elastic back support with detachable suspenders
Fine polyester blend is durable and tough
Stretchable bias binding
One size fits all
Exceptional rubber track webbing
– Anthony Dawson
Best Budget Work Belt Suspender
McGuire Nicholas
The 2-inch wide straps of these suspenders from McGuire Nicholas add comfort and all the support you need to get through a long day of work. Because they're fully adjustable on the front straps, one size of suspenders will fit every conceivable body size. These are heavy duty, and designed for the people who work hard and need endurance throughout the day. The nickel plated clips are also built tough and allow you to carry along everything that you need while keeping your hands free. The solid black color is nice looking, and fits perfectly with whatever you choose to wear on a given day. Everything is backed by a nice One Year Warranty for any defective parts or materials. You'll most likely not need to use the warranty because these suspenders are built to last, and are a favorite among those who work hard and need some extra support.
Fully adjustable, and one size fits all
Comfortable fit and handsome design
Nickel plated clips are durable and handy
Backed by a One Year Warranty
Solid black color is attractive and easy to clean
– Anthony Dawson