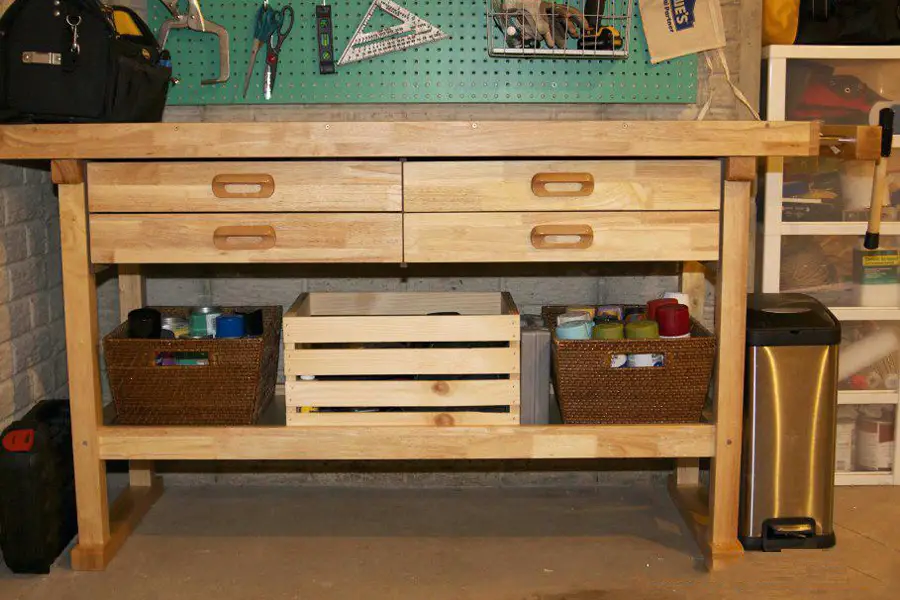 Workbench Reviews
No workshop is complete without a workbench that is built tough and designed to accommodate all of your needs. The benches that stand apart are the ones that serve many functions at once, like having a place where you can clamp things, store things, and work around it comfortably. Benches that offer adjustable features are ideal for catering the work table to your needs, and keeping time in the shop ergonomic and safe. Some work spaces are foldable should you want to take them on the go. What you most definitely need are durable wheels that will hold a lot of weight, because you're most likely putting heavy materials on the bench, as well as weighty tools. Items for multipurpose use that operate as workbenches, bench tool stands, vises, and saw horses are the best. When you're looking to find the perfect workbench for you, be sure to find something in your price range that can facilitate the kind of projects that you like to work on.
Most Popular Workbench
Seville Classics
This UltraHD Lighted Work center is the workbench for the modern era. With 2 cushion-lined storage drawers, fluorescent light and power clip, pegboard, hook set, and cantilever shelves, there's room for everything all in one work space. The drawers pull-out with ease thanks to the easy-slide ball bearing glides. Perfect for heavy duty beech wood, the bench is 1.5 inches thick for the ultimate in durability. There's also a handy electrical power strip and two drawers with fine-looking stainless steel fronts. This is a wonderful addition to any workspace, and allows you to store, multi-task, create, and clean-up with ease. Get yourself organized in a way that you never thought possible. This is the smart choice for professional builders and crafters who need a place that makes their projects come to life with more ease. Even when it's dark, you can see perfectly what it is that you're doing, and the bright fluorescent light is not hard on the eyes.
Powder coated steel frame
Durable 1.5″ thick hard wood work surface
Cushioned drawer liners
Fluorescent light with on/off switch
Comes with its own electrical power strip
– Anthony Dawson
Best Overall Workbench
WINDSOR DESIGN
This workbench from Windsor gives you all the space and storage room you need to make working on your projects more enjoyable and organized. It's easy to keep everything secure while you're working thanks to the 16 bench dog holes that give you a place for everything to be comfortably stowed. The felt-lined storage drawers protect your tools and materials from damage, and the convenient wood block vise comes included. There's also a handy storage shelf for when you need to store something right within reaching distance, or to put certain items and tools on display. There are a number of different pegs, some metal and some hardwood, that allow you to hang certain items within view. Weight capacity is 250 lbs. (top), and 25 lb. (each drawer). Vise capacity is 7″. The table top dimensions are 60″ L x 20-1/8″ W and shelf dimensions are 47-1/4″ L x 14-3/4″ W x 2-1/2″ H. Drawer dimensions (x4) are 21-1/2″ W x 15-1/4″ D x 3″ H. And overall dimensions are 60″ L x 20″ W x 32-3/4″H.
16 bench dog holes
Holds up to 250 lbs
Two stainless steel faced drawers
Handy storage shelf
– Anthony Dawson
Best Budget Workbench
BLACK+DECKER
Black & Decker is one of the most respected names in tools and accessories. This lightweight Workmate portable workbench is a shape-shifter, and transforms from a vise, to a sawhorse, and finally to a bench tool stand that can hold up to 450 lbs. of weight. The strong, tough design has its own easy clamp and clutch system. The rubber feet add extra support and make the workbench incredibly stable. It's simple to fold up the bench and store it for later use, or transport it to another place of use. Bench dimensions are 30-1/8-inch bench height, 23-1/8-inch sawhorse height, 0-9-1/4-inch parallel clamping, 0-9-7/8-inch diagonal clamping, 16-inch max. parallel leg clamping, 24-inch max. diagonal peg clamping, and a 24-inch-by-9-11/16-inch work surface. This is one of the finest workbenches on the market from the brand name that builders everywhere trust.
Rock solid workbench changes into a vise, sawhorse, and bench tool stand
Comes with 4 vise attachments
Holds up to 450 lbs. thanks to steel construction
– Anthony Dawson
Workbench Buying Guide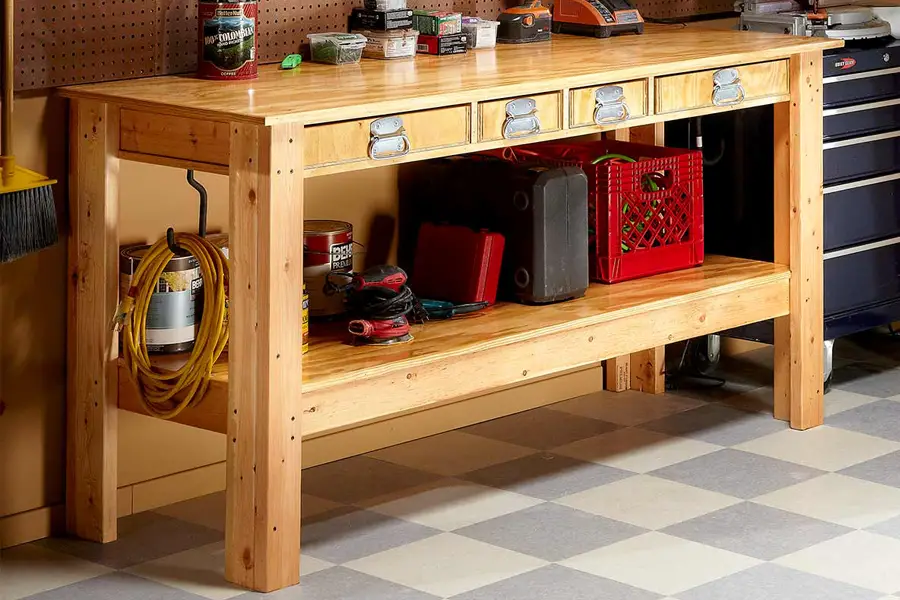 Workbench suspenders are clothing equipment that is typically worn by workers in the repair or building professions. This piece of clothing equipment is used to contain supplies and tools for individuals who are conducting work on a workbench or in an outside location. Workbench suspenders are made from different materials and they have different styles.
Workbench suspenders are necessary for jobs where toting tools around in a bag would be impractical or a waste of time. The suspenders are normally sold with a two-strap design but some have a three-strap design for added support. This type of work clothing can be worn separately or attached to a tool belt. They typically can be connected to a pair of pants or trousers.
Most workbench suspenders are made out of synthetic cloth-like materials such as nylon, leather, canvas or denier. They can have pouch or pocket attachments that connect with snaps or Velcro. Suspenders also come with attached pockets or cases that can be zipped or fastened. Some suspenders can be taken apart and reattached. They are usually made out of waterproof materials.
Harness Support
Some brands of workbench suspenders can be attached to harnesses, which allow a person to work from heights and distances. If they are used in this capacity they are have to be specially made for this purpose.
Special Features and Considerations for Workbench Suspenders
Some workbench suspenders have light attachments, which are great for helping workers to see in dark place. Suspenders can sometimes be connected to tool backpacks or pouches. Workers should try out a pair of suspenders before they buy them. They should test a pair to determine if they are fixed or adjustable. They should examine the pocket capacity of the unit to see how many pockets are included and to figure out if they are useful for their type of work.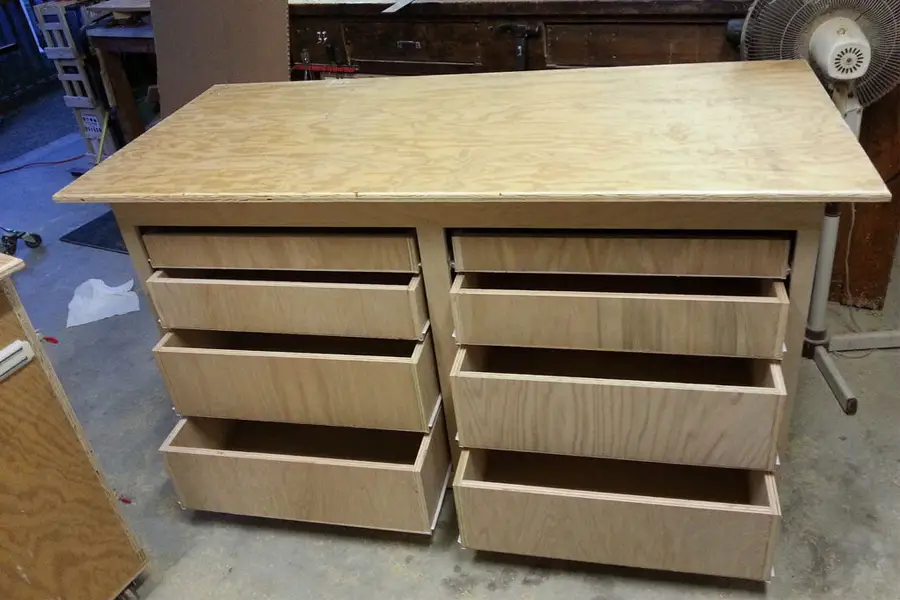 Suspenders must be examined to determine if they are suitable for ambidextrous use. Hammer and screwdriver holders and their locations on the suspender should be evaluated as well. Other aspects of this product should be considered as well. The durability, fit and finish of workbench suspenders is necessary for determining their overall usefulness.
Workers know that suspenders can be an effective set of clothing equipment to wear out in the field or in the shop. They can be really comfortable wear on warm or hot days or when the weather is slightly cool. One of the best things about workbench suspenders is that they are fairly light and they give a worker a lot of room and flexibility for movement. Having this kind of control is often necessary for workers who have to work high up on a building or in an environment where it requires them perform a lot of manual labor.
No set of workbench suspenders should impede a worker from completing a task. They should be made of a good material that is flexible and moves fluently with a person's frame. Workbench suspenders should not be made from a cheap material that easily frays or from a material that is prone shred or rip. The unit should be constructed from a fabric that can withstand snags and pulls.
Workbench suspenders should also be able to hold up under pressure. They should be durable enough to hold and lug around tools and light equipment. As a matter of fact, a good pair of work suspenders should be able to support at least a 50-pound load. Most workers will not carry this much weight on their body when they are wearing suspenders. However, a good pair of suspenders that is able to support this amount of weight will be useful when they go out into the field. Especially if they are needed to carry heavier loads, Workers should always check the load capacity of their suspenders to make sure they are dependable.
Drawbacks with Using Workbench Suspenders
Workbench suspenders are not practical for use in all situations. They sometimes are not able to provide enough tools for a worker on a particular job. They also might not provide enough support or be uncomfortable for some individuals. Each worker should make sure that a pair of suspenders meets their need before they try to complete a job.