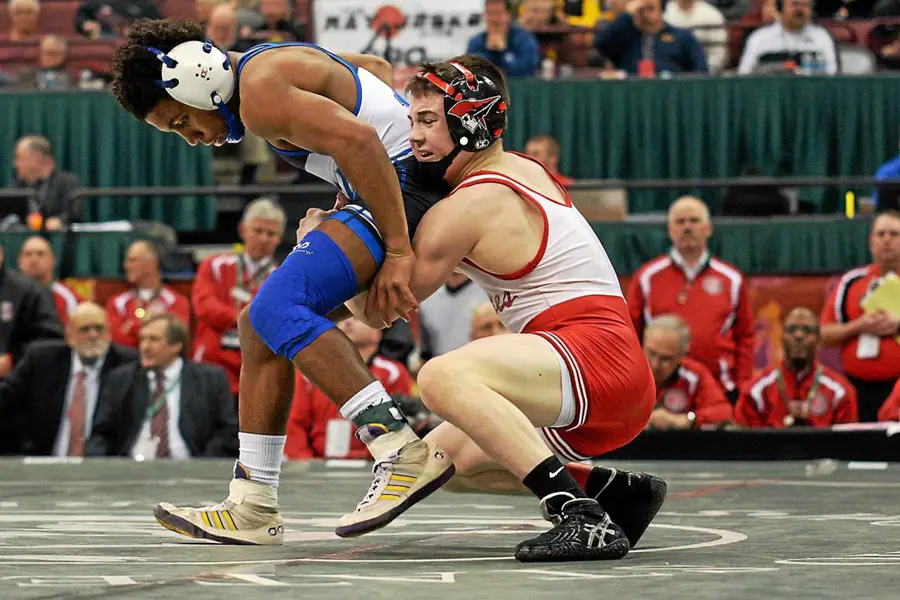 Wrestling Footwear Reviews
In order to perform at your best, you need to have the proper equipment when playing the sport you love. One of the most important pieces of equipment in wrestling is shoes. By having the proper shoes you will be able to grip the mat and maintain better balance during the match. The following wrestling shoes will help you perform at your best while keeping your feet secure and comfortable.
Most Popular Wrestling Footwear
adidas Men's Combat
The Adidas Men's Combat Wrestling Shoe will help to improve your skills and allow you to perform at your highest potential. This wrestling shoe is offered in multiple sizes providing a comfortable fit. There are also three different colors allowing you to match your uniform or personal style. The wrestling shoe is made out of textile and leather. These materials are extremely durable and will help the shoe maintain its shape. The Adidas Men's Combat Wrestling Shoe has a sole made of rubber making it easier to grip the wrestling mat and gain control over your opponent. The upper portion is made of mesh and leather. The mesh will allow your feet to breathe preventing odor and a buildup of sweat and bacteria. The outsole of this shoe is made from adiWEAR. The wrestling shoe has a top made out of Velcro for easy she adjustment for a secure fit no matter how much contact you have.
Offered in multiple different sizes
Three different colors available
Sole is rubber
Upper portion of the shoe made out of mesh and leather
Top of the shoe is made out of Velcro
– Anthony Dawson
Best Overall Wrestling Footwear
adidas Men's Response
The Adidas Wrestling Men's Response Shoe is offered in multiple different sizes and up to four different colors. The varying colors will allow you to stand out against the mat or match your uniform. The different sizes will allow you to find a shoe that will fit your feet perfectly making it so you can perform at your best every time you wear them. The Adidas Wrestling Men's Response Shoe has a sole that is made out of rubber enabling you to grip the wrestling mat easily without sliding. The wrestling shoe is made out of Response allowing your feet to be more comfortable while being able to breathe. The outsole of this wrestling shoe is adiWEAR providing extra strong grip for a steady performance. Instead of securing this shoe onto your feet with laces, this wrestling shoe has a zipper. The zipper allows the shoe to stay securely on your foot at all times.
Offered in multiple different sizes
Four different color options
Sole is made out of rubber
Made out of Response
Outsole of the shoe is adiWEAR
– Anthony Dawson
Best Budget Wrestling Footwear
ASICS Men's Matflex
The ASICS Men's Matflex Wrestling Shoe a great shoe for both new and experienced wrestlers. There are several shoe size options making it so you can purchase the wrestling shoe that best fits your foot. This wrestling shoe is also offered in two different colors. The shoe is made of synthetic material, which will hold its shape through extended use. The sole is made of rubber helping you grip the wrestling mat easier without slipping. The bed of the wrestling shoe is cushioned providing both support and comfort and absorbs impact of falls. The outsole has a rubber piece that makes the wrestling shoe durable. The ASICS Men's Matflex Wrestling Shoe upper portion of the shoe is made of suede providing a comfortable fit against your feet as well as making the shoe flexible.
Several size options
Offered in two different colors
Made of synthetic material
Sole is made out of rubber
Upper portion of the shoe is made of suede
– Anthony Dawson
Wrestling Footwear Buying Guide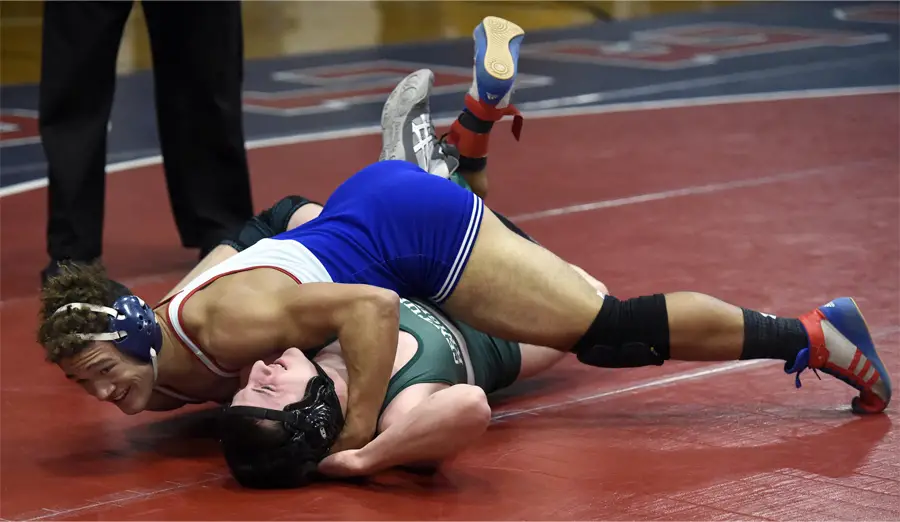 The first consideration may not be shoes when it comes to making choices for gear; however, there are some very good reasons why shoes are so very important. Most of the more experienced wrestlers understand that the shoes they are wearing in competition can actually make or break them in a match.
There are many different brands and styles out there to choose from, so which features make a certain type of wrestling shoe the best choice? This depends upon what qualities you are looking for and what is needed to enhance your performance as not all wrestling shoes offer the same benefits. The guide we have prepared is designed to provide you with helpful information that will steer you in the right direction in determining which wrestling shoes will help you to improve your performance and enhance your current skills.
The Purpose Of Wrestling Shoes
Wrestling shoes help to provide a vital function for wrestlers. They provide traction so the wrestlers have less potential for slipping on the mat. Any wrestler knows that an unplanned slip can land them in a position of being dominated by the other wrestler, potentially losing them the match and definitely losing points in the process. When this type of take down is the result of poor footwear that does not provide for adequate traction on the mat, the results are frustrating if not heart breaking. In addition, in many cases, it is a situation that is avoidable when the right wrestling shoes are used.
Features Found In Wrestling Shoes
The soles of wrestling shoes are designed to focus upon providing excellence in traction. The majority of the soles are crafted of rubber or rubber blend materials which provides some of the best in traction when used on standard wrestling mats. Some models feature rubber studs within the soles that add increased traction capacity.
Wrestling Shoe Design
Most types of wrestling shoes feature high top cuts that give the wrestlers additional support for the ankles. This helps to prevent injury to the lower legs, particularly when they are making contact with their opponents.
Materials Used In Making Wrestling Shoes
The materials that are used in the wrestling shoes that you choose can have a direct impact on your performance. For example, heavy leather materials can make your feet feel much heavier and cause you to be slower to react to certain moves and maneuvers. Nylon and combination synthetic blends which have been created to provide sturdy yet lightweight and breathable shoes may offer a better alternative in terms of being lightweight and allowing for more ease and speed in movement.
Vinyl materials can also be lightweight, but the major drawback to using shoes that are made of this material is that they tend to hold the heat and moisture in and create perspiration and discomfort. Some manufacturers try to alleviate this condition by providing venting areas on the sides and in some cases this is effective, particularly when the vinyl construction uses a combination of different more breathable materials. In most cases though, vinyl is not the best choice.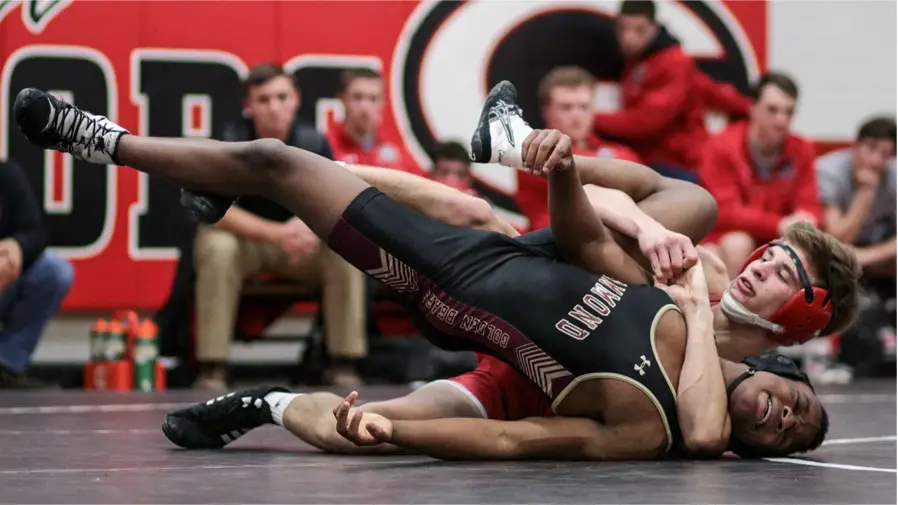 Different Types of Wrestling Shoes
There are two main types of wrestling shoes with a variety of variations within the categories. They are split sole and non-split sole. The split sole wrestling shoe feature soles that are crafted from two separate pieces of rubber. They excel in providing comfort and in addition, they provide for increased speed and flexibility when in action. They are lightweight which means that they do not create a sense of heaviness in the feet as some shoes can.
This Helps the Wrestler to Have an Increased Ability for Speed and Agility.
The non split sole variety is constructed on one single piece of rubber for the soles. These shoes have a better record for durability, meaning that they last longer under intense use. Although they are also lightweight, these shoes are less flexible than the split sole versions.
What to Look For When Shopping For Wrestling Shoes
Bear in mind that when you are looking for the best wrestling shoe, you'll need to choose a pair that is lightweight and will enhance your performance. Finding a well fitting pair is perhaps one of the most important considerations to be made. Each manufacturer may be a little different in their sizing so it is not recommended that you simply purchase a pair without trying them on.
The shoes should fit snugly so there is not too much room in them, but they should have enough room so your feet do not feel cramped or uncomfortable. Make sure that they are constructed well with high quality materials. Decide whether you will opt for a split sole or non- split sole variety. If durability is what you are looking for then the non split sole is your best bet, however; be prepared to sacrifice a little bit of the flexibility which can count in a match.
Look for soles that have a suitable pattern that provides you with the maximum available traction. This can help you to avoid losing your grip on the mat and falling victim to a take down due to your feet slipping on the mat. Spiked soles can give you an edge when it comes to traction, but the downside is that they can also throw you off balance.
Finally, make sure that the wrestling shoes you select provide you with the comfort and breath ability that will help to give you an edge in wrestling competitions. If you feel uncomfortable or you are in pain because of ill-fitting shoes, your concentration may suffer. This could cost you valuable points.
Conclusion
By taking a few moments to review the information that is provided in this guide, you can gain a better sense of which type of wrestling shoes will be the right choice for you. Narrowing down your choices by first determining what your actual needs are will point you in the right direction towards finding the best wrestling shoes that can help to enhance your performance in competition.