Z-wave Alarm Panel Reviews
Z-Wave alarm panels are the wave of the future. These panels allow you to control devices from the panel or from a Wi-Fi internet connection via a smartphone, laptop or tablet. These devices allow you to increase the heat in your home, while you are on your way back from the airport. They enable you to turn down the heat, when you leave for vacation. They allow you to check the locks and other security features remotely. Some have cameras and voice capability which add additional security. These features give you peace of mind when our busy lives keep us on the go. We have selected the best devices available that will provide you with both security and peace of mind.
Most Popular Z-wave Alarm Panel
Honeywell
The Honeywell Ademco TUXWIFIS Tuxedo Touch Controller w/ Wi-Fi, Silver (6280i) is a great home device that can be used for many different things in your home from remote blinds to appliances and lights. The TUX series keypad willonly operate with other Honeywell Vista series alarm panels. The units may be used as standalone automation console that is compatible with other Z-Wave products. With this device you can View up to four IP cameras at once on the Tuxedo Touch display. The Z-Wave has a built in controller thatwill work on over 200 Z-Wave devices. The security system provides a centralized control system which will operate thermostats, video cameras, locks, lights, and more from your Tuxedo Touch pad. And with this devise most Z-Wave enabled thermostats, locks, lights and shades are compatible so it's an easy setup and can get you on your way with better protection for your home, while you are away. This system provides you with all that you need to make leaving the house easy and secure. You can turn of lights, close blinds, change the temperature, and so much more through this one convenient one device.
It is Z-wave compatible
Offers as a stand-alone device
Control multiple devices in your home
View live video on the tuxedo touch screen
Up to 4 cameras
– Anthony Dawson
Best Overall Z-wave Alarm Panel
Napco Security
The Napco IBR-ITABKIT iBridge Wireless Touchscreen Tablet with Wireless Panel Interface is a device for both home security and peace of mind. It allows you to control multiple devices from one central location. The Starter kit, for the iBridge system, comes with the Napco IBR-ITABKIT to make it easy to install and operate.The screen has a high-resolution display (800×480) that provides a clear video that will enable you to see even small details.This device also has Wi-Fi connectivity built in, so you can access the live video feed from anywhere. It allows you to turn lights on and off or open and close blinds, or locking and unlocking the doors and so much more. The wireless control covers over 100 feet and also has adjustable volume controls so you can hear activity on the property clearly.
Wireless controlled for easy remote access
Can control multiple devices
Comes with a starter kit
High resolution display for clear images
100 feet range with volume control
– Anthony Dawson
Best Budget Z-wave Alarm Panel
2GIG
The 2GIG – Security Panel 2-GIG 345 GO CNTRL (Security / Surveillance – Monitoring Security and Control Systems) is a great in home system to keep an eye on your house while you are away. The 2GIG offers the first ever Go Control. This provides an all-in-one home management and security system. The go control panel is a color touch screen that has a user friendly interface. This enables you to operate the panel from your computers Internet connection or smart phone. These devices will provide access when and where you need it. The GSM radio provides the most reliable communication device in the industry. Eliminate concerns over cut phone lines or the lack of residential phone lines.The 2GIG security panel offers two-way voice control that allows a central location to communicate with the homeowner when a signal is received.The 2GIG has a builtin Z-Wave RF Protocol that will control lighting,temperatures through the HVAC system, and other Z-Wave appliances. These can be adjusted in the home right from the panel, remotely through a web-enabled phone, or the Internet. Everything you need to get started is provided in the Control panel. The device is also able to run off of a land line phone.
Color Touch Screen Display
Snap-in GSM Radio
Remotely Control Panel Settings
Two-way Voice Over cellular
Customer Messaging Capable
– Anthony Dawson
Z-wave Alarm Panel Buying Guide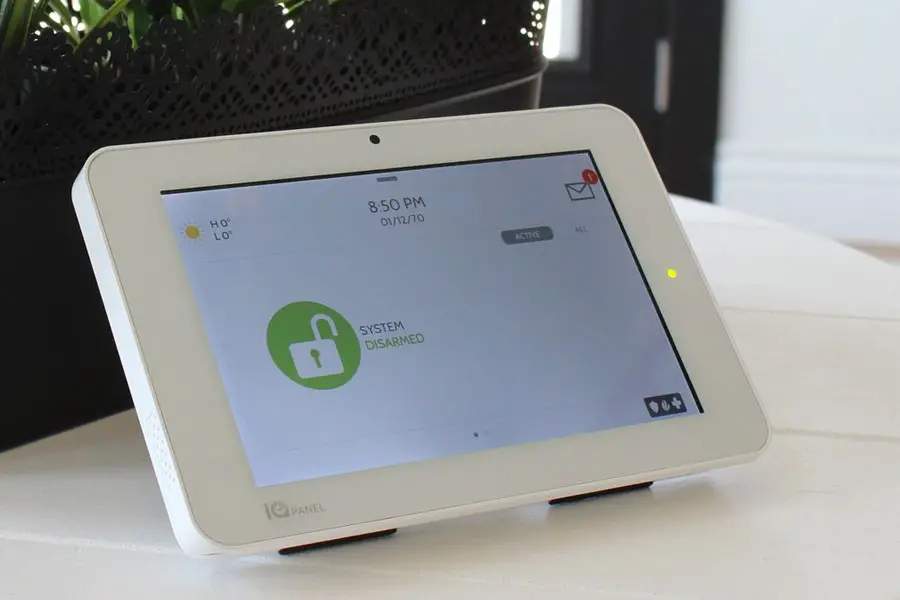 Z Wave Security Control Panel: How to Make a Choice
There are different types of home security systems available for purchase. Z wave security is the most popular choice. One thing common with all the brands of Z wave security system is that they all have a control panel. The quality of the control is the key factor in deciding the best Z wave security system. Because of the different brands of security control panel available at different outlets, it is always a difficult task for users to make a choice. After going through this article, you will no longer find it difficult to select the best Z wave security control panel that would serve your purpose. There are different types of security control panel. Many of them are wireless; there are many of them that are wired as well.
Features of Security System Control Panels
Before you buy any system control panels, you have to consider the features. The features determine what you can do with the product. Always compare features of each of the security control panels and make a choice based on the features that attract you most.
Consider The Control Panel Interface
The interface of the products determines the ease of use. Various products in the market have different interface. A control panel with a simple design is the best choice for many users because such designs are easier to use. Always compare the various products in the market and pick the brand with the best user-friendly interface. The ability of the control panel to connect its owners with the security system is another important factor you have to consider when you consider the interface feature. Brand like Vivint Go is fitted with integrated voice capabilities that facilitate connection between the system and the homeowners. While considering the control panel interface, such areas as a reliable method of communication should not be ignored.
Pick A Control Panel That Has a Versatility Feature
Versatility is an important factor that you cannot ignore if you want a reliable security system for your home. It is better to look for a control panel that has many zones. A few of them can boast of 48 Zones. Such panels are versatile and they have more powers than others. Moreover, they have both wireless and wired capabilities and these enhance its value. They have multipurpose uses, which include business, and residential uses. You have to determine your use for the security control panel and get one that has multipurpose functionality. Several brands in the market are versatile. Compare them and make a choice based on what you want.
Home Security Control Panel with Wireless Capability
You can go for home security control panel with wireless capabilities. This type of control has some advantages over the wired panel. It is better for emergencies in terms of ensuring the police are called to your home. More and more Control Panels are wireless and use a cellular connection. It is more secured than the wired system as it is difficult to cut them when compared to the wired panel that could be easily cut by burglars. You have to consider the type of connection before you make a choice. A security system that would not be easily deactivated are always better and you to bear this in mind while making a choice.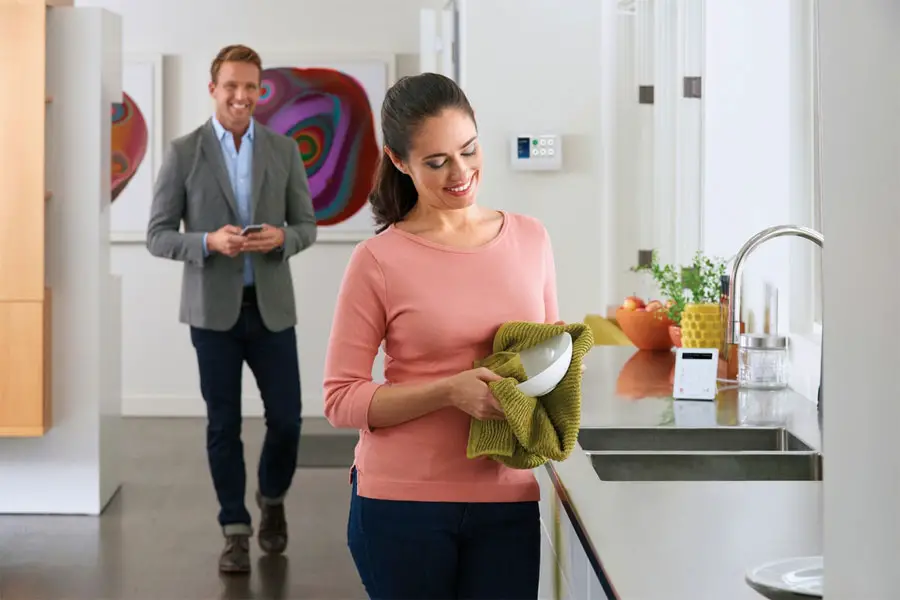 Security System Control Panel with Enhanced Commercial Capabilities
Apart from monitoring your residential system, you also need a security system with commercial capabilities. This is important for those who have businesses they want to monitor. You can always procure a control panel based on what you want to monitor. These are the most important factors you have to look into when buying a system control panel for your personal use.
Consider Security Control Panel with Sophistication
Sophistication is an important factor you should always consider when shopping for a high quality control panel for your home and offices. The level of sophistication determines the efficiency in monitoring and protecting your homes and offices. Look at the features available. Some sophisticated control panels are imbedded with such features as 60-sensor support, 100 decibels alarm, phone that have speakerphone capabilities as well as remote system and other important features. This is always better because they can hardly fail you even if you decide to disconnect them. You should always consider the features and capabilities of each product as these determine what you can use the product for. You should know that more capabilities and functions mean better performance. This could also influence the prices they are sold in the market.
Other things you can do with your security control panel
Today you can do several other things with your security control panel. You can read weather with some of the control panels on the market. If you want a product that could perform other functions other than security, you have to bear it in mind while making your choice.
Alarm system
In choosing your security control panel, you have to check the alarm system. Many products in the market have multiple alarming methods. Some of them ring. Some of them beep. Some also use voice alert system to notify you when there is a security breach. You have to consider the mode of notifying you in the event of an alarm.
Z-wave Alarm Panel Cost
Cost is another important factor you should bear in mind while shopping for security control panel. The amount they are sold in the market varies. You should know that security panels that have multi features are more expensive and they are better. However, you make a choice based on your budget.
Conclusion
It is important that you have a good security control panel for your home and your office. The large numbers of the products available on the market overwhelm many people who are interested in buying them. The tips enumerated above would help you to make a better choice.