Z-Wave Door Lock Reviews
Z-Wave technology is the latest wireless technology that provides the convenience of being able to manage home security remotely. The Z-Wave Door Locks provide a secure entry and the convenience of being able to adjust pin numbers and codes anywhere in the world via a laptop, smartphone or tablet, which is connected to the devices. This technology provides a greater level of security for our busy and mobile lives. We have selected the best Z-Wave Door Locks that will secure your home, yet providing flexibility and convenience from a reliable product that creates solutions because they consistently provide functions that operate as they should.
Most Popular Z-Wave Door Lock
Schlage with Built-In Alarm
The Schlage-BE469NXCAM716-Touchscreen-Deadbolt-Intelligence provides a touchscreen deadbolt lock that has Nexia Home Intelligence and alarm system. The Schlage comes in Satin Nickel, Aged Bronze, Bright Brass or Bright Chrome. The Schlage BE469NXCAM716 Touchscreen Deadbolt Intelligence comes with ANSI Grade 1, which is the highest available residential security. The touchscreen is made of durable material with a matte finish making it last longer and protects the touchscreen from fingerprints and smudges. This feature provides additional security because wear patterns cannot be detected, even over time. The Schlage comes with an anti pick shield which prevents against lock tampering. The motorized bolt automatically locks and unlocks when a user code is entered and creates an audible alert when the door is opened. The Schlage-BE469NXCAM716-Touchscreen-Deadbolt-Intelligence provides the ability to grant entry to your home from anywhere. This allows you to let someone in, even if you are not available. Nexia has the ability to send alerts anytime someone enters the home so you always know who is there. You can set a one-time code for a guest or a recurring code for someone who needs access during a set time period, like a housekeeper.
ANSI Grade one security
Touchscreen and key entry
Nexia Home Intelligence technology
Anti-pick shield to protect against break-ins
1 Year warranty and lifetime warranty on finish
– Anthony Dawson
Best Overall Z-Wave Door Lock
Schlage – Alexa via SmartThings,
The Schlage FE599NX CAM 619 ACC is an exterior lock with a keypad and lever. It comes in Nickel Satin, Bright Brass or Aged Bronze. This lock can use a key or a code. Each family member can have a separate code so you can know who is home at what times. You may choose to receive a text or email when your family uses their code. The Schlage-FE599NX-CAM-619-ACC also allows you to provide visitors with codes to your home, and the codes can be changed, added or deleted, remotely. The Z-Wave technology allows you to run all of your Z-Wave devices with a smartphone, tablet, or laptop. This can include thermostats, lights, locks and cameras from anywhere with Nexia Home Intelligence. The Nexia Home Bridge is sold separately and has a monthly subscription. The lever and keypad are backlit providing light when entering the home in the dark. The Schlage-FE599NX-CAM-619-ACC has a 1 year warranty.
Key or Keypad Entry
Can have separate codes for different family members
Can add, delete, or change codes remotely
Backlit keypad and lever for nighttime entry
Lifetime warranty on metal and 1 year warranty to mechanics
– Anthony Dawson
Best Budget Z-Wave Door Lock
Yale Assure Lock
The Yale YRD220 ZW 619 Electronic Motorized Technology is an electron screen deadbolt lock. The lock is fully motorized with Z-Wave technology and comes in a satin nickel finish, polished brass, or oil rubbed bronze finish. The Yale-YRD220-ZW-619-Electronic-Motorized-Technology is built to operate on any exterior door and can store up to 25 customized entry codes. The auto re-lock function can be enabled or disabled. This allows you to lock the door behind you for additional security, if desired. For extra security you can place the lock in Privacy Mode and that locks all codes. The Yale-YRD220-ZW-619-Electronic-Motorized-Technology is available in three languages, English, Spanish and French. This key pad is lit at night for easy access even in the dark. You can control the access of all users at all doors through the use of customized codes for each door. The electronics has a 1 year warranty and the finish has a lifetime warranty.
Up to 25 customized entry coded
Auto re-lock feature available
Keypad and key entry available
Available in English, Spanish or French
1 Year warranty with lifetime warranty on finish
– Anthony Dawson
Z-Wave Door Lock Buying Guide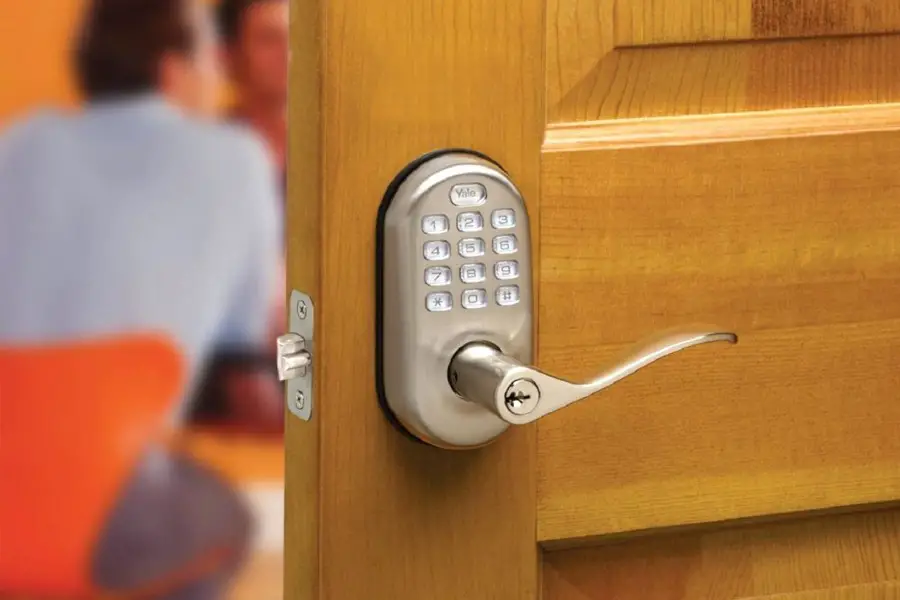 How does it works
Z-Wave is a wireless technology that allows components of homes to be in sync. It provides the ability to control these components remotely and with ease over electronic gadgets such as computers, tablets, and mobile phones. This protocol is designed to work for the convenience of carrying out regular activities and management of the appliances in a residential space. Some of its popular products include Z-Wave security devices, mechanical window blinds, lights, thermostats, and door locks. This smart home system also lets monitoring of electricity usage of the home. This way, the users may control and adjust to carry out an efficient overall energy consumption strategy.
Unlike other home automation systems, Z-Wave does not run on the home's WIFI and does not interfere with the bandwidth; rather it uses its unique frequency to communicate with the other Z-Wave enabled appliances to perform tasks according to the controller's command. The range of frequency for commands to reach the target piece of appliance is about 100 meters. However, this does not necessarily mean that the command needs to be passed on from the remote control directly to the target appliance.
RF (radio frequency) products with a maximum of about 100 meters in gap from each other are able to pass on the command to the next until the command reaches the appliance it is intended for. Thus, the frequency range is increased throughout the house. This system of communication is called "mesh network". Some people are more inclined to avail of mesh network over a WIFI setup for security reasons. The use of Z-Wave exclusive frequency gives the system a secure set of connections and a possible breach is far from viable. This is the same with the automatic door locks offered by the smart home technology.
Z-Wave door lock is an electronic door lock mechanism that is highly secure and like other RF products, reacts to the handy controls upon the users' commands. It may be programmed to respond to commands given from a distance such as when the owner is not home but needs to let somebody into the house. Family members may be given individual codes; these codes register to the system when entered into the panel to identify who comes in and out. It may also be programmed to alert the owner through phone SMS or email each time a code has been entered. Visitors may be given codes as well. Managing codes are easy as they may be changed, removed, or added remotely by the owner. Some leading Z-Wave powered door locks are manufactured by Schlage, Yale, Kwikset, and Baldwin. The number of manufacturers to present more options is expected to increase in the near future as the home automation system is growing more popularity.
Z-Wave door lock costs higher than typical residential door lock systems. On the other hand, people invest into it to reap obvious benefits such as utmost convenience and high end safety. In buying the right Z-Wave powered door lock that suits the home's security and utility needs, here are some aspects that may help in decision-making.
Features
Anti Pick Protection
It is a recognized reality that a home's security may be attempted to be breached at some point. This feature prevents the lock from being tampered with. The bolt automatically locks and stays locked until a valid code to open it has been entered. Some door locks may come with an audio alert every time the door is opened.
Multiple Entry Codes
Entry codes in the system are like profiles of each of the users in the home. A motorized door lock that enables the use of multiple individual profiles is more efficient and practical, especially to homes with a number of residents. Identifying who comes in and goes out through the entry way helps in the monitoring of activities of the home. A good capacity allows up to 25 different codes to be stored and each code may be managed through the application, options of which are to add, to delete, or to change.
Privacy Mode
This feature supplies the home and the user with extra security and may also be set remotely as long as the devices are connected. When a door lock is set to Privacy mode, not only does the door lock automatically, but it also prohibits all other codes to access the door. Alerts to the principal controller will be sent for any code entry attempt and will only unlock when permission from the principal controller has been received by the unit.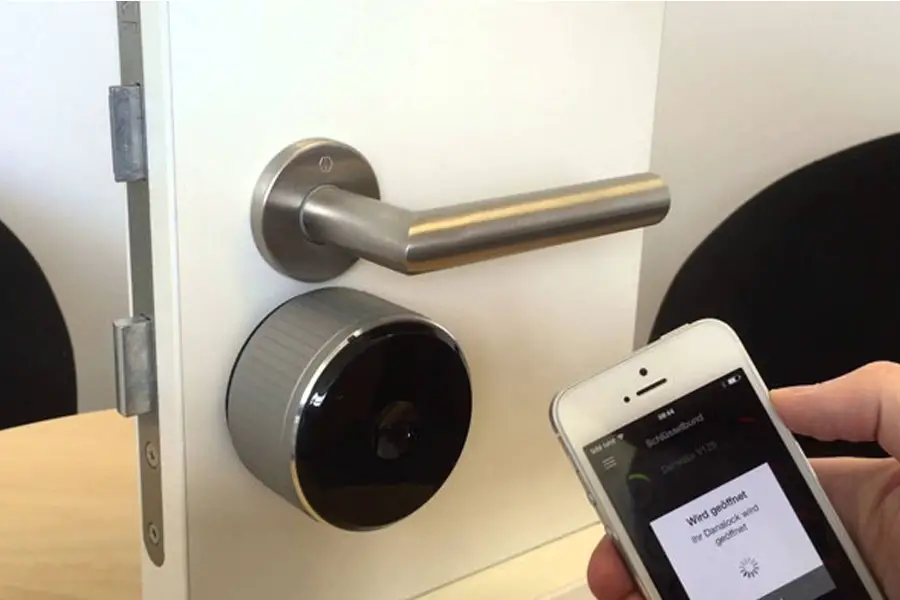 Security Grade
Automatic door locks are issued grades based on American National Standard Institute (ANSI) and Builders Hardware Manufacturers Association (BHMA) standards. These organizations are private entities and voluntarily develop benchmarks to gauge qualities and security performances of lock system hardware for standardization. Grades are acquired from gathered results over processes of tests on the products. There are 3 grades that comprise ANSI/BHMA standard and are based on 3 divisions of tests: operation- where key torque and gear cycles are tested; security- where pull strength and impact resistance are tested; and finish- where the quality of surface is meticulously inspected. ANSI Grade 1 is the highest classification of residential security, followed by ANSI Grade 2, and so on. Although this grading system is purely voluntary by the organizations, standardizing will be helpful for customers to have an overview of the product's quality.
Manufacturer's Code
Manufacturer's code is the firmware that the product manufacturer has embedded within the product unit. These codes must undergo testing and updating. The risk of an untested and outdated manufacturer's code creates a conflict within programs that renders the mechanism susceptible to hacking and possibly breach. If the product does not come with the information on whether the manufacturer's code has been tested and updated, contacting the manufacturer's end will satisfy the need for clarification
Style
Brands that manufacture Z-Wave powered door locks offer a roster of designs that come in a variety of finishes. Although Z-Wave door lock styles are generally stylish and sophisticated looking, choosing the design most suited to the home's visual tone will bring harmony to the home's overall theme. Furthermore, door locks with backlit panels are more useful, especially in night times or in places with poor lighting.