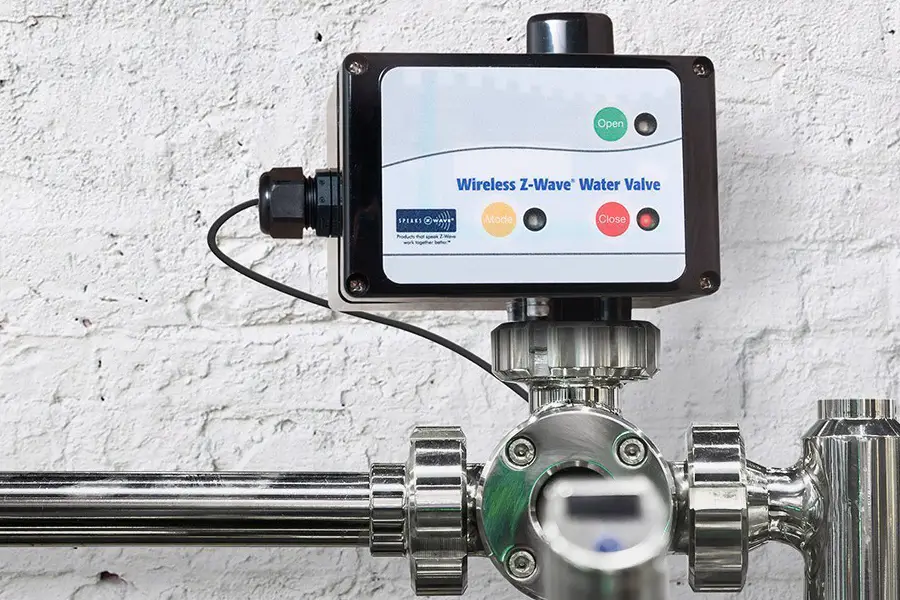 Z-Wave Water Valve Reviews
With technological advances you can completely secure your home with the push of a button. With Z-Wave technology, you can add monitoring devices to the system and monitor the activity in your home from anywhere. The Z-Wave Water Valve allows you to control your water use remotely. You can turn faucets on or off even when you are away from home. Did you leave the water running? There may also be unpredictable occurrences with your water that can be stopped. The Z-Wave Water Valve will notify you with an alarm when there is a concern with your water that needs to be addressed. The following Z-Wave Water Valves will protect your home from leaks, water left running and other water concerns. It can automatically turn off the main water supply when unwanted water may be entering into your home, thus protecting your home whether you are home or away.
Most Popular Z-Wave Water Valve
Wireless Z-Wave Water Valve
The FortrezZ WV01LFUS125-Wireless Z-Wave Water Valve comes with standard pipe fittings. It can fit a ½", ¾", 1" and 1 ¼" pipes for a custom fit and easy installation. This device will protect your home from water leaks and water damage, along with notifying you in the event other running water may have been accidentally left on. This device is a professional grade Z-Wave Water Valve with a pipe fitting that will fit most standard home plumbing. The FortrezZ WV01LFUS125-Wireless Z-Wave Water Valve will alert you immediately if there is a leak within the residence or if a faucet has been left on. Running water can cause extensive home damage and running water can also cause very high water bills. Whether you are on vacation or just at work, knowing when there is a problem in your home provides peace of mind, that you are protected.
Professional grade
1.25 inch pipe size fitting
Easy installation
Decrease if not eradicate damage to your home
Affordable while preventing extra costs
– Anthony Dawson
Best Overall Z-Wave Water Valve
Wireless Z-Wave Water Valve 3/4″ inch
The FortrezZ WV01LFUS075-Wireless Z-Wave Water Valveinch will help you to control your water, prevent leaks and ensure that faucets are not accidentally left on. The convenience of knowing a problem as soon as it begins will save money and enable you to fix water leaks while they are small. Small water leaks are generally simple to fix but can quickly grow into larger and expensive water issues if left unrepaired. This device is lead free and is electrically operated. You are able to control the device remotely and can shut off the water valve easily with the Z-Wave Water Valve. This wireless detection device works as an automatic valve for your residence and can connect to your main water supply line. It can be installed by a certified professional plumber or a handy homeowner. The FortrezZ WV01LFUS075-Wireless Z-Wave Water Valve can work as a water level irrigation device and can be setup on a timed schedule using a smart controller inside the Z-Wave home network. This device is weather resistant allowing you to use this device with confidence and know that the Z-Wave Water Valve will protect your home from potential water damages. The device has a motorized brass ball valve with commercial grade seats and seals enabling maximum working pressure for up to 125 PSIG.
Lead free
Electrically operated
Can shut off the main valve easily
Easy installation
Weather resistant for interior and exterior use
– Anthony Dawson
Best Budget Z-Wave Water Valve
WaterCop Z-Wave Electric Actuator Motor
The DynaQuip Controls ZWACT Z-Wave WaterCopis a Z-Wave Water Valve which will add property protection against water damage. Installing this device may provide additional discount with your homeowner's insurance policy. The DynaQuip Controls ZWACT Z-Wave WaterCopis compatible with home security and home automation systems that are connected to Z-Wave technology. This Z-Wave Water Valve will protect your home 24 hours a day 365 days a year no matter where you are. It provides the ability to control your home water remotely. You can off or open the main source of water with the push of a button. If you are home, you can also control the Z-Wave Water Valve with the control unit that is on the device itself. The control unit on the device will automatically close the valve whenever necessary.
Adds property protection and potential homeowner policy discounts
Operates on the device or remotely through Z-Wave technology
Protects your home 24/7 365 days a year
Cuts the main water source on and off
Control unit on the device itself
– Anthony Dawson
Z-Wave Water Valve Buying Guide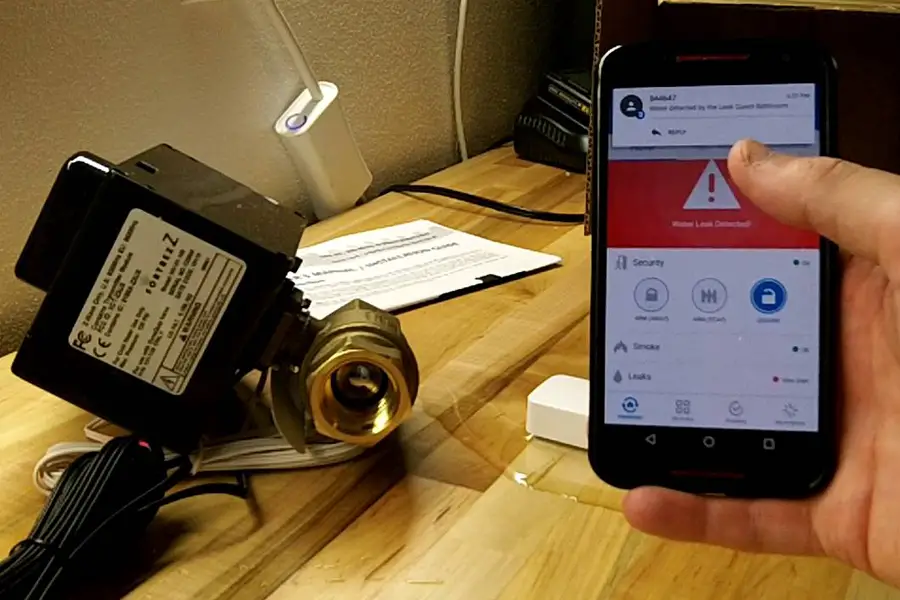 Z-Wave dimmer is a great product many people are looking up to in order to transform their homes. There are different types of Z-Wave dimmer switch available on the market. The functions performed by the various brands vary. You can always make a choice based on the functions you want the dimmer to perform for you. Sometimes it is not simple for many homeowners to make a choice, especially those who are not used to such products in the past. Because there are many brands of Z-Wave dimmer in the market, these buying guides will help many buyers make an informed decision of the best brand to buy.
Why Do You Need Z-Wave Water Valve in Your Home?
A homeowner who wants to transform his or her home to a smart one always looks for the product. It is used in homes and offices to customize lighting output. It is the best device you can use to create a desired ambiance for your home and office. It is easy to operate in your home. It could also be integrated with other wiring configurations in your house. It offers the ultimate flexibility, which every homeowner wants. It is not surprising that many people are installing it in their homes.
Factors to Consider Before Using Z-Wave Water Valve s
There are different factors you have to consider when you want to use Z-Wave dimmers in your home. Before you buy any product, you consider whether it would provide the following functions:
Whether it has the capacity to act as all in one wall switch and being able to turn the light on or off
Some dimmers that could adjust dimming levels using smartphone device, check whether, the product you want to buy would do that
Whether the item you want to purchase could control group of multiple lights and could also bring about a dimmable ambient in your home
Check whether it is flexible to use it with other auxiliary switches or use it alone. It should be used in auxiliary switches that have different wiring configurations. Ensure that it will fit your home wiring configurations
Check also whether it will offer a better space efficiency and could effectively replace existing switches
Also consider product specifications like heights, width, depth, amperage, color, as well as certifications. This will guide you in choosing product that would suit your needs.
Features of Z-Wave Water Valve
Useful information you have to look out for when searching for Z-Wave dimmers is the features of each product. Its features to a large extend determine how they will work.
Somethings you have to look for in Z-Wave dimmers include the following:
Material
You have to check the type of raw materials used in the production of the dimmer. Different raw materials are used in producing some of them are copper, evolve, jasco, and so on. Some people prefer cooper materials while many others prefer evolve and others. Cooper is always preferred because it is a good electricity conductor.
Capacity
Capacity is another important factor you have to look into when you want to purchase Z-Wave dimmer. There are different wattage available such as 600, 500, 1000 and so on. You have to bear the wattage in mind while making a choice of Z-Wave dimmer. Apart from the wattage, the voltage capacity is also significant in making a choice. The normal voltage capacity should be 120 VAC. Moreover, you have to consider the type of circuits supported by the various brands in the market. It appears that many models support a three way circuits. Some Z-Wave dimmers that require a neutral wire and there are others that do not require it. Bear this in your mind whenever you want to make a purchase.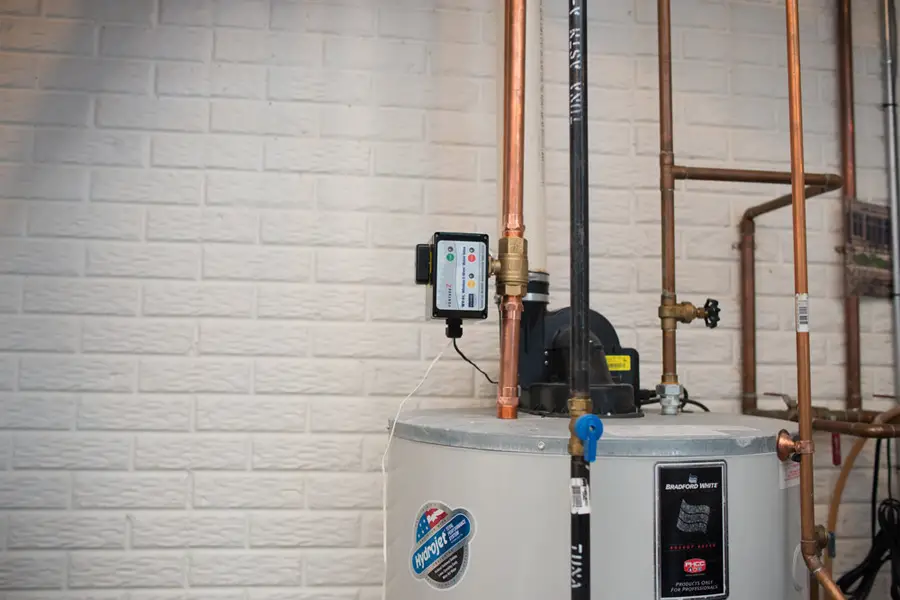 Comparing some Z-Wave Water Valve
There are different types of Z-Wave dimmers in the market; you need to compare them to know which of them is more suitable for your needs. Two of them are the Micro Illuminator and the Dimmer St in DuwiEverlux. The two sets of dimmers work in different ways. The two are wall dimmers in that they are mounted on the walls. The two products are also wireless, because they do not need a wire to operate.
Micro illuminator is powered by the main energy source to the home and do require neutral connection before it could work. Whenever there is a power failure, all the programs in the memory are retained this because the device is non-volatile in nature. Dimmer set on the hand could dim your lights up to 300 watts. The device is compatible with Dual switching method. You can compare the two and make a choice based on their different features.
Cost
You have to make your purchase based on your budget. However, you have to consider the features of all products in the market within the budget you have already mapped out for the Z-Wave dimmers. You can always get a superior brand based on your budget. The prices are likely to be affected by the outlet you may decide to purchase your dimmer. If you purchase enough quantities from online dealers, you are will likely get discounts plus free shipping. If you decide to buy from local shops in your neighborhood, the price could be higher because it would be subjected to taxation. You should always be sure of the quality when you buy from local stores. Anytime you buy online, always insist on seeing the product you are paying for. You can get superior Z-Wave dimmers through this process.
Conclusion
You need the Z-Wave dimmers in your home if you want to improve its aesthetic values. You will now overcome the challenge of selecting the product to buy for your home, as these tips above would be very helpful to you. Always buy Z-Wave dimmer that is compatible with your home internal and external wirings. Think of durability and be guided by your budget in making your purchase.